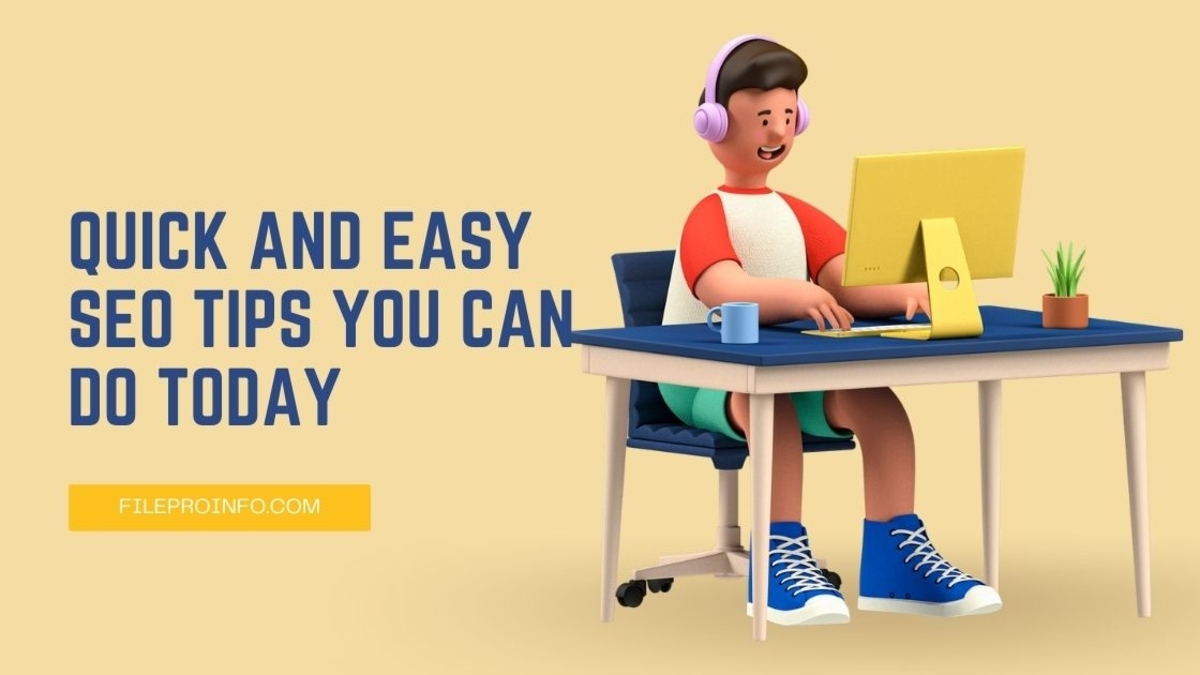 SEO, also known as search engine optimization, is a set of techniques you need to practice on your website to optimize or modify it according to the requirements of the search engine. In simple words, SEO is the art of increasing your website position and credibility in the search engine's eyes. Every web admin across the globe needs to do SEO of their website to make it reachable for the target audience.
You must know that today professional SEO agencies are charging more than thousands of dollars for optimizing a single website. If you don't have this kind of money and are looking for the best DIY SEO tips, you are simply in the right place. In this article, we will tell you all about the quick and easy ways to optimize your site for the search engine.
Quick and easy Search Engine Optimization tips
Here are some of the do-it-yourself SEO tips which can easily take your site to the top shelves.
● Focus on user intent and get the best keywords
When you optimize a website for the search engine, you must focus on the search intent of your target audience. Knowing about the search intentions of your target audience would help you find the keywords which can help the search engine connect your site with your target audience. Today you can do keyword research all by yourself because of the online keyword finder and tracker tools.
● Create user-friendly content
The content that you are creating for your website should be user-friendly. The main purpose of search engine optimization is to satisfy the people coming on the web. So you need to make sure that you have content that satisfies the search intent of the users. You should always create informative and entertaining content for the readers. Today, many online tools can help you learn about the user persona, human behavior, and modern trends. All of these elements should be considered while creating content for SEO.
● Check plagiarism in your content
One of the basic requirements in search engine optimization is unique content. If your content is not unique, then your site will be rejected by the search engine. Plagiarism checker tools can help you scan your website to check for plagiarism online. Whenever you create content for your website, you must scan it with a free plagiarism checker and remove all similarities and duplication errors. Here you must also know that plagiarism scanner tools are also capable of scanning complete websites for plagiarism. By scanning your site with plagiarism checker tools, you can also find whether someone is stealing from you.
● Add images on your website
Images can play an important role in optimizing your website for the search engine and increasing your SEO score. Today, the people coming on the web are more interested in visual content than reading only text, so you should always make sure that your website has relevant and unique images. Today you can use online reverse image search tools for getting royalty-free images for your site. Images are very important for SEO, so you should never avoid getting them.
● Get quality backlinks for your site
Backlinks can boost the SEO score and your site's ranking position in a very short amount of time. Backlinks are the links that are considered a vote of confidence in the search engine's eyes. Building links with high authority and relevant sites can help you optimize your website for the search engine. Today you can get backlinks for free and without any effort by using the best backlink maker tools. You have to enter your site's domain address in the backlink maker and get the complete list of relevant and valuable links.
● Optimize the structure of your site
The structure of your website plays an important role in determining your SEO score. A well-optimized website has a neat and clean interface. You need to make sure that the text and the images you are adding to your site are aligned. Leaving blank spaces on your site would help you make it more attractive. Also, know that adding headings and subheadings to your website's content will give it a clear and concise look.
● Keep site speed to two to three seconds
Another important SEO tip is to optimize the loading speed of your website. You should know that today people's attention span is very short, and a user would hardly wait three seconds for your site to load. If your site doesn't load at this time, you will experience a bad SEO score. You need to compress the heavy content on your site to optimize the page loading speed, try on a free page speed checker.
These are some simple and easy tips that can help you optimize your site for Google and other search engines!
Learn more from SEO & technology and know What to Blog About?