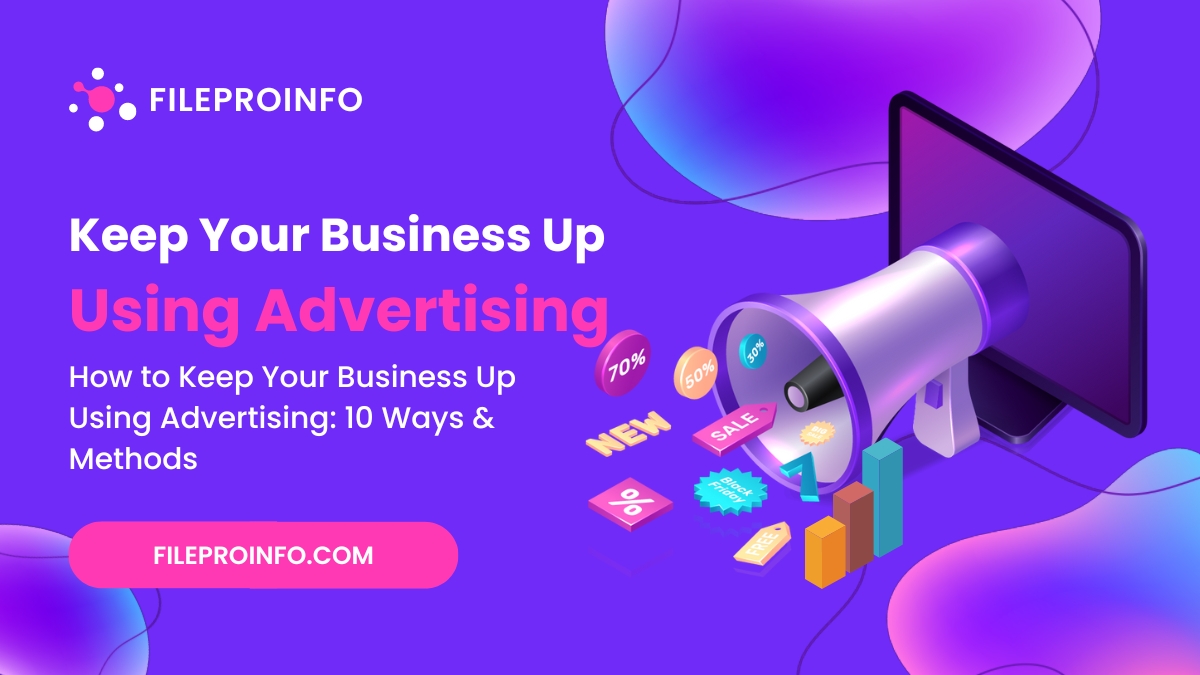 According to the statistics, presented by the Hubspot web resource, one dollar you spend on advertising will result in a two-dollar benefit. Therefore, advertisements are fundamental in brand promotion, as they expand the audience, increase awareness, and become more widespread among people.
At present, there exist certain major channels that a CEO must take into consideration in the process of advertising techniques arrangement. They can be categorized as:
Search engines (Google services)
Social media networks (Instagram, Facebook, LinkedIn, Pinterest, etc.)
Local communities (webinars, non-profit organizations, events, sponsorships, press)
These are the main groups you should take into consideration. Depending on the business type, you can utilize these promotion channels differently. Moreover, there exist other variants which will help your advertising appeal to a potential client, and in this case, printed materials cannot be disregarded.
1. Set Up Your Google Account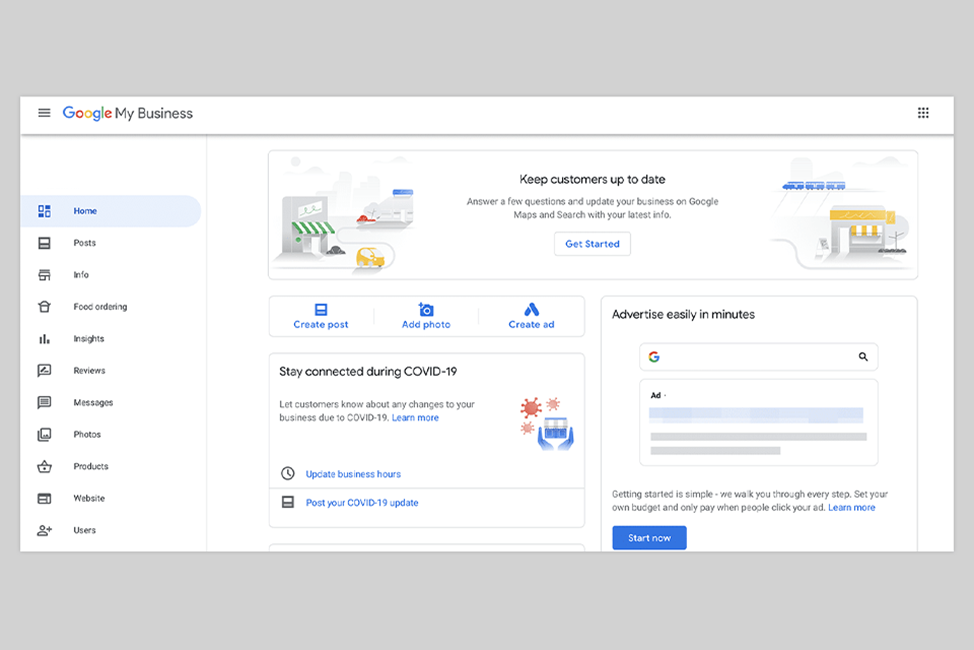 Google is one of the most productive ways to foster your company, no matter what this type is. 85% of Google's income is obtained from the Google Ads platform. You have to verify and adjust your Google Business Profile to Profile to use Google facilities fully.
This tool reflects your enterprise in Google Maps, the local branch of Google search results, and additionally when a person enters the name and location of your company, the information panel in search results appears on the right. If you put ratings on Google Maps or reveal in the Local Pack of common results pages, you automatically promote your enterprise around the clock.
Helpful tip. Use pay-per-click marketing benefits, since this comparably low-cost promotion technique will upgrade your business to a higher level.
2. Make Your Social Networks a Platform for Marketing and Recognizability Improvement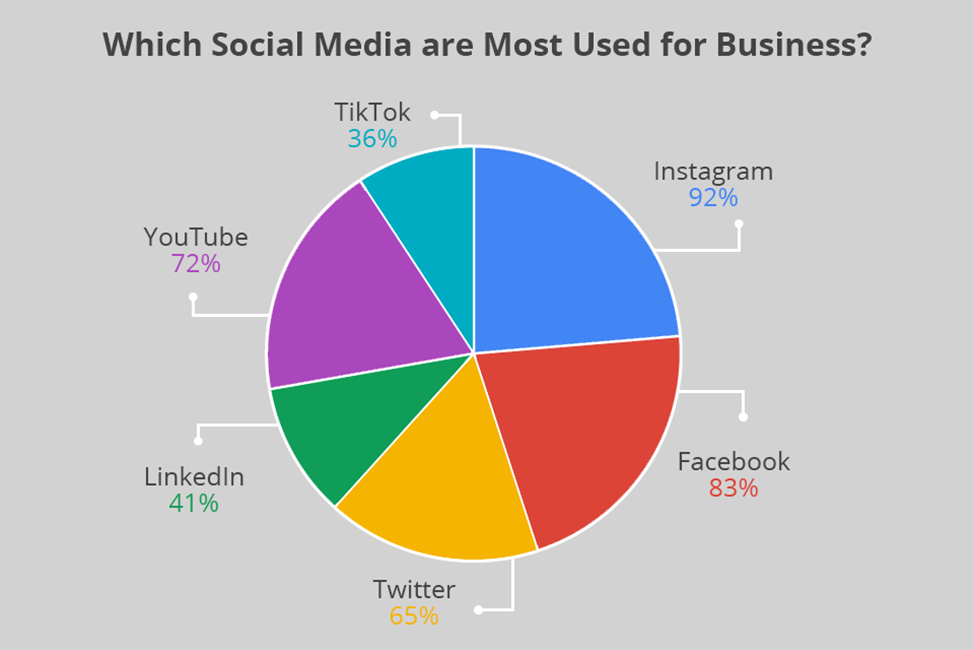 According to the Business 2 Community, 34% of computer users employed social networks to check for new products or brands, and this percentage is growing day by day. As Hootsuite states, 90% of consumers follow at least one enterprise on Instagram, while over than 200 million people visit at least one business page daily.
Take advantage of various social networks, and make them one of the main promotion advertisement channels. At present, the most widespread social media are Instagram, Facebook, TikTok, YouTube, Twitter, Pinterest, and LinkedIn. In relation to your audience, you can select the most productive ones, and set business accounts there.
Helpful tip. The majority of social media platforms offer free functionality for business account creation and management. Nevertheless, I recommend allocating the promotion budget for running target advertising, which will boost the sales and recognizability of your products.
3. Increase Your Brand Recognition with Organic Traffic
Organic traffic to your site always contributes to the usefulness of your website. In case you create a website that meets your potential customer's requirements and offers them the answers to their requests, you will begin to draw attention online.
Although it is a relatively simple and cheap promotion technique, website optimization requires business owners to put in a lot of effort. To achieve a high rank for your website in Google search results, it is necessary to write high-quality content, add proper keywords, guarantee website fast performance, etc.
Helpful tip. If your budget is limited, and you do not want to spend money on website development in companies that deal with this, employ website builders. WordPress is one of the most widespread and simple services. It includes the already prepared themes and plugins, allowing you to automize your web asset. Furthermore, using WP, it is easy to release the materials, make amendments and control the site.
4. Invest in the High-Quality Video Content
As 87% of video marketers claim, video content has increased traffic to their websites (Wyzowl, 2020 research). It is becoming more and more widespread, as more and more users prefer this content type when making choices about purchases. That is why it is fundamental for enterprises to provide the audience with different types of decent content, in particular goods overviews, video reviews, creative ads, social video clips, etc.
Apart from publishing video content on the website and in social media, the modern business requires running a YouTube channel. YouTube is not the only option that lets you advertise on the platform, as the video format itself is a wonderful way to establish relationships built on trust between you and your audience. Companies that utilize video as advertising and content components will get more interaction with their clients. Running the YouTube channel and expanding your content with video marketing may also contribute to better search engine optimization.
Helpful tip. In terms of video materials, I suggest you let the professionals deal with them. Special attention is to be paid to the video clips post-editing. Find entrusted and highly qualified developers which possess great experience in working with business video clips.  Video Editing Services, which offers basic video editing, corporate video post-improvement, vlog video enhancement, color grading, and a lot more.
5. Collaborate with Other Businesses
It is essential to ensure that your ad not only perfectly functions on all the above-mentioned channels, but also attracts a new audience. To achieve this, I recommend collaboration with businesses with the same clients' requirements.
Joint ventures are a splendid way of improving business recognition and sales. You can employ the credence and authority of your associate company, and they can profit from yours. Besides, you can take advantage of non-competing companies' business vlogs, utilizing such promotion instruments as guest publications, and backlinks, increasing each other's recognition and popularity.
Helpful tip. You can also communicate with your acquaintances who run the business with the audience that intersects mutually beneficial social media mentions. Recommendations are highly efficient and effort-saving.
6. Create Listings on the Major Directories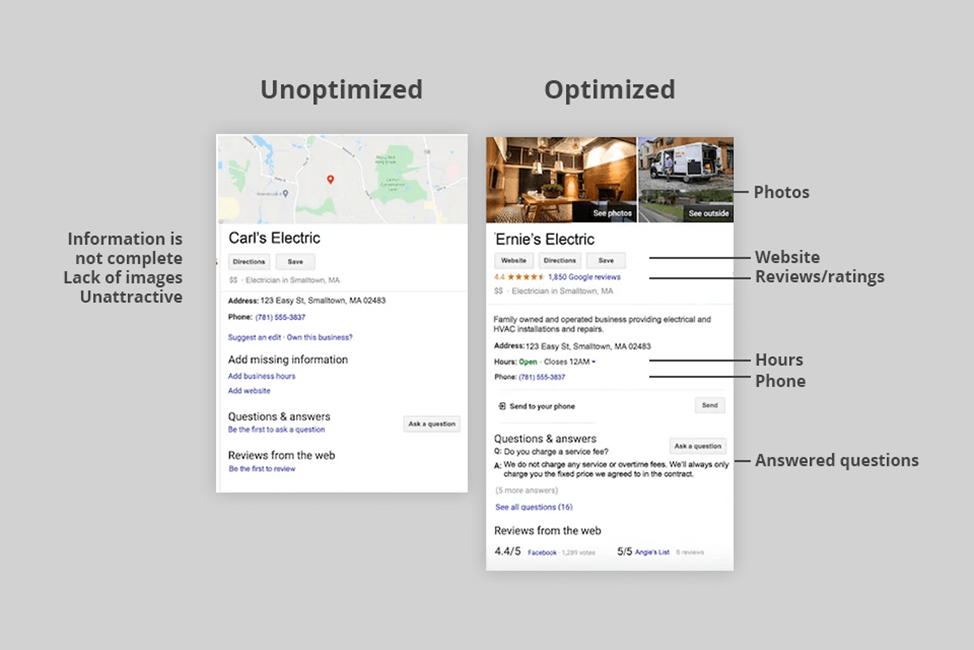 Smaller directory sites take data from larger ones, thus, by producing listings on the major sites, you'll probably automatically appear on smaller sites. Below is a list of the major directories to begin with:
Google
Yelp
Facebook
Applicable niche directories like TripAdvisor, Angie's List, etc.
Better Business Bureau
Glassdoor
Foursquare (Even though it's dead as a social platform, its data is used by thousands of platforms.)
Yellow/White Pages
Bing
All of them are free, but frequently possess paid options for advanced functions.
Helpful tip. By completing every profile field, adding pictures, and collecting reviews, you can make your business more appealing and rate your business above competitors in searches. It's also fundamental to ensure that the info in all of your listings is compliant with the information on your site.
7. Find Influencers in Your Industry
With the development of social networks, influencer marketing is becoming more popular and is considered one of the most trusted modes of advertising generation. The influencer's audience is generally quite ample (10,000 plus followers is a typical metric), and you can improve your sales if they promote your products on their channels. People are susceptible to trusting other people's recommendations more than targets or other types of advertisements.
Helpful tip. If you wish to make a good collaboration with influencers, before you suggest your product to advertising, ask about their requirements. Besides, it is important to script the desired scenario and your product's benefits in advance.
8. Prepare Press Releases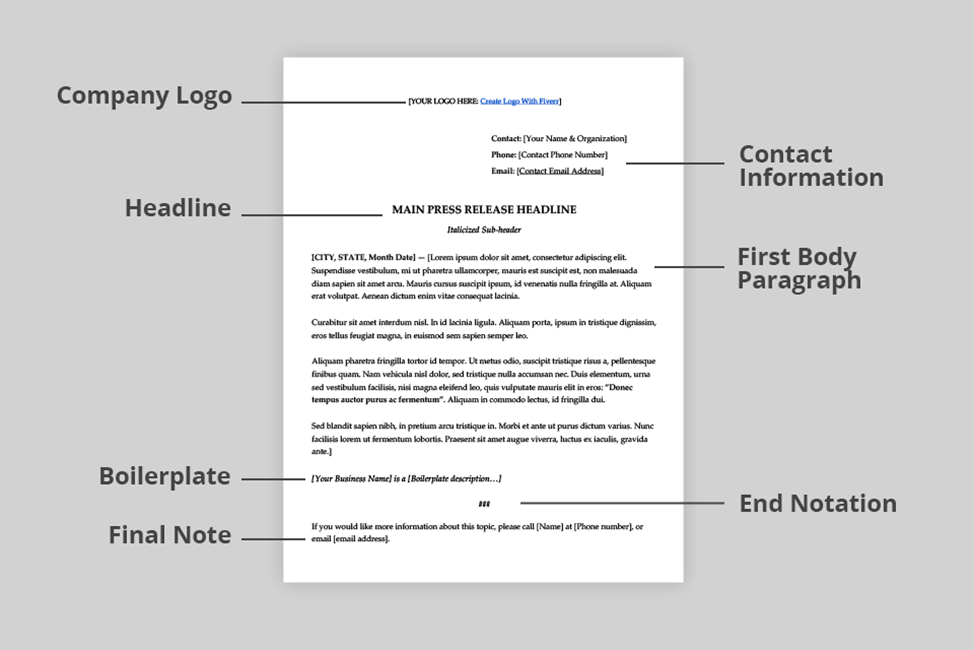 Each time your company produces something newsworthy, it is extremely simple to offer a press release to your local and regional news agencies. PR is an efficient media instrument for publicity creation. Possessing free distribution via reliable news outlets means that more consumers will see it and will probably interact with it.
If your budget is limited, you can publish the information regarding your event in the local public or social platforms. If your budget is not a problem, it will be efficient to invite the press to present your event on several media platforms.
Helpful tip. There exist certain websites that you can employ for your press releases, in particular, PRLog and 24/7 Press Release.
9. Participate in Offline Events
Industry-related conferences, volunteer communities, local business organizations, and libraries, frequently require speakers for events. You'll profit from the brand recognition, new acquaintances, and publicity you obtain being a speaker at these meetings.
As a company CEO, being recognized in your local circle is a clue to your business advancement. Simple intercommunication can be a powerful marketing strategy too. Clients-to-be might appear from sites you didn't anticipate when you are part of the community.
Helpful tip. Furthermore, you can hold free events, share certain pieces of information, and promote paid products at the same time. Webinars are a great opportunity to boost sales especially if you offer specific conditions to its participants. The most common board platforms for webinars are Google Meet, Microsoft Teams, Zoom, Webex, etc.
10. Don't Forget About Printed Advertising Materials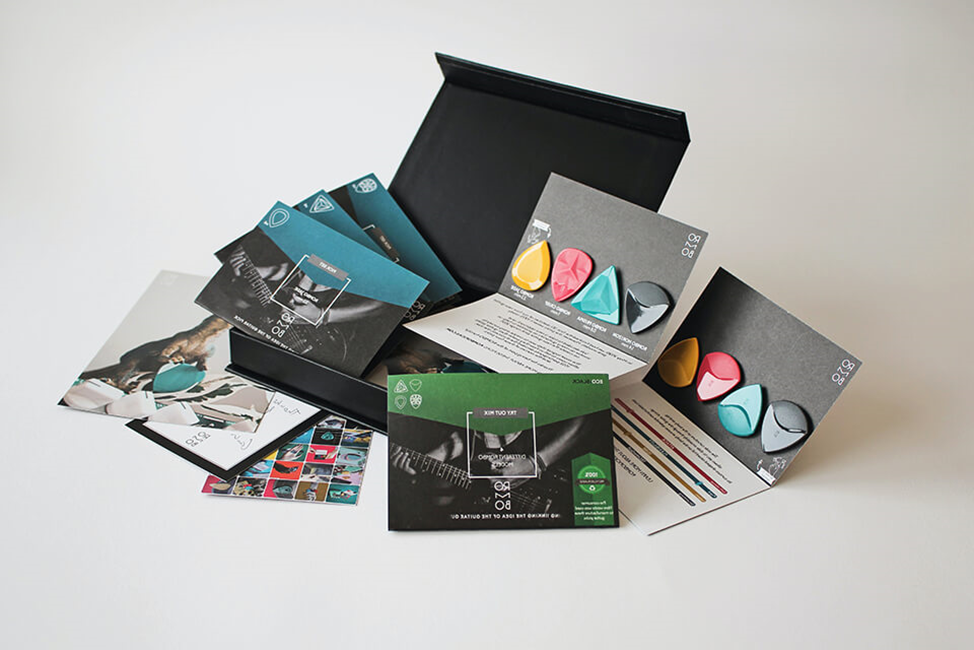 In the digital technologies epoch printed advertising seems to be uninteresting and non-efficient, but, according to the American Press Institute research, 58% of consumers are in fact print-oriented, while 28% claim they are mainly digital. To be precise, grown-ups aged 65 and older who pay for news are five times more prone to buying print ads than digital ones.
Therefore, you can supplement your advertising campaign with well-planned printed materials. Take into account that the content must be not only of high quality but also non-intrusive. Use merch, leaflets, and banners which will gently remind the clients about your business.
Helpful tip. If you are willing to create printed materials for advertising purposes on your own, but you lack graphic design experience, utilize Canva platform. It includes templates and comprehensive instruments to produce aesthetic design assets for different needs, including digital and printed advertising.