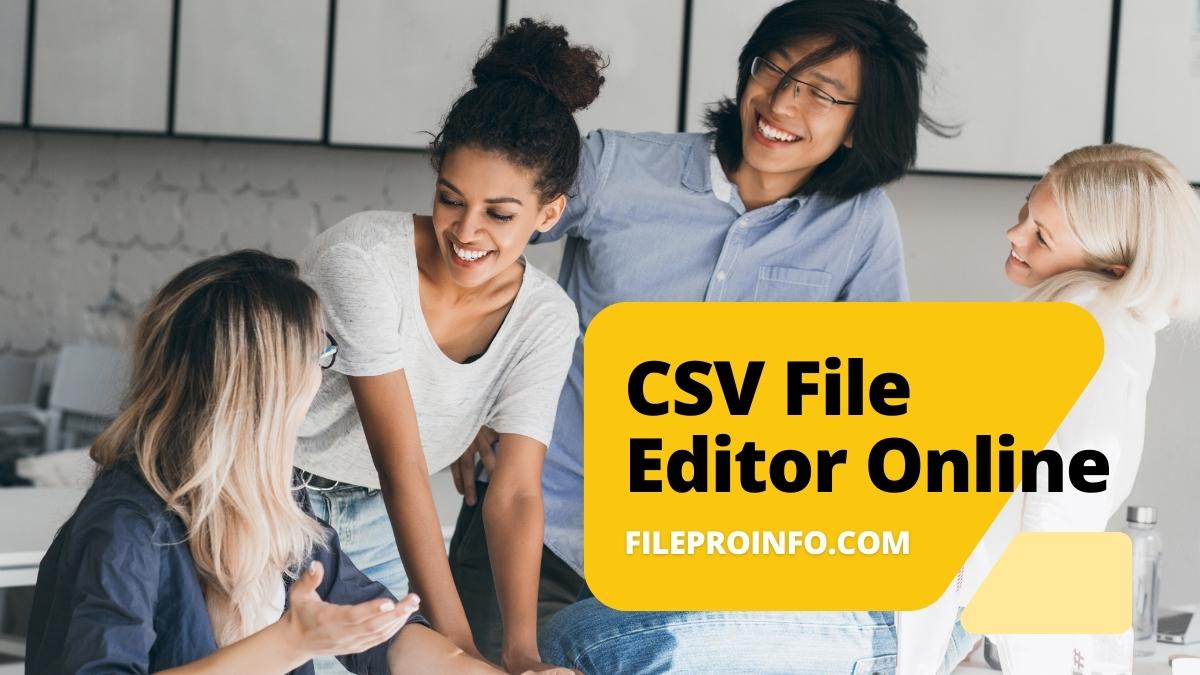 What is a CSV?
The term "Comma-Separated Values" or CSV. The preset structure of the CSV text file format allows data to be stored in a table-structured fashion.
How to Create and Generate CSV Online?
To make a CSV, use Table Editor: Similar to Excel, Table Editor enables online data modification, and the changes are immediately saved as CSV files.
Copy the generated CSV file: In the Table Generator's box, a typical CSV file has been produced. Friendly settings also let you adjust the desired CSV format.
Why use a CSV editor?
Text files in the CSV format have a specified structure. A simple editor may be used to open them. It is simple to understand since a CSV editor displays each column independently. A value may be quickly and simply read with a set width for all rows of a certain column. This application is both a CSV reader and a CSV formatted (it allows you to change the file format, and change the separator for example).
The robust file editor or reader CSV Editor analyses data verifies files before they are uploaded to databases, modifies configuration files, keeps track of customer data, etc. This editing program/application is not only compatible with Windows, but also with the Mac and Linux operating systems.
1. CSVed
CSVed is a free CSV editor You may download CSV which has the following features that make editing CSV files quick and simple:
It makes it possible to handle any CSV file format.
You may carry out several tasks with the help of its field and line separators.
You may rearrange the columns.
It also permits the addition or deletion of columns.
It gives you the option to change the values.
It enables the deletion of redundant data.
A font manager is included.
It has a sidebar for navigation.
A four-in-one toolbar is included.
There is a portable version as well.
2. CSV Buddy
Due to the following features, CSV Buddy is rated as one of the best free CSV Editors for Windows that you can download:
You may use it to access the CSV files' fields.
It loads a wide variety of files with varied inserts.
CSV Buddy software may be shared online without having to be installed.
It makes desktop shortcuts possible.
It permits the usage of CSV files in both multi-line and single-line formats.
It allows for the import and export of CSV files in a variety of file formats.
It makes it possible to modify CSV files.
3. CVS Pad
CSV Pad is included in the top free CSV editors for Windows that you can download due to the following reason.
A portable program
All formats are automatically supported by it.
Unicode is supported.
It permits internet searching for any necessary documents or websites.
It gives you the option to import, export, or save CSV files.
It automatically fixes file structure.
It also supports file updates.
You may save the table in JPG format.
The tool is compact and portable.
It works with all Windows programs.
4. reCsvEditor
CSV file editing software for Windows that is simple to use is called reCsvEditor. The following characteristics allow it to be included in the list of the Best Free CSV Editors for Windows:
It offers different settings and supports several functions.
It also accommodates 1GB-sized, enormous SQL files.
CSV files with single records are instantly shown.
You may repair fixed-width and CSV files with it.
Multi-record and fixed-width files are repaired using the XML and PO files.
5. CSVFileView Editor
The following qualities of the CVSFileView editor:
It allows you to view and open CSV files.
You may use it to save your data as an HTML report.
It also gives you the option of saving your data as an XML file or a command-line delimited file.
It lets you organize and rearrange the columns and lines.
It permits the automation of file conversions through the use of a command-line interface.
It enables automatic quotation character identification.
It provides complete depth control, allowing you to browse and look up any particular feature.
6. Windows Notepad
The following characteristics make Windows Notepad, a reliable and well-known tool, one of the finest free editors for Windows:
It is an easy-to-use, cost-free tool.
This is compatible with several other file types.
Shortcuts on the keyboard can be used.
It enables the user to look up the chosen text in a search.
It can read and write ASCII, UTF-8, and UTF-16-encoded plain texts.
It supports languages with both left-to-right and right-to-left alignment.
You may update and modify the script and text.
It allows for the customization of header, footer, and margin usage by adding the date, the file name, and any other information.
7. CSVStar
CSVStar is the simplest tool for creating, editing, and managing CSV files. In our list of the Best Free CSV Editors for Windows, the program CSVStar, developed by a company with a similar name, is suggested for the reasons indicated below:
The file is a compact 5.75 MB CSV editor.
The language that may be utilized is English.
The Windows operating system is also compatible with it.
The interface allows for changes to the header and footer with the aid of several Wizards.
It lets you alter different fields in your CSV file.
It makes it possible to manage templates using specific functionalities.
8. CSVForm
The qualities listed below place CSVForm among the top CSV editors for Windows that you can download:
It is a simple, open-source CSV editor for Windows.
It also enables you to modify values and carry out many more tasks following your needs.
It may be used immediately and doesn't need to be installed on your device.
For the frequent traveler, it is a highly useful pocket tool.
It gives you the option to add and remove data as necessary.
9. Corel Quattro
Corel created Corel Quattro Pro, a spreadsheet program for keeping track of your accounts and finances. It has the Following Features:
It has CSV file reading and writing capabilities, and users may review and modify formatting options.
Corel Quattro has an easy-to-use interface.
It is a spreadsheet program made specifically for businesspeople who often use them.
Both office employees and home users will find this program to be a great choice.
MS Excel and this program share a lot of capabilities.
Some of its features, including the Quick-Fit and Perfect Expert Wizard, are perfect for making spreadsheets while on the go.
10. File Viewer Plus
File Viewer Plus is an easy-to-use tool for examining CSV files that differs in certain aspects from Corel Quattro Pro.
It is capable of reading and writing files in more than 100 different formats.
You can also use several file types.
There is a one-time charge of $58.94, and there is online help available in the form of FAQs and a contact form.
For your computer, it's an excellent and practical piece of software.
Additionally, File Viewer Plus has a batch converter that enables you to convert numerous files at once.
11. Quicken Deluxe
You may download Quicken Deluxe, a personal spreadsheet application that assists you in tracking and managing your finances.
It enables you to organize your spending.
You may quickly customize the settings to your liking and import data from other financial management tools.
It enables you to keep tabs on your expenditure and prevent debt.
You can look at, edit, and format CSV files.
It gives users access to a reporting tool that lets them create personalized financial reports.
Additionally supported is CSV format.
12. Microsoft Excel
Another great choice for downloading is Microsoft Excel, the industry-standard spreadsheet program for managing and arranging data.
It supports a large variety of file types and contains a lot of mathematical functions.
It allows you to modify, alter, and visualize data.
It simplifies the usage of data collecting and analysis tools.
You can do statistical analysis and inspections rapidly.
You may also change the font's size and style.
Additionally included are pre-loaded downloadable templates.
13. Google Sheets
The use of Google Sheets and the rest of the Google Workspace suite is free for both private individuals and business entities.
It may use data from a variety of sources to gain profound insights.
Copying a link or emailing a document directly makes it simple to distribute materials.
Sheets give users the ability to manage certain sheets inside a document on the screen.
It includes everything you'll need for data analysis, visualization, and optimization.
With sheets, 100 individuals may collaborate on the same document at once.
14. XML Editor
The XML editor application is another reliable and efficient CSV editor.
It enables the user to read many CSV files at once.
It is easy to use and intuitive.
There are two different kinds of separators in the program: comment separators and encapsulation separators.
Downloading it is both free and easy.
It can open and edit CSV and XML files with ease.
For reading complex XML, CSV, text, and custom field-separated documents, each window provides a unique set of functionality.
15. Gnumeric
You may download the simple and trustworthy CSV editor Gnumeric for Windows.
It is easy to download.
You may copy, cut, and paste values into a CSV file.
It is freely available.
It can handle large spreadsheets while still being responsive.
The user has the option to remove or add columns in the CSV document.
This tool is easy to use and enables the user to carry out several editing tasks.