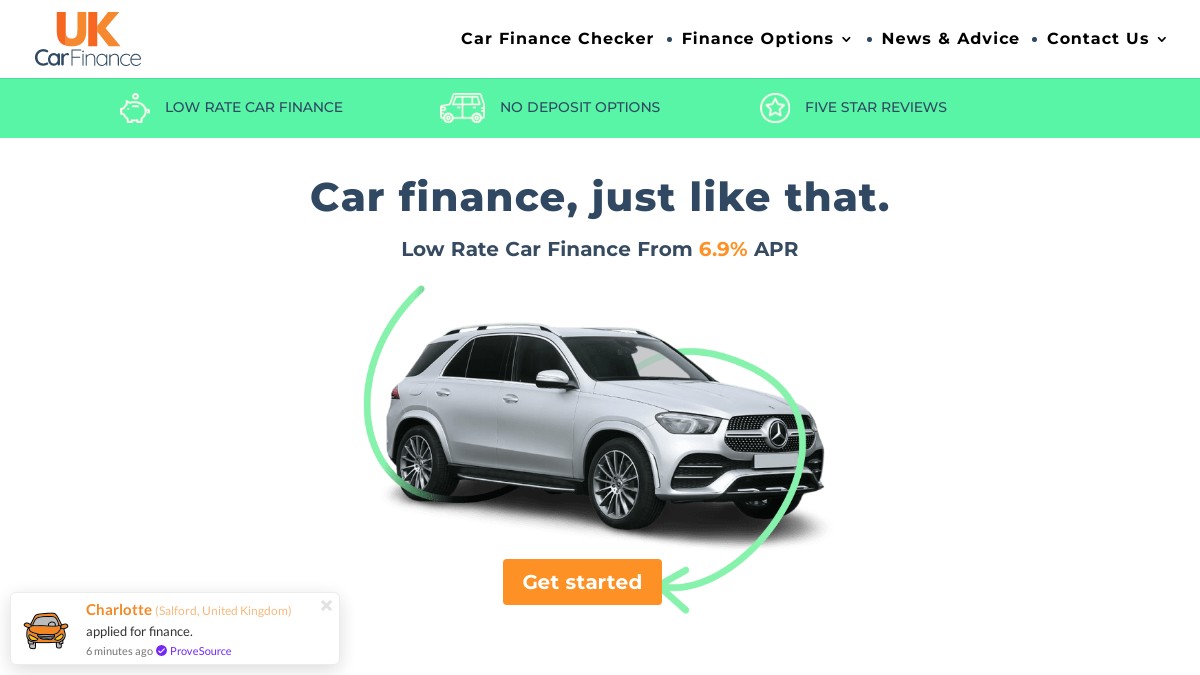 Getting a car on finance doesn't have to be confusing. There can be many factors you need to consider before you commit to getting a loan, but the guide below has been designed to help you. We look at the different types of car finance available and also how you can keep your car finance costs as low as possible. Remember, car finance is never guaranteed, and rates can vary for each individual application but there are a few ways in which you can help to get a cheap car finance deal.
What Is Car Finance?
Car finance is a simple way to borrow money to fund your next car purchase. Through car finance, you can usually get a better car than you would with cash and pay for it over a number of years in affordable monthly payments. Car finance payments usually include interest on top and your interest rate can be determined by your personal circumstances. There are three main types of car finance agreements in the UK, and you may be better suited to one over the others.
Which Cars Can You Get On Finance?
When you take out a car finance deal, you can use it to fund all types of vehicles. From new and used, to hybrid or automatic cars on finance, you could finance the car or van you want. When you use a personal loan or cash to buy a car, you have the freedom to get your vehicle from anywhere including private sellers. Most car finance agreements like hire purchase or PCP do let you get any type of car you want but you are usually more restricted to only buying the vehicle from a car dealership.
Types Of Car Finance:
Hire purchase. Hire purchase is a form of car finance where the car is secured against the loan. This means if you fail to make your repayments, the lender has the right to take the car off you. Within hire purchase, you spread the cost of your chosen car into monthly payments with interest. You can choose whether you put down a deposit or not but having a deposit can reduce how much you pay overall. You can spread the cost over 1-5 years and once you make the final repayment, you become the legal owner of the vehicle.
Personal Contract Purchase. PCP car finance is a form of hire purchase but instead of spreading the whole cost of the vehicle, you instead pay for the depreciation. This makes the loan amount smaller and monthly payments tend to be lower than other options. You can put down a deposit but it's not essential and will pay interest within your monthly payments. At the end of a PCP deal, you have three choices. You can choose to hand the car back to the dealer, use the value towards another PCP deal or pay the large balloon payment and keep the car.
How To Reduce Your Car Finance Costs
If you're looking to get the cheapest car finance deal, you may want to consider the ways in which you can reduce your car finance costs.
Work On Your Credit Score
When you apply for car finance, you will usually be required to pass a credit check. Whilst there are options for people with bad credit to get approved for car finance, having a better credit score can work in your favor. From a lender's point of view, it's all about the risk they take when they lend out money. Having a good credit score usually means you've never missed a payment and had a solid history of borrowing which reduces the risk to the lender. This enables them to get the best rates and pay less overall for their car finance deal.
Save Up For A Deposit
Putting down a deposit for car finance can reduce the loan amount and make it more manageable. If you don't have a deposit to hand, there are many no deposit car finance deals available with affordable payments. However, saving up for a deposit can help reduce your monthly payments and shows good financial management to the lender. If you don't have a deposit, you could also consider using your current vehicle as a part exchange to help reduce the cost of your next car.
Shop Around
In order to get the cheapest car finance deal, you need to shop around. Different lenders can offer different rates and can be more suited to your circumstances than others. It can negatively impact your credit score if you make multiple applications for finance in a short space of time so many people use a car finance broker to do the work for them. Car finance brokers have access to multiple lenders and can compare the best rates for you.
Learn more from finance and read How Alternative Data is Transforming the Future of Finance.