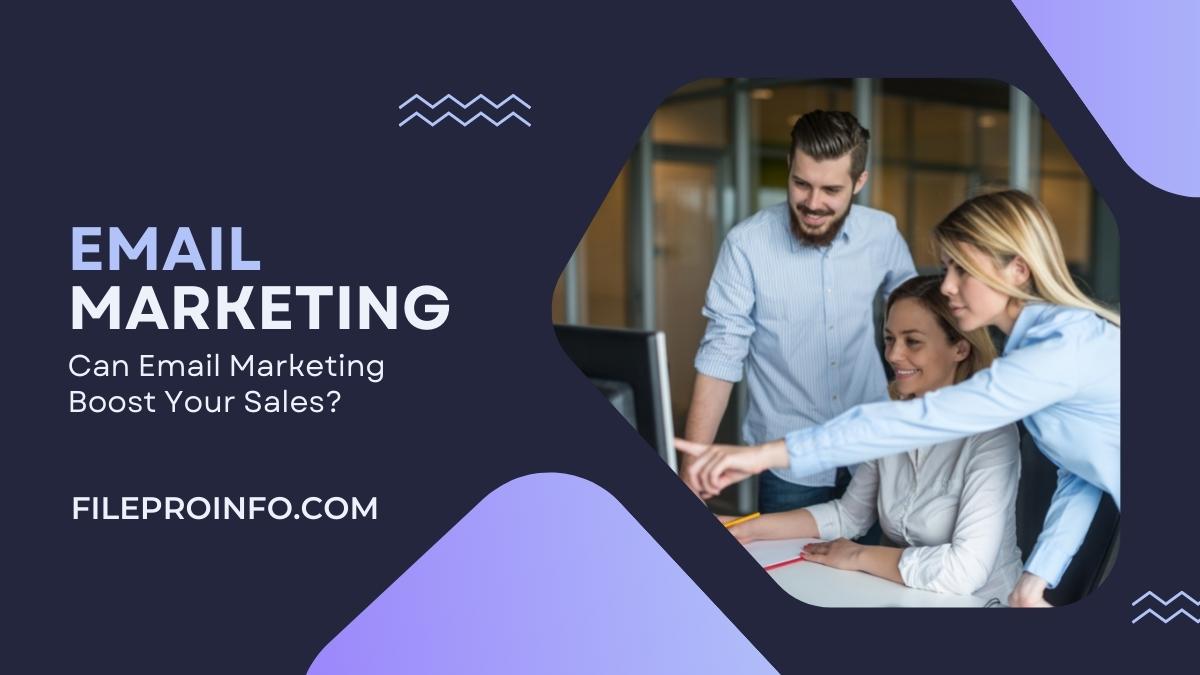 Can Email Marketing Boost Your Sales? Absolutely!
There are plenty of ways to market your business online, but email marketing is often overlooked. Unlike other forms of digital marketing, you can use email marketing to stay in touch with customers on their own time, reaching the people who are most likely to be interested in your products and services at the moment they desire to buy.
Email marketing, also known as direct or permission-based email marketing, isn't just a tool to blast your customers with promotional messages. Instead, it's an opportunity to engage with your audience individually and build long-lasting relationships that will increase your sales over time.
Here are 8 ways email marketing can boost your sales and increase engagement.
1. Use email marketing to share your expertise
Email marketing is an important part of any business strategy because it helps you stay in touch with customers, strengthens your brand image, builds customer loyalty, and generates leads.
You can use email marketing to share your expertise by including tips or articles for your subscribers.
For example, a restaurant could send out a monthly newsletter with recipes they've used that are easy and fast to prepare. You can also share information about the restaurant's new dishes or seasonal ingredients.
2. Promote your content through email marketing
Promote your content through email marketing. One way to do that is by using your email list to promote new content like blog posts, social media updates, and press releases. Automate this process with the help of a marketing automation tool like MailChimp or Mandrill.
Once you've published a new piece of content, send an email to your audience letting them know about it so they can read it as soon as possible.
Also, don't forget to include calls-to-action (CTA) in each message that prompts people to subscribe, like, "Don't miss out on our latest post!" By sending these types of emails regularly, you'll be able to grow your audience and keep them engaged with fresh content.
3. Use Email Marketing Tools
The most useful email marketing tool is a CRM (customer relationship management) system, which will help you organize contacts, track important interactions, and measure the success of your campaigns.
You can also use email marketing tools like autoresponders to create predefined messages for when people don't open your emails or follow-up campaigns to keep in touch with prospects.
In addition, you can use these tools to collect data on what's working and what's not by tracking metrics such as clicks, opens, bounces, unsubscribes, and replies.
4. Request customer feedback through email marketing
Requesting customer feedback through email marketing is a great way to boost sales, increase engagement, and get your customers talking about you.
Here are 10 ways you can use email marketing for customer feedback:
Send one-question surveys with multiple-choice answers;
Ask users what products they would like to see in the future;
Collect their opinions on recent changes or current news;
Offer incentives in exchange for feedback;
Ask them how often they use your products or services;
Find out what their favorite product is;
What is their favorite feature of your business?
The best part about requesting feedback via email marketing? You don't have to commit to many resources because you can send emails out as often as necessary. With the above options available to you, there are endless possibilities for asking customers for feedback.
5. Keep your emails short and sweet
Keeping your emails short is a good rule of thumb. Emails with shorter content are more likely to be read. This will not only increase engagement but also increase your sales.
When designing your email, use short sentences. For example, try to keep your emails under 10 sentences in length. This makes them much more likely to be read than a long, convoluted message about discounts and special offers for Christmas.
Also, include a link that people can click on to receive further information if needed; you don't have to give it all away in your first email.
6. Emphasize urgency
Emphasizing urgency in emails is one of the most effective ways to get people to take action. Urgency can come from scarcity, competition, deadlines, or even a limited-time offer.
For example, sending an email about limited-time offers will make customers want to buy now rather than wait for another opportunity that may never come around again.
Urgency can also be caused by competition. For example, if you send an email about a promotion you're running, and another company sends one as well, people may hesitate to make a purchase because they think there might be better deals available.
To prevent this scenario, it's best to send emails with exclusive offers that only last for a certain period of time. This way, your customers know they're getting the best deal.
Finally, when using urgency in your marketing campaigns, it's important not to overuse it because, eventually, your audience will become immune. A few strategically placed messages throughout your campaign should work perfectly.
7. Run an incentive program using email marketing
You can incentivize your sales in the following ways:
Offer a discount or a free product. Offer customers a coupon code for 10% off their purchase or a free gift with their order of $50 or more.
Doing this will increase the chances that the customer will buy from you again, which leads to loyalty and repeat business. You can also use email marketing to generate new ideas by asking your subscribers what they want as incentives.
Use contests to drive conversions and build excitement. Another way to incentivize sales is through contests, either self-run or partnered with another company in your industry, where participants are entered into a random drawing to win a prize (it could be anything).
8. Personalize your emails based on the individual recipient, their preferences, etc.
Personalizing your emails based on the individual recipient, their preferences, etc., helps you stand out from the crowd.
You can go a step further for your long-term loyal customers by running a quick search on Leadar to access their social and work profiles so you can tailor the emails to their specific jobs or interests.
You can also offer specific deals and discounts that will be of interest to them, making them more likely to purchase your product.
When you send a personal email to someone who has subscribed for updates about a certain topic, it increases the likelihood that they'll open it.
Campaign Monitor research shows that personalization is especially effective in sales as emails with personalized subject lines reportedly increase open rates by up to 26%.
Final Thoughts
Email marketing is a tried and true way to increase the number of people who know about your business and want to buy from you. It's easy, fast, and cheap, so what are you waiting for?
Give your email marketing a boost with these 8 tips. If you've already got an email marketing plan, it's time to review it.