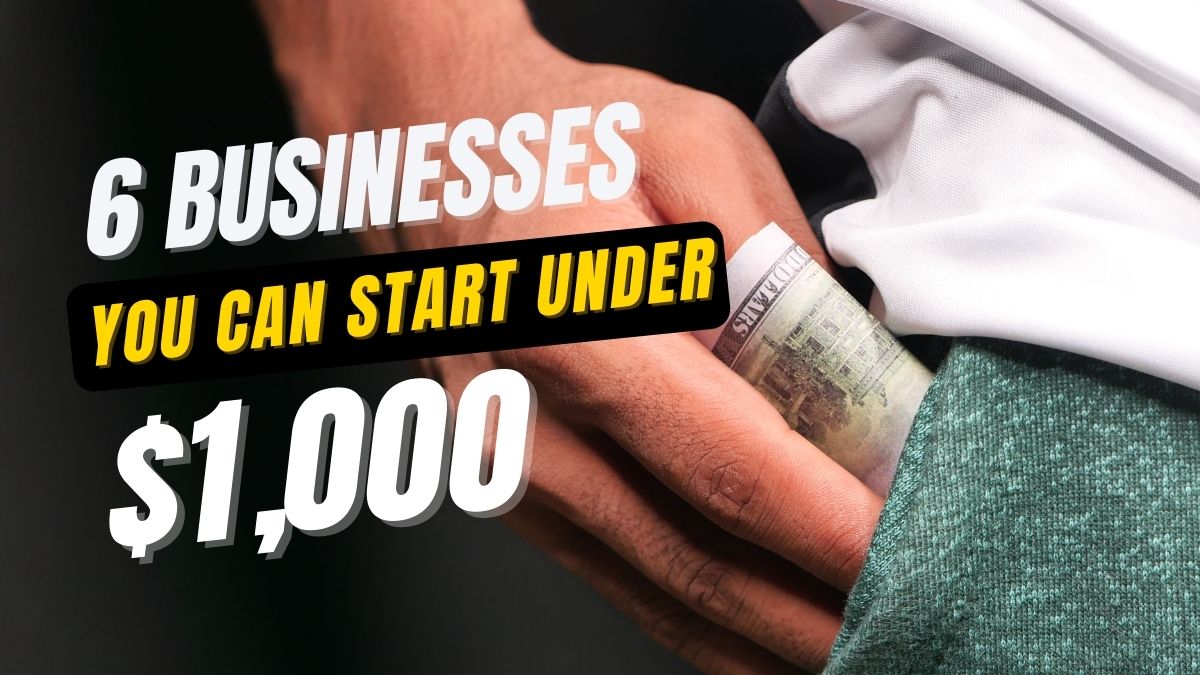 What are Amazon, Google, Apple, Microsoft, and Disney all about?
If you guessed that they all began as home-based businesses, you'd be correct.
Home businesses have a significant advantage in that they do not require significant start-up costs. In comparison, starting a trucking business for long-haul or short-haul deliveries, or any other business that necessitates the purchase of expensive equipment and insurance, would necessitate a significant financial investment.
If you've ever considered becoming an entrepreneur and starting a business, but don't have an unlimited amount of money to invest, this article is for you.
According to the US Small Business Administration, small businesses account for 99.9 percent of all businesses in the United States. People who want to be their own boss have a plethora of options.
Remember that you'll need to cover the basics for each of these business ideas, such as coming up with a strong business name, creating a unique company logo to identify your company, registering with your state and local municipality, and more.
The two comprehensive guides that follow will assist you in getting started: how to start a business and how to create a strong brand identity for your business. All of the aforementioned startup issues, as well as many others, are addressed in those guides.
Let's take a closer look at each of these six business concepts.
1. Bicycle repair business
Bike repair is still a thriving industry.
Many people consider this type of business to be a side hustle because it can be done part-time and with a few inexpensive tools.
You'll be ahead of the game if you understand bicycles and how they work. According to a recent report by Bikes for People, one in every three Americans rode a bike in the previous year.
This industry will continue to grow as many urban cities adopt a bike-friendly approach.
Required abilities
The ability to diagnose and repair bicycle problems is the most important skill required for bicycle repair businesses. This necessitates familiarity with various types of bicycles and their components.
While no formal training is required, you may want to look into comprehensive or niche bike repair classes at trade schools like the United Bicycle Institute.
Investment
Bicycle repair is a low-cost endeavor. This is especially true if you already have the required equipment.
You will require a location to conduct your business. While renting a business location can be costly, many entrepreneurs begin by running their repair business out of their garage or home workshop.
You can also reduce your initial cash outlay by purchasing special bicycle parts as needed by clients rather than stockpiling them. Just make sure to set clear expectations for your customers about when their parts will arrive and repairs will be completed.
It's also a good idea to form alliances with local bicycling clubs and organizations. Members of these clubs have the potential to become mentors or clients.
Size of the market
The bicycle repair industry is thriving.
Bicycle repair is expected to grow at a faster-than-average rate of 26 percent between 2016 and 2026, according to the US Bureau of Labor Statistics.
The market will be influenced by your location as well.
Regions of the United States with year-round moderate-to-good weather will have a stronger market than states with shortened biking seasons.
Why we like this business: Bicycle repair provides a steady income for those who enjoy cycling and work well with their hands. New business owners can see a return on their investment relatively quickly with minimal training and investment.
2. Event planning company
Starting your own event planning business may be the right move if you enjoy managing event details such as location, themes, and food.
You will have creative control over all aspects of an event or party as an event planner.
An event planning business may be the ideal side hustle or full-time career choice for you if you have knowledge of local hot spots and excellent organizational skills.
Required abilities
Event planning necessitates superior organizational and communication abilities.
As an event planner, you will wear many hats, including:
Price negotiations with vendors are handled by a negotiator.
Interior designer: creates and executes a vision for the visual aspects of an event.
Accountant: managing and adhering to the client's budget.
Personal assistant: scheduling appointments with potential and hired venues and vendors for clients.
While an undergrad degree in hospitality can help you get started, it is not required.
Consider obtaining the following certifications to increase your earning potential:
Certified Meeting Professional (CMP): A CMP earns approximately $10,000 more per year than those who are not certified.
Certificate in Meeting Management (CMM): According to reports, a CMM holder earns $30,000 more per year than those who are not certified.
Financial investment
New business owners should expect to save money by doing a large portion of the work themselves at first.
Having said that, you can start an event planning business with a $1 million or less investment.
If you have a laptop, wifi, and a phone, you can work from almost anywhere as an Event Planner.
Start your business in your home office to save money on office space.
Do you need to meet with a client? Consider renting out time at a coworking space or holding your meeting at a nearby restaurant or coffee shop.
Size of the market
The event planning market remains stable. Even in the midst of a pandemic, event planners are hard at work planning virtual events.
According to the U.S. Bureau of Labor Statistics (BLS), event planning is growing at a faster-than-average rate of 7%.
In May 2019, the BLS reported that the median annual wage for meeting, convention, and event planners was $50,600.
Why we like this business: Starting an event planning business can be very profitable if you have the right skill set. We like how this type of business suits the entrepreneur who needs to start small and gain incremental growth as they gain experience.
3. Professional organizer business
People have far too much stuff and far too little space or time.
Professional organizers help clients achieve top-tier order and organizational systems in everything from personal pantries to office filing systems, bedroom closets, and medical records.
As a professional organizer, you will assist others in gaining control of their domain, increasing personal or professional productivity, creating well-structured systems to stay on task, and reducing stress.
Starting a professional organizer small business may be an excellent choice for you if you are highly organized and enjoy assisting others.
Required abilities
To become a professional organizer, no specific education or training is required. However, you will want to gain experience and knowledge in the organizational niche that you focus on.
Organizers typically start offering services after working in other fields, putting their knowledge and experience to good use.
Someone with a financial background, for example, may be interested in a financial records niche, whereas an experienced homemaker may be better suited to residential organizational tasks.
There are two helpful national associations that can assist with training and certification:
The National Productivity and Organizing Professionals Association (NAPO)
The Institute for Combating Disorganization is a non-profit organization dedicated to combating disorganization.
After you've been in business for a while, you can also consider certification from the Board of Certified Professional Organizers (BCPO), which requires 1500 hours of paid experience.
Monetary investment
The financial investment required to start a professional organization business from home is minimal. Your organizational skills will be your most valuable tool and asset.
If you have $1000 in the bank, you should be able to start taking on clients right away.
Size of the market
Professional organizers have a promising future in an age when less is becoming more.
Statista data show that this market has been steadily growing since 2005:
Home organization market value in the United States from 2005 to 2020 (in million U.S. dollars)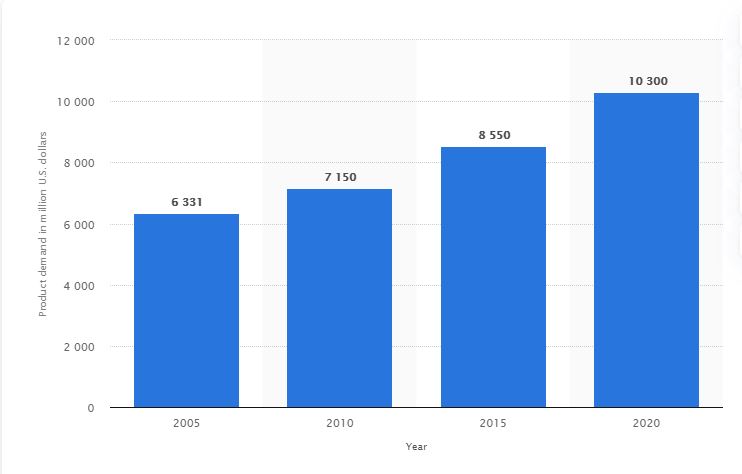 In the United States, the average salary of a professional organizer varies. It can range from $50/hour (for beginning organizers) to more than $200/hour.
Why we like it: Starting a professional organizer business requires little training and can be profitable with a small investment. Even with a few clients, a professional organizer's business can thrive.
4. Social media management business
Social media managers monitor, engage, guide, and measure a brand's social media marketing. They are also an important part of any company's marketing team.
If a company wants to stay relevant, it must have a social media presence.
Currently, social media is used by more than 49 percent of the world's population. Many business owners prefer to hire outside social media experts to manage their social media platforms.
So, if you're fluent in marketing and social media, starting a social media management company could be a good fit for you.
Required abilities
Experience rather than education is required for the skills required in social media management. A marketing degree can be very helpful when starting out, but many successful social media managers do not have a college degree.
That being said, don't be fooled into thinking that social media managers only tweet, pin, and post on Facebook.
To be a successful social media manager, you must be good at communication, organization, and writing.
To be successful, you must have a thorough understanding of the various social media platforms, the creation of written and visual content, and the ability to run marketing campaigns.
And, even if you don't need a college degree, you can't ignore your education.
To remain competitive in a field that is constantly changing, social media marketers must have up-to-date training on the latest regulations and best practices.
Furthermore, if you have certifications to boost your credibility, you will attract more clients as your business grows.
Monetary investment
With very little money, you can start a social media management business.
You will primarily rely on your knowledge of social media and marketing. In fact, you can (and should) use your knowledge of social media marketing to promote your own company!
Social media managers typically begin as a side hustle with only a few clients while building their brand.
Size of the market
The demand for social media managers is both stable and increasing.
According to the U.S. Bureau of Labor Statistics (BLS), the employment of social media managers is growing at an annual rate of 8%.
PayScale reported a median annual salary of $50,816 for social media marketing managers in 2020.
Why we enjoy this industry: Social media is here to stay. Businesses rely on the direct customer engagement provided by social media. People who are skilled in social media and marketing can excel as social media managers.
5. Dog walking and pet care business
Whether you consider yourself a "cat person" or a "dog person," one thing is certain: people adore pets.
Every year, billions of dollars are spent on pet care.
Pet-sitters, dog walkers, groomers, and other services are required by busy pet owners. If you enjoy working with animals, starting a pet care business could be a good fit.
Required abilities
Working with pets necessitates a certain level of comfort and confidence in dealing with animals. This is a non-negotiable requirement in this field.
Walking, feeding, grooming, dispensing medicine, and nurturing a client's pet are all examples of pet care. As a result, you'll need to be able to complete all of these tasks.
You may also be required to transport pets to veterinary appointments and play dates. As a result, having a dependable and insured vehicle will be advantageous.
While no formal training is required, membership in professional organizations such as Pet Sitters International will give you credibility and help reassure new clients.
Monetary investment
The majority of pet-sitting businesses can be run from home. To get started, you'll need a good computer, a flexible schedule, and a lot of heart.
You'll also need an insured vehicle if you want to expand your services beyond your neighborhood or include travel.
Size of the market
The market for pet care is expanding rapidly.
According to the U.S. Bureau of Labor and Statistics, the pet care industry is growing at a faster-than-average rate of 16 percent (BLS).
The BLS reported a median annual income of $24,990 in 2019.
Why we like this industry: The pet industry is thriving. This business requires little training and investment before it can be launched. The growth outlook for animal care demonstrates that it is a dynamic industry to consider.
6. Cleaning business
Starting a cleaning business can be extremely profitable.
In addition, starting a cleaning business requires little capital.
The truth is that homes, businesses, and public spaces will always require cleaning.
Read Your 2021 Fall Home Maintenance And Cleaning Checklist.
Required abilities
What we like best about a cleaning business is that the core skill – cleaning – is one that most people are already familiar with.
A cleaning business does not necessitate any formal education or skill development. However, you should become acquainted with the safety laws and standards for working with toxic cleaning products.
Occupational Safety and Health Administration (OSHA) regulations cover eye and face protection, hand and foot protection, toxic and hazardous substances, and ventilation. If you want to start a cleaning business, learn about OSHA regulations.
Monetary investment
A cleaning business, like the others on our list, requires little capital to get started.
Plan your service offerings before purchasing supplies to ensure that you spend your money on items that you will actually need.
Also, keep in mind that cleaning supplies must be replaced or refilled over time. So, before you buy cleaning supplies, do some research to find items that can be safely re-used and provide long-lasting service until you start making money.
Size of the market
The cleaning business market is thriving.
According to the Bureau of Labor Statistics, the cleaning industry is currently growing at a rate of 7%, which is higher than the national average for all occupations.
Furthermore, the field is expected to grow 10% between 2016 and 2026, providing an excellent opportunity for prospective business owners in this category.
Why we like it: Cleaning businesses require little capital, no formal training, and are in high demand.
Bringing it all together
It takes a lot of effort to become a business owner. However, it is rewarding. And you can get a head start on your future with as little as $1,000 in the bank.
Learn more from business and read 19 Steps to Start Your Own Construction Company.