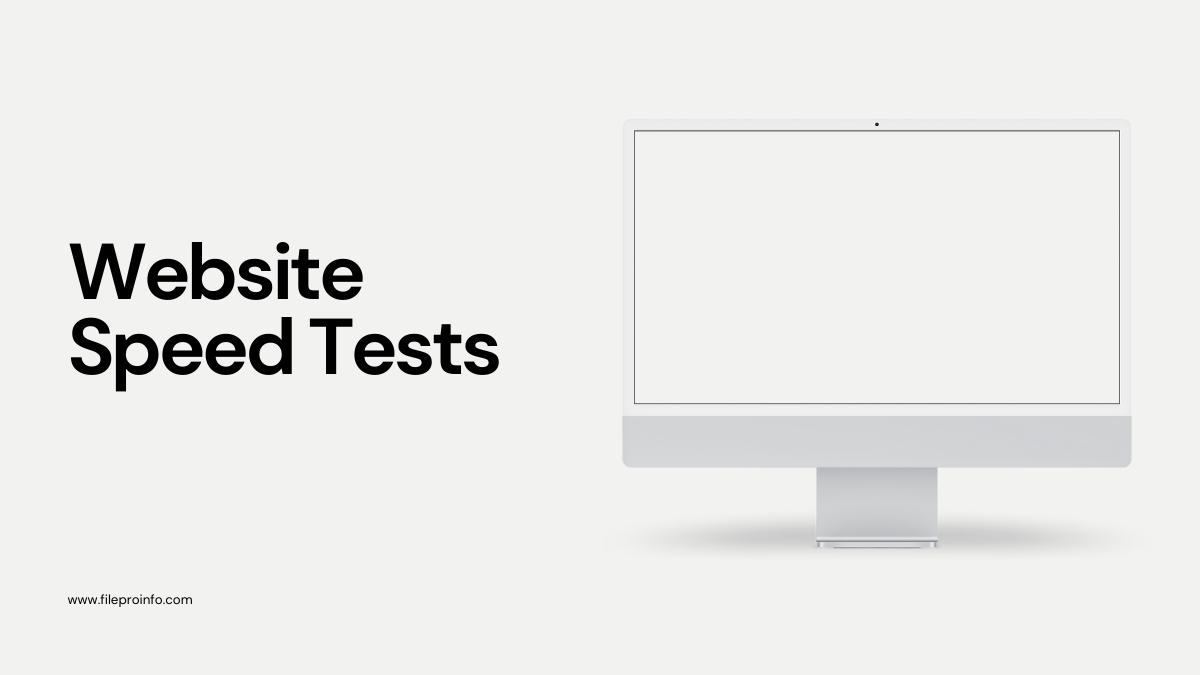 Your website's performance depends on speed. Web developers, marketers, and IT departments all pay attention to website performance testing tools because of this. The success of your site as a whole can be significantly impacted by speeding up your website.
Your performance is impacted by page speed in almost every area, including user experience and search engine optimization. In reality, the majority of website visitors won't even wait four seconds for a page to load before moving on. Furthermore, a speedier website will perform better, there is no way around it. It might be challenging, though, to know where to start.
It's not a good idea to wait for your website to load while keeping a timer beside your computer to see whether it's loading quickly enough. Because of this, the majority of developers and marketers will make use of several free tools for measuring website speed.
1. Google PageSpeed:
Google PageSpeed Insights won't offer a lot of information or advice on how to solve issues. It isn't a proper page speed measuring tool. However, there are a few justifications for why it's still worthwhile to use this Google-created tool:
Google's results can be more significant than those of other technologies. This is so because Google, where you're seeking to build traction, is the one who truly determines the search ranks. Take the information carefully if a Google tool detects problems with the functionality of your website.
Additionally, using this tool couldn't be simpler. You may get results from your website's desktop and mobile versions by simply typing your website's address into the search box and waiting a few seconds. You can see quite quickly whether or not your website is working well because all the results are attractively color-coded.
2. GTmetrix:
GTmetrix is a free program that analyses your website's performance and provides a thorough report. This free website speed test tool creates performance ratings for web pages and offers suggestions for how to make them better.
Features:
It enables you to test your website across several browsers and geographic locations.
It gives an overview of the important performance metrics.
Graphs may be used to monitor and measure website performance.
Several emulated devices can be used to test a web page.
It enables the playing of videos loaded on web pages.
3. Sematext:
Even though it is relatively new to the Sematext Suite, Synthetics is a synthetic monitoring tool that has quickly grown to be a client favorite. With it, you can assess performance across devices and browsers, track down problems with third-party resources, and monitor API and website availability from several locations around the world. It is quite simple to get started, and it just takes a few minutes before you can use the user-friendly UI to begin monitoring your resources. To be informed right away if something goes wrong, you may set up certain circumstances that would cause an alert.
There is a 14-day trial period for Sematext Synthetics. Plans start at $29/month and include 5 browser monitors, 40 HTTP monitors, and data retention of 30 days. Of course, you may tailor everything to your specific requirements, but that's not all. The Pay-as-you-Go option allows you to set up individual monitors for $2/month and is an additional option.
4. Uptrends:
A monitoring tool called Uptrends allows you to manage the functionality, uptime, and performance of your servers, websites, and APIs.
Features:
The program supports a variety of protocol technologies for website and server monitoring needs, including SMTP, POP3, IMAP, HTTP/HTTPS, FTP, SQL, and MySQL.
Emails including dashboard reports are sent automatically to the recipient you specify in either PDF or Excel format.
You may set up API calls to cross-check the return data and keep track of your API's uptime.
This web application can also keep track of multi-step processes including logins, searches, shopping carts, and forms.
It detects web performance issues in browsers like IE, Chrome, and Firefox automatically.
However, if you sign up for their Uptrends Synthetics product, you'll receive all of those benefits and more for $12 a month for 10 basic monitors, RUM, and 60 message credits. There is often a little silence and no alarms that can be put up with the free version of the test.
5. Varvy PageSpeed Optimization:
Varvy PageSpeed Optimization is a free tool that analyses the speed of your website and offers suggestions on how to improve the user experience. Patrick Sexton, the same person behind Getlisted.org, invented it.
Varvy PageSpeed Optimization divides your report into five categories that include a general description of the test, a resource map, information on how CSS is delivered, Javascript use, and other data on image optimization, browser cache, compression, and server response.
6. Dotcom-monitor:
Dotcom-monitor offers 25 locations and 7 various browsers, including Blackberry, which should lead me to believe that they either need to upgrade their service or are simply historians. After completing the test, you will receive feedback on your load time and server response information. You may also see what a repeat visitor looks like if they visit your website again after previously caching resources on their computer. A thorough page speed insight report produced by Lighthouse is another thing you'll receive.
A SaaS-based all-in-one monitoring solution for DevOps and IT, Site24x7. Site24x7 monitoring monitors a website from various locations worldwide, enabling you to assess a site's performance and lower its downtime.
Features:
From more than 110 locations across the world, keep an eye on the availability and performance of websites as well as other internet services including DNS servers, FTP servers, and REST APIs.
Simulate and record multi-step user interactions in a real browser, then optimize them.
Keep track of how long each static resource on your website takes to load.
Keep an eye on SSL/TLS certificates, website tampering, etc.; and safeguard your website.
Receive immediate notifications through a phone call, SMS, or email.
7. ManageEngine Applications Manager:
With the help of ManageEngine Applications Manager, you can analyze web pages, keep track of them, monitor page load times to identify sluggish performance, and use PageSpeed rules and recommendations to improve web page performance.
Features:
Track the efficiency of a single page or a series of pages.
Track the reaction times of each component on the webpage and get knowledge about the domain.
Keep track of illicit content alterations.
Use automated application discovery, tracing, and diagnostics to quickly identify time-consuming web components and other underlying problems (ADTD).
Analyze and simulate the end-user experience, and track website performance from many angles.
8. Performance:
A web tool called performance tracks how long it takes a user to connect to your website and for one page to fully load.
Features:
Check your website's functionality from any country.
It counts the time between the client's HTTP connection request and the browser's receipt of the first byte of the web page.
You may use server time analysis to respond to a data request sent by another device.
9. Dotcom:
A reliable performance testing and website monitoring tool is Dotcom. This free tool lets you examine your website performance while watching the site's video and waterfall charts.
Features:
The program measures how quickly pages load in different international browsers.
It enables you to examine the operation and efficiency of several internet services.
Use precise charts and graphs, historical data, and shared dashboards to pinpoint the underlying cause of performance problems or downtime.
It includes a personalized alter that makes it easy to send messages to other individuals via voice, email, and SMS text.
10. Pingdom:
Pingdom is a website and performance tracking tool to enhance the speed and dependability of the internet. Customers who use this product receive alerts about any issues so they may concentrate on their everyday tasks.
Features:
Review each section of a website
Give a summary of your performance
Review your previous performance data
Lets you test from various places
11. WebPagetest:
One of the most used programs for gauging the effectiveness of websites is WebPagetest. With the help of this free website speed test tool, you can run web performance tests on your site from various places across the globe using different browsers.
Features:
This tool works with Chrome and IE browsers at typical consumer connection speeds.
It carries out sophisticated testing, which may involve video collection, content blocking, multi-step transactions, etc.
It provides diagnostic data such as loading waterfall charts, page performance optimization tests, and recommendations for enhancing user experience.
12. KeyCDN:
KeyCDN is a tool to evaluate the functionality of your website and spot connection problems. It aids in the prevention of assaults and unlawful conduct.
Features:
You may simply customize this tool to your needs.
Delivers accurate reports in real-time.
Aids in your defense against assaults and unauthorized behavior.
It offers a RESTful API that enables total account control from any application and in any language.
13. Giftofspeed:
Giftofspeed is an online tool for assessing website speed as well as tools and optimization strategies for your website.
Features:
You may examine how CSS is delivered on any website.
To increase website performance, reduce CSS scripts.
Checking to see if Gzip compression is enabled on your web pages is helpful.
It enables you to monitor the number of HTTP requests your web pages send out.
To improve the functionality of the website, find and fix any photos, broken links, and other files.
The HTTP server header is visible on every web page.
14. SpeedCurve:
A website performance and design measurement tool is called SpeedCurve. You may troubleshoot website performance problems at the page level using this application to test website performance.
Features:
It offers engagement charts that help you utilize your data to comprehend the effect of page delays on the bounce rate of your site.
Track when your most crucial material renders.
You can monitor any metrics, such as conversion rate, A/B testing, and cart size.
Using this tool, you may analyze page-level performance issues on a website.
Create budgets for performance and receive notifications.
Using its Deploy API, SpeedCurve makes it possible to monitor code changes throughout deployments.
15. Darboost:
An online tool called Darboost examines and improves the functionality of your website. It offers several optimization suggestions. Darboost is intended to speed up web page loading while improving its quality.
Features:
You may assess how quickly your website loads compared to rivals.
It continually scans websites for concerns with quality and loading.
It allows you to monitor user activity on your website.
You may test your mobile website's speed with this page speed test tool.
Using Website Speed Test Tools Has These Advantages:
Identify the scripts, fonts, and plugins that are creating load-time problems (HTML, JavaScript, CSS)
Make sure your scripts have been minified.
Measure First Byte Test Time (TTFB)
Track the effectiveness of your content delivery network.
Checking to see whether assets are loading properly from your CDN
Examine overall load times, page sizes, and the number of requests.
Examine effectiveness across various geographic regions
Examine the speed of rendering in various browsers.
Determine which huge photos are the bottlenecks.
Check to see whether your JavaScript or CSS is render-blocking.
Examine the HTTP Headers