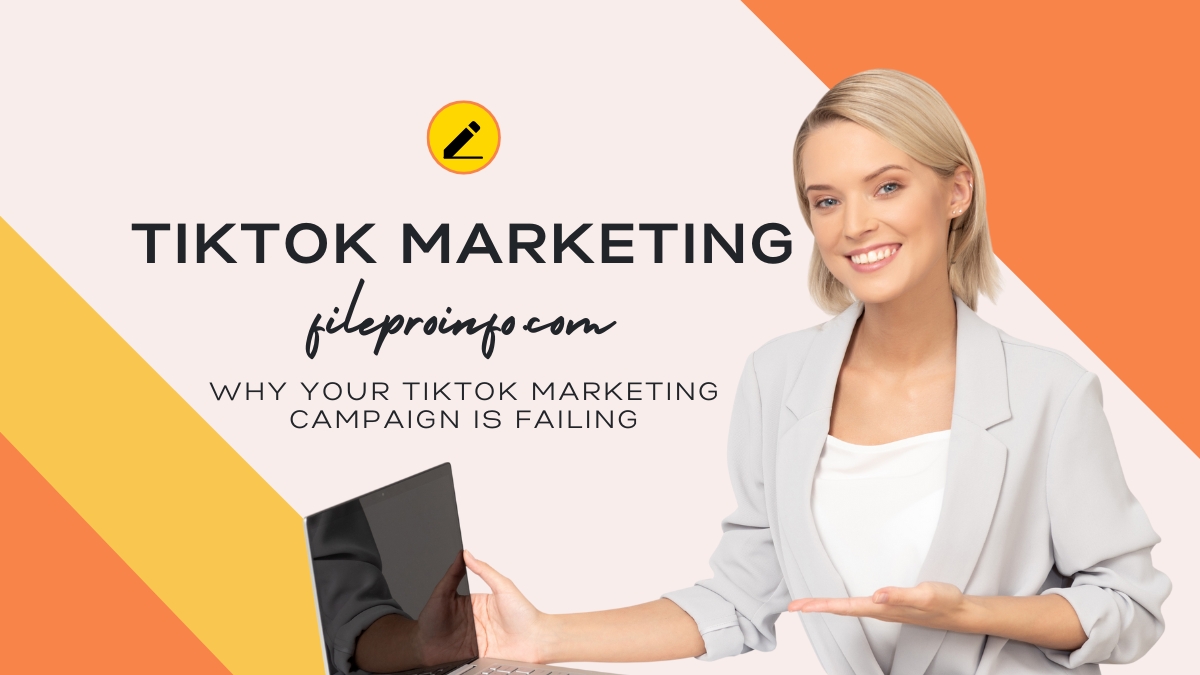 TikTok has become one of the fastest-growing social media platforms, and as a result, businesses are eager to include it in their marketing campaigns. However, many businesses fail to capitalize on the platform's potential and find themselves struggling with a failing TikTok marketing campaign. In this article, we'll explore why your TikTok marketing campaign could be failing and provide tips to help you get back on track.
Why Use TikTok for Your Marketing Campaign
TikTok is quickly becoming one of the most popular social media platforms, and it's no wonder why businesses are turning to it for their marketing campaigns. TikTok's unique ability to reach a wide range of people provides businesses with an ideal platform to showcase their products or services. Here are a few reasons why businesses should use TikTok for their marketing campaigns:
First, the platform offers an array of creative tools that can help capture audiences' attention and spark engagement. From videos and GIFs to music and special effects, businesses can create visually appealing content that stands out from other platforms like Facebook and Instagram. Additionally, users on TikTok tend to be more engaged than those on other social media sites.
Why Your TikTok Marketing Campaign Is Failing
1. You're not reaching your target audience
Are you failing to reach your target audience with your TikTok marketing campaign? It's a common problem for many businesses, and it's time to understand why this social media platform may not be delivering the results you expected.
TikTok is an incredibly popular app that has been around since 2016. However, this platform isn't always suited for every type of business or industry. It requires creativity and understanding of the demographic that uses it to succeed. The content you put out needs to be entertaining and relevant enough that users will want to watch and share it with their friends. Additionally, if your target audience is older than the age range of most TikTok users (ages 16-24), then it might not be the best place for your marketing efforts.
2. You're not tapping into the TikTok culture and philosophy
If your business is not currently leveraging the power of the TikTok platform for marketing, it might be time to reconsider. With more than 800 million active users worldwide, TikTok offers a unique opportunity for brands to expand their reach and innovatively engage with their target customers. Although creating successful campaigns on TikTok can be tricky and involve a steep learning curve, not tapping into this popular culture could mean that your brand is missing out on valuable opportunities to create buzz and increase sales.
However, if you are failing to launch successful marketing campaigns on TikTok, then it's likely that you're not properly understanding its core philosophies or utilizing the right strategies. To ensure success on this platform, businesses need to create content that aligns with current trends and resonates with the audience by being both entertaining and educational.
3. You're not leveraging hashtags
If you're running a TikTok marketing campaign but not leveraging hashtags, then your efforts may be in vain. Hashtags are essential when it comes to making sure people can find and engage with your content on the platform. Without them, it's highly unlikely that your marketing campaign will be successful.
TikTok is an incredibly competitive platform, so if you're not using hashtags then chances are your content won't stand out from the rest. Hashtags allow users to easily search for specific topics or trends, meaning that by including relevant hashtags in your posts you have a greater chance of increasing engagement and growing brand awareness. It also gives followers more opportunities to interact with each other and encourages conversations around topics related to your business. Additionally, using popular hashtags can help boost visibility as they give users a way to join conversations about trending topics or current events.
4. You're not collaborating with TikTok influencers
TikTok marketing campaigns are a great way for businesses to reach their target audiences on this popular platform. However, if you're not collaborating with TikTok influencers, your campaign may be failing.
The key to successful TikTok marketing is working with the right influencers who will deliver content that resonates with and engages their followers. Without the right influencer partnerships, your content can get lost in the shuffle or worse yet, be ignored altogether. An effective approach is to partner with up-and-coming creators who have smaller followings but are passionate about your brand and whose followers are highly engaged. This allows you to create compelling visuals and videos that evoke emotion and create a connection between your brand and its potential customers.
5. You're recycling/repurposing content from other social media
In an age when content is king, TikTok has been hailed as the new platform of choice for digital marketing campaigns. However, a recent attempt by an unnamed business to 'recycle and repurpose' content from other social media sites may have backfired. The move has resulted in a failed TikTok marketing campaign that could serve as a lesson to others seeking success on the platform.
The company in question had previously seen success with its presence on other popular social media platforms, so it made sense to try and replicate this strategy on TikTok. Unfortunately, what worked elsewhere did not translate into any meaningful growth or engagement on the video app. Even after much tweaking and experimentation with recycled and repurposed content from other channels, the campaign failed to make an impact at all.