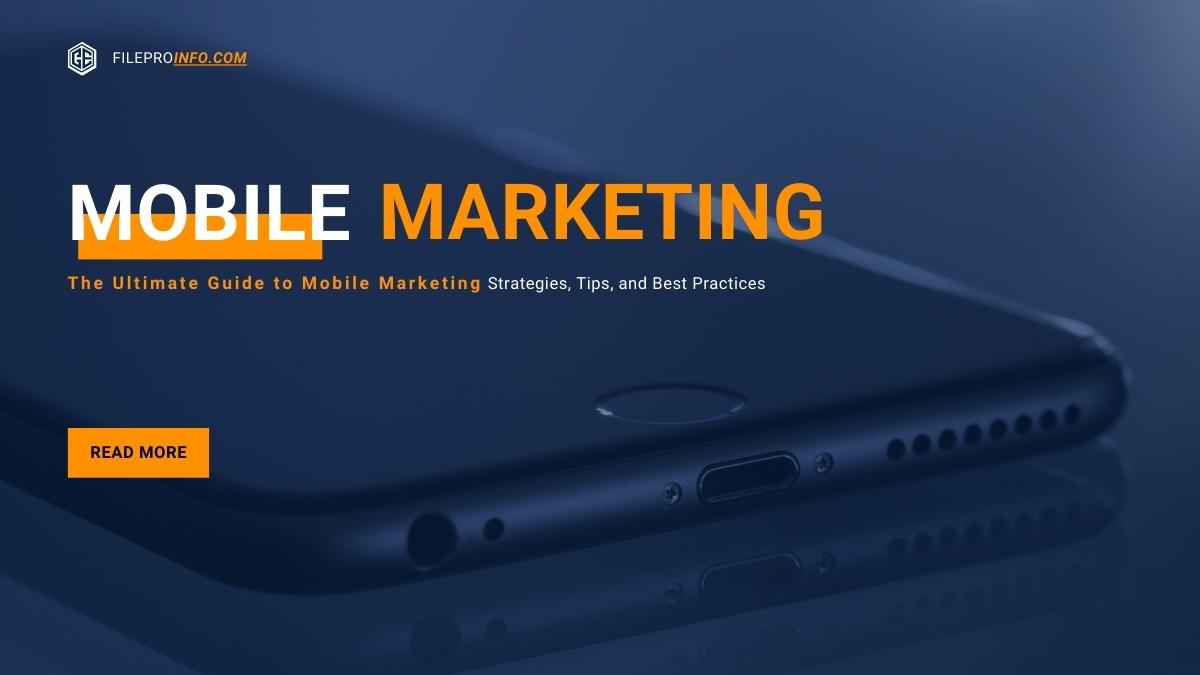 Mobile marketing refers to the promotion of products or services through mobile devices such as smartphones and tablets. Some strategies and best practices for mobile marketing include:
1. SMS marketing
SMS marketing has become a key component of successful mobile marketing strategies. It involves sending text messages with promotional offers to customers who have opted-in to receive them. Companies that use SMS marketing effectively can reach out to their customers quickly, efficiently, and at a low cost.
At its core, SMS marketing is about creating conversations between brands and customers that are mutually beneficial for both parties. Customers are enticed by exclusive offers tailored to their preferences while businesses gain valuable insights from customer interactions with these campaigns. Furthermore, companies can track the performance of each campaign in real-time, allowing them to adjust messaging as needed to maximize returns on their investment.
2. Mobile app marketing
Mobile app marketing is an essential tool for businesses to increase their presence in the mobile space. App store optimization (ASO), in-app advertising, and social media are three of the most popular methods used by modern marketers to promote their mobile apps.
App store optimization is a process that helps optimize an app's visibility within the Apple or Android app stores so users can find it more easily. This includes optimizing keywords, titles, descriptions, and screenshots to ensure they meet app store guidelines. In-app advertising involves integrating ads into your app content, allowing advertisers to target specific audiences and generate revenue. Social media provides an excellent platform for gaining more exposure and engaging with customers directly. Companies can use social networks like Facebook and Instagram as powerful channels for creating buzz around their apps as well as sharing exclusive offers or promotions with existing users.
3. Mobile website optimization
Mobile marketing is quickly becoming the go-to approach for businesses looking to reach a broad target audience. An essential part of any successful mobile marketing strategy is ensuring that a website is optimized for mobile use. This means making sure that the site is easily navigable on a small screen and that all pages are designed specifically with mobile users in mind.
Having an optimized mobile website can lead to increased customer engagement, better user experience, and improved search engine rankings. Mobile optimization involves creating separate webpages that have been designed to fit on smaller screens and making sure all images, text, video, and audio content can be viewed properly across multiple devices. It also requires optimizing loading times by compressing images and other assets so they load faster than standard desktop versions of websites while still providing the same level of quality.
4. Location-based marketing
Location-based marketing is a powerful tool for businesses of all sizes. By using a customer's location, companies can provide highly targeted promotions and offer to engage potential customers and drive sales. Mobile marketing is an effective way to leverage this technology, as it allows businesses to target their message based on the user's geographical location.
When done correctly, location-based marketing can be an extremely lucrative form of advertising. By delivering personalized messages that are tailored to the individual's area or current context, marketers can increase engagement and conversion rates significantly. This type of targeted messaging also provides users with more relevant content at just the right time – creating better customer experiences while driving brand loyalty.
5. QR code marketing
QR codes are quickly becoming an effective way for businesses to engage their customers and increase sales. With the help of QR code marketing, companies can direct customers to different websites or special offers with just a simple scan. Mobile marketing is transforming customer engagement by allowing companies to provide interactive information and content in a convenient format.
QR codes are beneficial because they are easy to create and use. By simply scanning the code, customers can be directed directly to the company's website or special offer page – without having to type in any long URLs. Additionally, these codes can provide detailed product information, store locations, and contact numbers that would otherwise be difficult for users on mobile devices to access.
By using QR code marketing as part of their mobile strategy, businesses have the opportunity to drive more traffic and engage more customers with minimal effort.
6. Social media marketing
Social media marketing has become an essential part of businesses' strategies to promote products or services to a mobile audience. From Instagram posts to Snapchat stories, businesses are utilizing mobile marketing techniques to reach customers wherever they are.
The key to successful social media marketing on mobile devices is understanding how people use their phones and tablets differently from desktop computers. Because of this, companies need to tailor their approach so that it resonates with consumers who are always on the go. Companies must also be aware of trends in the industry and create campaigns that target a specific demographic, such as millennials or Generation Z users. Additionally, businesses should make sure that the content they post is optimized for the device it will be seen on – images should be clear and concise, and videos should be easily viewable without needing audio.
7. Mobile video advertising
Mobile video advertising has become an increasingly popular way for businesses to reach their target audiences. As people spend more and more time on their mobile devices, brands need to ensure they stay at the top of their game when it comes to mobile marketing. Utilizing video ads on platforms such as YouTube and Instagram is a great way for companies to reach consumers in an engaging, creative manner that will capture their attention.
Not only are these platforms ideal for creating visually appealing content that can be shared quickly and easily, but they also come with a range of features, insights, and analytics tools that make it easy to track performance and measure success. A well-executed video ad campaign can help you increase brand awareness, boost conversions and drive sales – making mobile video advertising a powerful tool in any business's digital strategy.
8. Influencer marketing
Influencer marketing has become a powerful tool for mobile marketing. With the rise of social media, partnering with influencers can be an effective way to reach a large mobile audience quickly and effectively. Influencers have devoted followers that already trust their opinions, making them ideal partners for promoting products or services to potential customers.
By collaborating with influencers, businesses can take advantage of the credibility they have built to build trust and credibility around their brand. Through leveraging their relationships with influencers, businesses can target specific audiences more effectively and create more personalized content for their audiences. Moreover, working with influencers provides businesses access to new platforms where they may not have been previously visible – allowing them to increase awareness among potential customers who may never have interacted with them before.
9. Personalization
Personalization is an effective way to tailor messages and offers to individual customers based on their interests and behavior. The goal of personalization is to foster engagement between customers, brands, and services through targeted advertisements. Mobile marketing has become an increasingly important part of personalization strategies, allowing businesses to reach out to individuals on the go with personalized messages that are tailored specifically for them.
Mobile marketing allows businesses to track customer behaviors, preferences, and shopping habits to create highly personalized messages that can be sent directly via text message or email. By leveraging data from mobile devices, companies can target customers with specific offers or discounts that are relevant and engaging for them. Additionally, mobile marketing enables businesses to increase customer loyalty by fostering relationships through automated feedback systems or reward programs via a mobile app.
10. A/B testing
A/B testing is an invaluable tool for mobile marketers looking to optimize their campaigns and maximize the effectiveness of their messaging. By conducting A/B tests, marketers can experiment with different strategies and tactics to see which ones resonate best with a particular audience. Through careful analysis of test results, marketers can gain valuable insight into consumer behavior and make strategic decisions that will help them reach key goals.
By testing two versions of a campaign against each other, mobile marketers can quickly identify which one resonates most with the target market. This allows them to adjust their strategy in real-time, rather than relying on guesswork or intuition. Additionally, A/B testing helps ensure that resources are allocated properly; if one version performs significantly better than another, it allows the marketer to focus more attention (and budget) on that version instead of spreading it across both versions equally.
It's important to keep in mind that mobile marketing should be integrated with a broader marketing strategy to be effective. Also, it's important to follow the guidelines of the platform where you are promoting your products or services, as well as the laws and regulations related to mobile marketing.