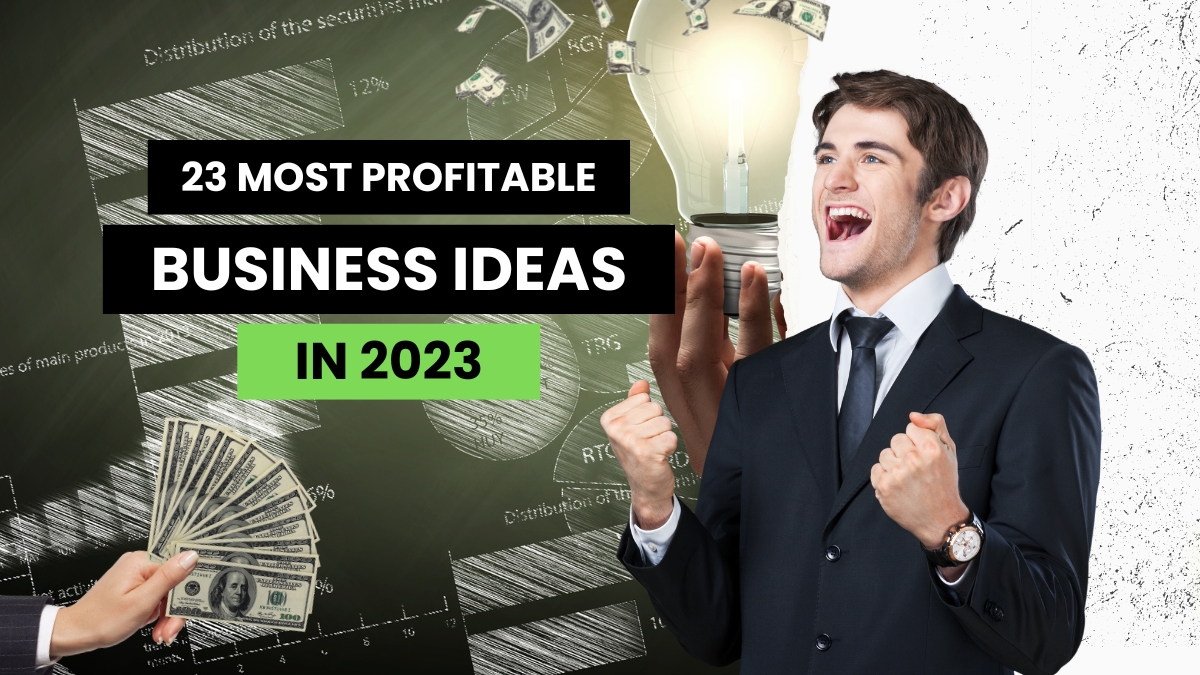 The world of business is constantly changing and evolving, making it difficult to know what the most profitable business ideas are. 2023 is no exception, with a wide range of potential investments available to entrepreneurs. In this article, we'll explore The 23 Most Profitable Business Ideas in 2023. We'll look at the types of businesses that are proving successful and provide insight into why these particular ventures have the highest chances for success.
1. Food trucks
Food trucks have become one of the most profitable business ideas around. With minimal overhead costs and a built-in customer base, food truck owners can start a successful business without much risk. The movement has been growing since the early 2000s and is now estimated to be worth $2.7 billion in the United States alone.
Food trucks offer customers convenience and variety that traditional restaurants don't always provide. From tacos to ice cream, there's something for everyone on wheels. They also allow entrepreneurs to quickly test out new concepts in a low-cost environment with little commitment required. Customers can enjoy delicious dishes without ever having to leave their neighborhood or workplace, making them far more accessible than your typical restaurant experience.
2. Car wash services
Are you looking for a profitable business idea? Car wash services may be the answer. It's a great way to start your own business with minimal overhead and the potential to generate high returns. With car washes, you can become your boss, set your hours, and determine how much income you make.
Car wash services can range from in-depth detailing to quick drives through automated systems. You can choose premises that are suitable for either type of service, depending on what fits best with your budget and customer base. An automated drive-through car wash is easy to operate and maintain but requires an initial investment in equipment. For more detailed work such as waxing or polishing, having a larger space with additional staff could be beneficial for the success of your car wash business.
3. Auto Repair
Auto repair can be a great and highly profitable business idea for those who are looking to break into the automotive industry. It requires a knowledge of auto mechanics and the tools to provide quality repairs, but with the right investments, one can build an extremely lucrative business. Depending on the level of investment you're able to make, there are several ways one can go about setting up their auto repair service ranging from simply providing mobile services or opening up a full-fledged shop in your area.
Getting started with your auto repair service is easy if you know what steps to take and having a good understanding of both cars and customer service skills will ensure that your business runs smoothly and efficiently.
4. Personal trainers
Personal trainers are a great way to make a profit from your love of fitness and health. Are you looking for a profitable business idea that allows you to help others reach their health and wellness goals? Then becoming a personal trainer is the perfect way for you to achieve this. This type of business provides an excellent opportunity to gain financial freedom and satisfaction from helping others reach their potential.
As a personal trainer, you can offer one-on-one training sessions or group classes depending on your preferences. You will be responsible for assessing clients' physical capabilities, designing personalized exercise programs tailored to each individual's needs, motivating them to stay on track with their goals, and providing nutrition advice when necessary. By developing relationships with clients and understanding their unique needs and motivations, you can establish yourself as an expert in the field of physical fitness.
6. Enrichment activities for children
For parents looking for a profitable business idea, offering enrichment activities for children could be the perfect solution. Enrichment activities are designed to be fun, educational, and inspiring experiences that develop a child's skills and expand their knowledge. From sports classes to music lessons and art classes, there is a range of topics that can be explored within the realm of enriching activities.
By offering such services to children in their local area, entrepreneurs can create an engaging environment for young minds to thrive in. Additionally, utilizing additional teaching techniques such as games and group activities helps parents feel confident that their children are learning valuable life skills while having fun at the same time. Parents may also appreciate being able to sign their children up for an activity without having to leave home or take them out of school early.
7. Mobile apps and entertainment for children
Mobile apps for children are a lucrative business opportunity for entrepreneurs. Currently, the mobile app market is estimated to be worth $6.3 billion in annual revenue and continues to grow at an impressive rate of 12% per year. Mobile applications designed specifically for children provide an ideal platform that enables parents, educators, and game developers alike to engage kids with fun and educational activities.
When it comes to entertainment, there are plenty of possibilities on the table when it comes to creating apps geared toward kids. From classic games like Candy Crush or Fruit Ninja to interactive virtual reality experiences such as Minecraft or Pokémon GO! There is something available for all ages and skill levels when it comes to mobile gaming. Additionally, apps geared toward education can also be incredibly profitable by helping parents teach their children valuable skills such as reading, writing, and mathematics while keeping them entertained in the process.
8. Shared accessories and attire
Sharing accessories and attire is a great way to start a profitable business. This type of venture allows entrepreneurs to provide customers with access to the latest trends at an affordable price. Additionally, it gives individuals the opportunity to update their wardrobes without breaking the bank or contributing to environmental damage through production waste.
The concept of sharing accessories and attire is simple; customers pay a fee upfront for membership and gain access to a wide selection of clothing items from various brands. Customers can then rent out items for short periods at low costs, which eliminates the need for them to purchase new items every season. Moreover, this type of business model is sustainable since it helps reduce fashion waste associated with traditional retail stores by reusing products multiple times before they are retired from use.
9. Shared home improvement equipment
Are you looking for a profitable business idea? Shared home improvement equipment could be an excellent option. This type of service allows customers to rent the tools and equipment they need to complete their home improvement projects. It's convenient, cost-effective, and eliminates the need for individuals to purchase expensive tools that may only get used once or twice.
Shared home improvement equipment is a great way for businesses to generate revenue. Customers can rent anything from ladder extensions and power drills to paint sprayers and circular saws – all without having to invest in purchasing the items themselves. Businesses can also provide additional services such as onsite maintenance and repair, as well as training sessions so that customers can get the most out of their rental experience. With flexible rental periods available and competitive rates, this business model offers an attractive investment opportunity with high potential profits.
10. Vacation rentals
Vacation rentals are quickly becoming a popular and profitable business idea. With the right location, vacation rental owners can generate considerable income by providing short-term lodging for travelers around the world. Whether it's an oceanside cottage or a downtown loft, vacation rentals offer visitors an experience that is unique from traditional hotels or resorts.
Owners of vacation rentals find benefit in having flexibility in setting their prices, rules, and availability as well as being able to advertise directly to customers online. It also allows them to provide amenities beyond traditional hotel services such as fully equipped kitchens, laundry facilities, and private balconies or decks with stunning views. Vacation rental owners can often maximize profits by making their properties available for wedding parties or corporate retreats when not occupied by travelers.
11. Electronics Repair
Starting an electronics repair business can be a great and profitable way to launch your entrepreneurial venture. An electronics repair business offers several advantages; not only is it relatively easy to start with minimal overhead costs, but you can also specialize in repairing specific types of devices such as computers, smartphones, or gaming consoles. You'll also benefit from being able to provide customers with an essential service – repairs for technology that they rely on every day.
Electronics repair businesses typically operate out of a home office or dedicated commercial space where customer items are repaired and serviced. To get started in this field, all you need is the right set of tools and the right knowledge base to be successful. You may choose to take courses related to electronics repair so that you have the best understanding possible when it comes to fixing customers' items.
12. Academics courses
Many people may not realize that they can create a profitable business out of their academic courses. Whether it's developing and selling course materials or tutoring students, academic courses can be turned into a successful money-making venture.
For those looking to make some extra money, monetizing an academic course provides the perfect opportunity to do so. With the right marketing strategy, you can reach students who are eager to learn and willing to pay for your services. You could develop and sell online video tutorials, develop worksheets or practice quizzes for students, or even offer one-on-one tutoring sessions over Skype or Zoom. Once you've developed a product that appeals to your target market, you can begin selling it online through a website or social media platforms. This will enable you to reach a much larger audience and potentially earn more profits from the venture.
13. Language courses
Starting a language course business is an increasingly popular and profitable business idea. Language courses bring in students from around the world, eager to improve their skills in different forms of communication, as well as boost their resumes. For entrepreneurs looking for a lucrative investment, starting a language course business could be the perfect venture.
With the right marketing plan and competitive pricing structure, any entrepreneur can build an effective language school that stands out from competitors. By understanding what makes a successful language school, entrepreneurs can craft their unique offerings that will attract students quickly. From creating the right atmosphere to finding talented teaching staff, there are many steps involved in setting up a successful language course business. Additionally, knowing different types of teaching methods and approaches can help ensure success when launching a new program or class series.
14. Business or marketing courses
Are you looking for a profitable business idea? If so, taking a business or marketing course may be the answer. These courses offer an array of options for new entrepreneurs who are ready to take the plunge and launch their ventures. From creating a successful business plan to understanding basic concepts such as market analysis and pricing strategies, these types of courses provide essential knowledge to help make any small business a success.
Business or marketing courses typically involve lectures, hands-on activities, group discussions, and individual assignments that help participants gain insight into how the different components of running a business interact with each other. They also provide students with real-world experience by having them create actual projects related to their chosen field such as developing sales strategies or analyzing customer data. In addition, they cover topics like accounting principles, financial management techniques, and legal considerations that all businesses must consider when making decisions.
15. Personal wellness
Personal wellness is a profitable business idea that can help individuals succeed both physically and financially. With the current focus on health and well-being, people now recognize the need to invest in their physical, mental, and emotional health. This has created an opportunity for entrepreneurs to establish businesses devoted to personal wellness.
The foundation of personal wellness is creating a strong balance of physical activity, nutrition, sleep habits, stress management strategies, and positive relationships. By helping others become aware of these components and learn how to integrate them into their lives effectively, entrepreneurs can provide valuable services that will have lasting effects on individual well-being. Furthermore, this type of business offers the potential for high profits due to its range of customer base from fitness centers to spas or consulting firms.
16. Courses in hobbies or interests
Courses on hobbies or interests can be a profitable business idea for those looking to make money and contribute to their community. Creating courses around your hobbies or interests enables you to share your talents and knowledge with others while also earning an income. Depending on the type of course you offer, there are numerous ways to monetize it.
From simple one-time workshops, such as cooking classes or flower arranging sessions, to more involved multi-week courses that involve manual tasks like woodworking or jewelry making, these hobby courses aren't just fun and exciting but they can also turn into a viable business opportunities. Many people have found success in teaching classes related to their chosen hobby online as well, leveraging platforms like YouTube and Instagram for free marketing potential. With the right strategy and dedication, running a course on something you love can be both rewarding and profitable!
17. Bookkeeping and accounting
Bookkeeping and accounting are essential parts of running a profitable business. Keeping accurate records is necessary to ensure that taxes are paid, assets are managed properly, and financial goals are achieved. For entrepreneurs looking for a profitable business idea, bookkeeping and accounting services can be an ideal solution.
By offering bookkeeping and accounting services, you can provide businesses with expert advice and guidance on all their financial matters. This includes budgeting, forecasting, tax preparation, payroll management, and more. With the right knowledge and skillset in place, you can become a trusted source of information to help clients make informed decisions about their finances while creating a reliable revenue stream for your business venture.
18. Consulting
Consulting is a profitable business idea for those who want to use their intellectual, professional, and interpersonal skills to help others. It's an attractive option because it requires low start-up costs and allows entrepreneurs to work in their desired sectors. By selling knowledge and expertise, consultants can tap into lucrative industries while maintaining control of their career paths.
The benefits of consulting include having a flexible work schedule and being able to work from home or other remote locations; the ability to choose clients you want to serve and areas of expertise that you wish to develop; the opportunity for ongoing learning; access to a wide network of contacts; and the potential for high earnings depending on areas of specialization. These advantages make consulting an attractive option for a profitable business idea.
19. IT support
IT support is an increasingly popular and profitable business idea. With the rise of technology, businesses are looking for efficient solutions to their IT needs. As a result, IT support services have become essential to properly maintain a company's hardware and software systems. For those looking to start their own business, providing IT support can be a lucrative venture.
By offering IT support services, entrepreneurs can create regular revenue streams through monthly maintenance fees or per-service charges. Additionally, clients will often request additional services as their business grows and technology advances. This allows entrepreneurs to further grow their businesses without having to secure new clients every time they need more income. Moreover, with the right marketing strategy, entrepreneurs can easily establish themselves as experts in the industry and generate more leads for potential customers.
20. Graphic design
Graphic design is an incredibly profitable business idea for entrepreneurs and freelancers looking to make a name for themselves. With the continued popularity of digital media and technology, graphic design is becoming increasingly sought after – from logos to brochures, and websites to social media campaigns. Designers are in high demand and can command a good fee.
As a business owner or freelancer, having a unique style that stands out from the crowd is essential in creating great designs that will capture people's attention. It's important not only to have technical skills but also to know how to create artwork that speaks volumes about your brand and message. Graphic designers must be able to visualize their concepts and bring them to life with graphics. They should also be highly creative when it comes to problem-solving and innovative thinking – something most clients want when they hire someone for such an important job.
21. Social media management
Social media management is a profitable business idea that can be used to create an income stream. It is becoming increasingly popular as businesses of all sizes realize the importance of having an effective social media presence. For those with the skills and knowledge, managing social media accounts for clients can be a great way to make money.
The responsibilities include creating content, responding to customers, monitoring trends, scheduling posts, analyzing performance data, and engaging with influencers. Being successful in this field requires an understanding of how each platform works and familiarity with analytics tools as well as excellent organizational skills. A comprehensive knowledge of content marketing strategies will also help create campaigns that generate results for clients.
22. Marketing copywriter
Are you looking for a profitable business idea? Consider becoming a marketing copywriter and take advantage of the growing demand.
Having persuasive writing skills and an eye for detail is key if you are going to become successful as a marketing copywriter. Marketing copywriters write compelling copy that engages, persuades, and informs potential customers about products or services. This type of work requires creativity, flexibility, organizational skills, and the ability to think outside the box to come up with fresh ideas for clients.
A marketing copywriter must also have excellent research skills to create content that is both targeted and relevant. They will need to be able to interpret data, trends, customer feedback, statistics, and other information to create effective content campaigns. With all these elements combined, it can be an incredibly lucrative business venture that pays well while allowing you the chance to hone your writing craft too!
23. Virtual assistant services
Virtual assistant services are one of the most profitable business ideas available today. They offer an excellent opportunity to work from home while providing valuable services to clients across the globe. Virtual assistants can be hired to help with any number of tasks, ranging from document preparation and research to scheduling appointments and organizing databases. With many businesses now turning to remote staffers to maintain operations during this pandemic, virtual assistant services have become even more sought after.
The demand for virtual assistants is only expected to increase as more businesses realize the cost-effectiveness of outsourcing their administrative duties. Plus, there are a variety of ways that a virtual assistant can make an income, such as setting hourly rates or charging per project. Additionally, the equipment needed for this job is minimal; all you need is a laptop or computer with internet access and some basic software programs like Microsoft Office and Adobe Creative Cloud.