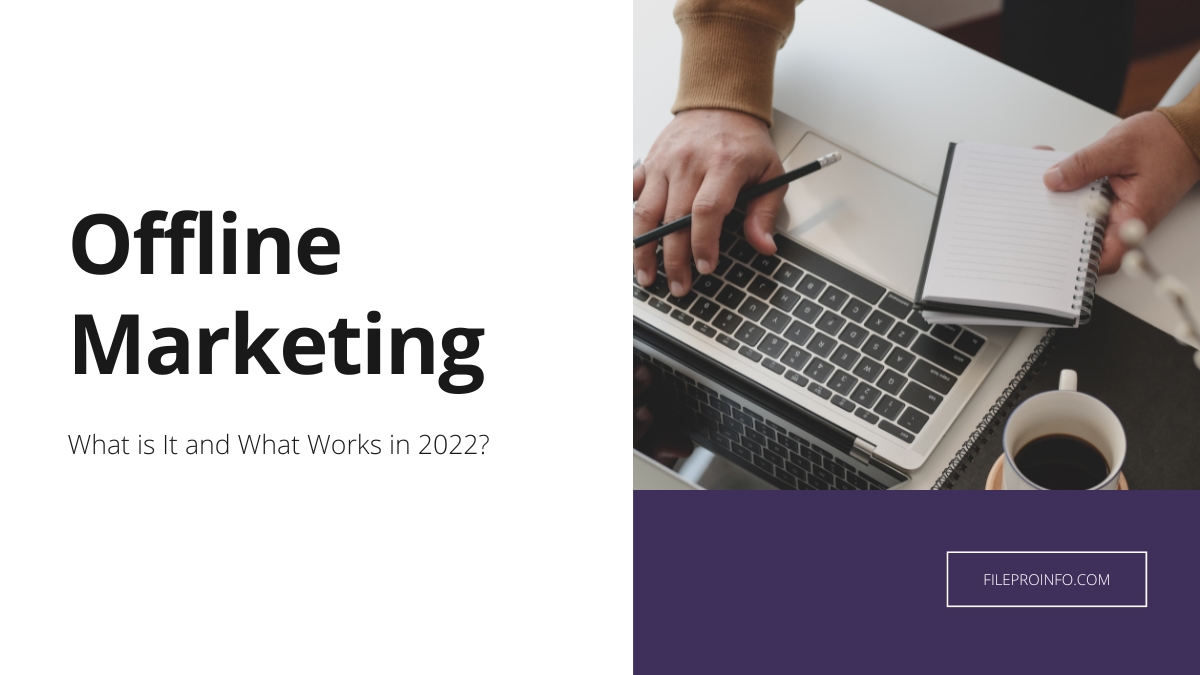 Offline marketing is still an important tool for businesses looking to grow their customer base in 2022. With the increase in digital marketing, many companies have forgotten the power of traditional methods such as print media, flyers, and posters. In this article, we will discuss what offline marketing is and what strategies are most likely to be effective in 2022.
What is Offline Marketing?
Offline marketing is a type of promotion that uses traditional mediums, such as television, radio, newspapers, and flyers to advertise products or services. It is the opposite of online marketing which involves digital mediums such as websites, email campaigns, and social media. Both forms have their advantages and disadvantages that should be considered before a business embarks on its marketing strategy.
Offline marketing is still an effective way for businesses to increase brand awareness through methods like print ads in newspapers or magazines, direct mailers, and billboards. Additionally, it allows companies to reach potential customers that may not have access to the internet or who prefer traditional advertising methods over digital channels. Offline marketing can also help establish credibility with potential customers since they are more likely to trust messages they hear from trusted sources like newspapers and TV commercials.
Meetups and Conferences
If you're looking for an effective way to get the word out about your business, consider attending meetups and conferences. These types of offline marketing events are a great way to network with potential customers, market your business and stay up-to-date on industry trends.
At these events, you can connect with other businesses in your industry as well as potential customers. You can also learn from leaders in your field by attending talks and seminars they may be offering at the event. This is a great opportunity to gain valuable knowledge that could help to improve or expand upon existing ideas within your company. Additionally, you'll have opportunities to promote yourself through group discussions or by setting up a booth during the event where attendees can learn more about what you offer.
Printed Marketing Materials
Printed marketing materials remain a popular type of offline marketing for businesses. Although digital marketing continues to grow in popularity, printed materials can be an effective way to reach potential customers. Having tangible material that your customers can take away with them will enable them to recall your business and services more easily than digital material.
Whether you are looking to produce flyers, brochures, or postcards, printed media offers a great way to get your message across in a creative and eye-catching manner. Printed materials can be used in various ways including trade shows, direct mail campaigns, and even handed out as gifts or giveaways at events. They are also relatively inexpensive when compared to other types of advertising such as radio or television ads. With the right design, they can even become collectible items among customers which could help increase brand loyalty and recognition over time.
Direct Mail Marketing
Direct mail marketing is an effective type of offline marketing. It involves sending promotional materials such as letters, flyers, postcards, and catalogs through the postal service to potential customers. It is a great way to reach your target audience cost-effectively.
This type of marketing offers various benefits such as increased visibility and connection with customers. Direct mail allows you to personalize messages that are tailored specifically to each customer's needs and interests. With direct mail campaigns, it is also possible to track response rates which help businesses measure the effectiveness of their campaigns and determine how successful they have been in reaching their desired audiences.
Overall, direct mail provides businesses with an opportunity to reach out directly to their potential customers to build relationships and increase sales without breaking the bank.
Tradeshows and Conferences
Tradeshows and conferences are powerful offline marketing tools that can offer businesses an opportunity to expand their customer base, and increase brand visibility. For companies looking to reach a wider audience, attending a tradeshow or conference is an effective way to demonstrate key products or services, and meet potential new customers in person.
At tradeshows and conferences, businesses have the chance to promote their brand through various media channels such as live presentations and printed materials. Through strategic planning before the event, companies can take advantage of opportunities for networking with attendees, building relationships, collecting contact information from interested parties, and distributing promotional material that will help build brand recognition. Additionally, by having representatives present who are knowledgeable about company products or services they can answer questions on-site that may otherwise go unanswered online.
Warm Calling
Warm calling is an offline marketing strategy that can help businesses reach their target audience and boost customer relationships. It involves notifying customers of new products or services or engaging with them in other ways. Warm calling also allows businesses to develop a personal connection with their customers, and it can be used to improve feedback as well as increase sales.
For businesses looking to connect with customers on a more personal level, warm calling can be a great way to achieve this goal. It requires contacting potential customers via phone calls, emails, or letters rather than relying solely on digital marketing strategies such as social media campaigns. This allows the customer service representative to interact directly with the customer and build trust through conversation. With warm calls, businesses can get valuable insights into what motivates their audience which makes them more likely to convert into paying customers.
Community Work and Charities
Community work and charities are great ways to give back and make a positive impact on the world. It is also an effective form of offline marketing, as it allows businesses to connect with their local communities in meaningful ways. By engaging in corporate social responsibility activities such as volunteering, donating money or goods, or organizing charitable events, businesses can strengthen their reputation as well as build relationships with potential customers and partners.
Besides giving back to the community, these initiatives can also help boost brand visibility and recognition. Businesses that engage in community work not only become more visible online but also gain credibility by showing off their dedication to social causes. Furthermore, by actively participating in charity projects they show they care about the local community and its needs which is particularly important today when customers are looking for companies that have strong values at heart.
Repackaging
Offline marketing is a great way for businesses to reach their target audience and increase customer engagement. Repackaging is a powerful tool that can help companies take their offline marketing efforts to the next level.
Repackaging involves taking existing content, such as old advertising materials or product features, and presenting it in a new and interesting way. It can be used to create more engaging campaigns that will appeal to customers and create buzz. Companies may repackage content by adding more visual elements, creating video advertisements, or using social media platforms to spread the message further.
For businesses looking to add an extra layer of appeal to their offline marketing campaigns, repackaging is an effective strategy that can help differentiate them from the competition.