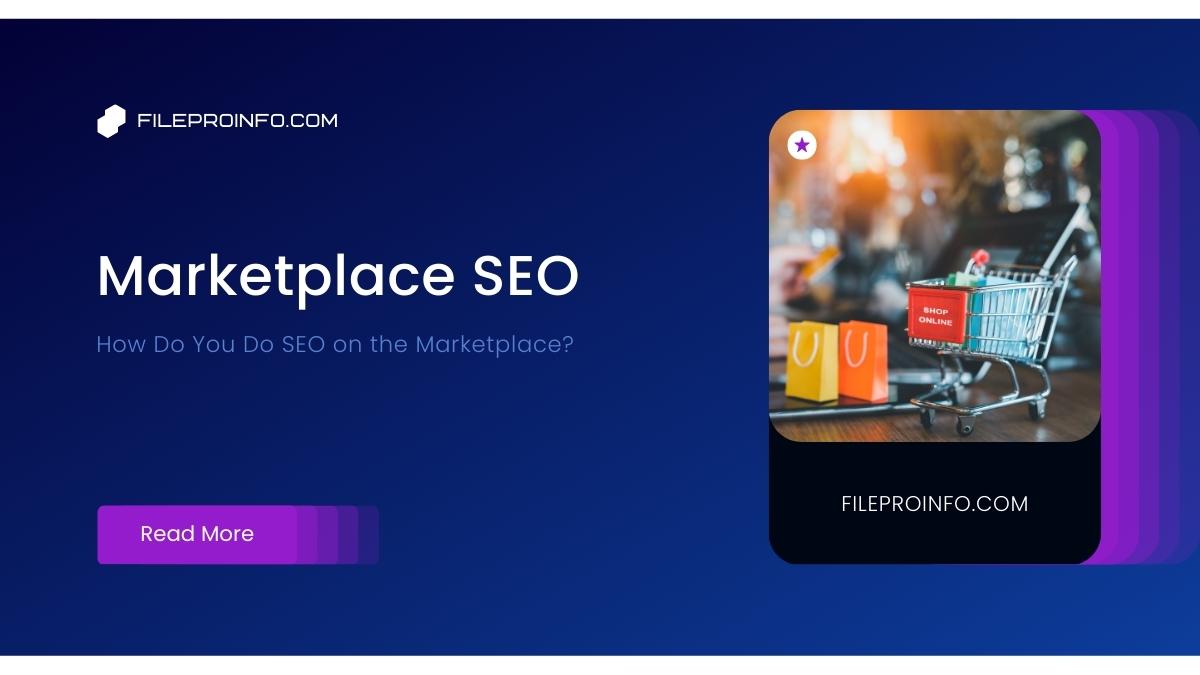 The concept of Marketplace SEO is becoming ever more important in the current digital environment. It allows e-commerce websites to maximize their visibility on the search engine results page, enabling businesses to gain more potential customers and sales opportunities. With so much competition out there, e-commerce sites need to understand how to optimize their presence on the web and take advantage of Marketplace SEO strategies. In this article, we'll discuss what Marketplace SEO is and how you can do SEO in the Marketplace.
What Is Marketplace SEO?
Marketplace SEO, which stands for Marketplace Search Engine Optimization, is an important tool for business owners and marketers who are trying to maximize their visibility in online marketplaces. It is the process of optimizing content and technical elements to increase organic search engine rankings, drive organic traffic to your marketplace listings and improve conversions.
Whether you're selling on Amazon, eBay or Etsy, marketplace SEO can help you reach more potential customers by increasing your visibility on those platforms. By leveraging keyword research, optimizing product titles and descriptions, creating targeted backlinks, and other tactics, you can position your products to stand out from competitors' listings in a crowded marketplace. Investing in marketplace SEO can be beneficial even if you don't have a big budget because it often requires little more than time and effort rather than money.
How Is Marketplace SEO Different From Ecommerce SEO?
Search engine optimization, often shortened as SEO, has become an essential tool for businesses to reach their target audience online. When it comes to ecommerce websites and marketplace websites, both types of sites benefit from SEO. But how is marketplace SEO different from ecommerce SEO?
Marketplace SEO focuses on optimizing the site's content so that visitors can find products they are interested in quickly and easily. This means focusing on relevant keywords related to popular items on the site that customers may be searching for. Additionally, this type of search engine optimization will focus on optimizing images and videos associated with each product page as well as any blog posts related to the products or services being sold.
Ecommerce websites require a slightly different approach when it comes to search engine optimization since these websites typically have a much larger variety of products than marketplaces do.
Tips To Optimize Marketplace Listings
The article's main points are now within reach.
Here's how to optimize your marketplace website so that it appears higher on search engines like Google, Bing, and everywhere else you'd like.
1. Like Hansel And Gretel, Use Breadcrumbs
This article will help e-commerce sellers optimize their marketplace listings by following the same path as Hansel and Gretel. Breadcrumbs provide a unique way to make sure your customers can easily find what they are looking for and make sure that they are taken to the right page. Here is a tip on how to use breadcrumbs to optimize your marketplace listings.
Breadcrumbs refer to a type of navigational element that appears at the top of web pages, usually below the title banner. These small lines of text show users where they are about other pages within the site, providing an easy way for customers to browse different product categories without having to start from scratch each time. By using this feature on your online store, customers can quickly navigate through hundreds of products and find exactly what they're looking for in no time.
2. Schema Markup Is A Must
In today's digital marketplace, it is important to make sure your products stand out from the competition. One way to do this is with schema markup. Schema markup helps search engines understand the content of your website and can make it easier for customers to find what they are looking for on your site.
Schema markup is a type of code that can be added to websites or online listings to provide additional information about the product or service being offered. This additional detail can help customers better understand what they are buying and make it easier for them to find what they are looking for when searching online. By adding schema markup, you will also increase the visibility of your product or service in search engine results pages (SERPs).
3. Be Fast To Be Mobile-friendly
As more and more people are turning to their mobile devices for information, businesses must keep up with the trend and optimize their marketplace listings for mobile viewers. Speed is an important factor when creating a mobile-friendly experience, as visitors may abandon pages if they take too long to load. Here are some tips on how to make sure your marketplace listings are as fast as possible:
Minimize redirects or page elements that could be slowing down your page loading time. Try reducing image file sizes so they don't have to download as much data to display properly. Additionally, look into using a content delivery network (CDN) which can help reduce loading times even further by caching parts of the website in multiple locations worldwide. Finally, include Accelerated Mobile Pages (AMP), code designed specifically for faster performance on smartphones and tablets.
4. Site security (SSL) Is Super Important
As a business owner, there are many steps you can take to ensure your website has the highest security and protection from potential threats. One of the most important is using secure socket layer (SSL) technology. It's an industry standard that helps protect data as it travels across networks to keep hackers and other malicious entities away from sensitive information. When shopping online, consumers look for sites with SSL technology to ensure their data remains confidential and safe. To optimize your listings on marketplaces like eBay or Etsy, it's essential to include "HTTPS://" in your URLs so shoppers know they can trust your site when entering personal information. This extra step gives customers peace of mind when browsing or making purchases on your website, which will lead to more sales for you!
5. Don't Forget Your Sitemaps
As an online marketplace vendor, it is essential to ensure that your listings are optimized to maximize visibility. To do this, it's important not to neglect the importance of sitemaps. Sitemaps are a type of file that provides search engines with information about the pages on your website and can help them crawl and index your content more efficiently. Here are some tips on how you can optimize your marketplace listings with sitemaps.
Firstly, make sure that you include all of the pages from your website in the sitemap. This ensures that all relevant content is indexed by search engines so that customers can easily find what they're looking for. Additionally, it's also helpful to create separate sitemaps for specific categories or products as this makes it easier for searches to locate specific items quickly and accurately.
6. Use Reviews To Boost Engagement
As an online marketplace seller, you are always looking for ways to optimize your listings and improve engagement with potential customers. Reviews can play an important role in boosting engagement and driving more sales for your marketplace listings.
These customer reviews provide invaluable feedback about your products or services and help buyers make informed decisions when choosing which items to purchase. They also serve as social proof, showing other customers that others have already purchased from you and had a positive experience. Reviews also create user-generated content that can be used in blog posts or other marketing materials to further promote your business.
It is vital to encourage customers to leave reviews by providing incentives such as discounts or freebies. This will incentivize them to leave a review and spread the word about their positive experience with your products or services, while also increasing brand recognition among potential customers.
7. Content Is Still King
Content Is Still King. Whether you're creating content for blogs, websites, or marketplace listings, the quality and quantity of your content are important factors in driving success. Quality content engagingly communicates your message to potential customers and encourages them to take action, while a high volume of relevant content helps you reach more leads with increased visibility. Here are some tips to optimize your marketplace listings:
First off, ensure that all of the product descriptions on your marketplace listing are accurate and concise. Make sure they accurately reflect the product specifications in terms of size, material, functionality, and other features that may be relevant – this will help build trust with potential buyers. Additionally, including helpful images or videos can give people an idea of what they're buying before they commit to it.
Final Thoughts
No way about it: SEO is essential for your marketplace website.
Although creating an SEO strategy for your marketplace website presents some difficulties, it will help your items and category pages rank for the competitive keywords you would otherwise have to pay for.
Your efforts will increase organic site traffic, increase revenue, and increase conversions.
These pointers should improve your search engine positioning.