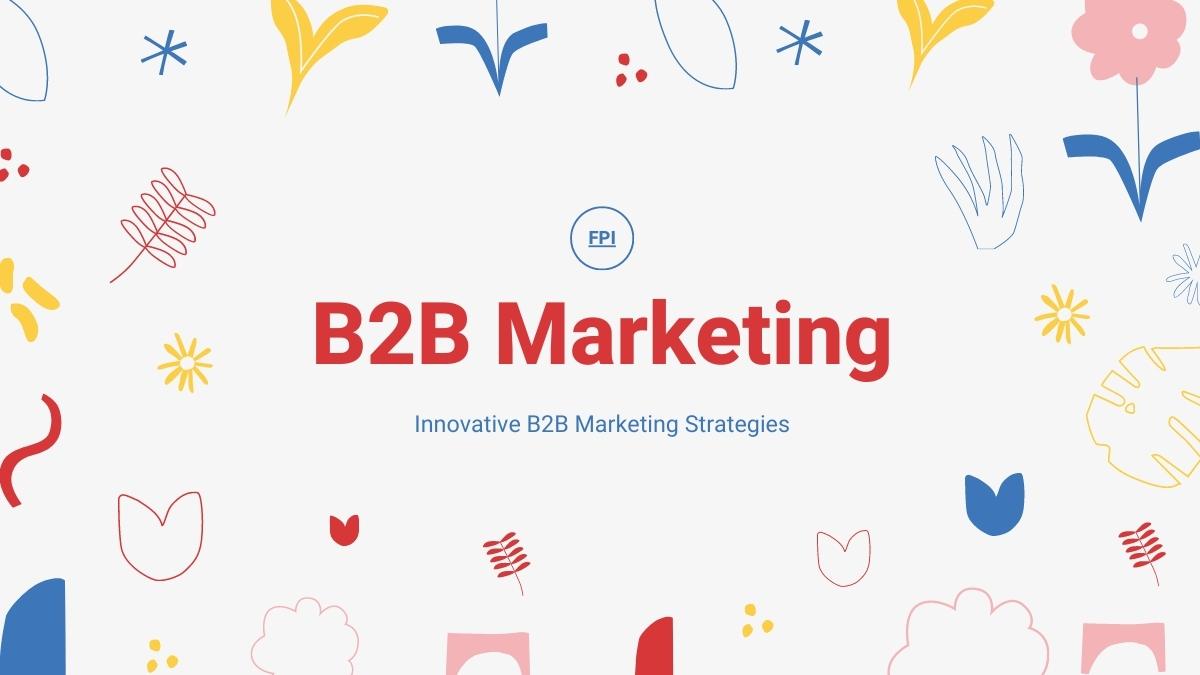 As businesses look to expand their customer base and increase revenue, successfully marketing to other businesses becomes increasingly important. Innovative B2B marketing strategies are essential for a company's success in this ever-evolving market. With the right tools and techniques, businesses can start to see an impressive return on investment (ROI). This article will provide insight into some of the most effective and innovative B2B marketing strategies that can help your business stand out from the competition.
1. Use Search Engine Optimization (SEO)
Innovative B2B marketing strategies are essential for creating a successful business-to-business (B2B) organization. One of the most powerful methods for promoting a company's products or services is by implementing an effective SEO plan. SEO is the process of improving visibility in organic search engine results and increasing website traffic from potential customers using certain techniques, such as keyword research, content creation, backlinks, etc. With SEO, businesses can increase their online presence and get their brand out there to reach more people across multiple platforms.
By utilizing SEO as part of a comprehensive B2B marketing strategy, businesses can stay ahead of the competition and make sure they're connecting with their target audience in the most effective way possible.
2. Word of Mouth Marketing
Word of Mouth Marketing is an innovative B2B marketing strategy that consists of customers sharing their experiences with a business's product or service. Word of mouth is one of the most powerful and effective ways to market a business, as it gives first-hand accounts of how consumers use and interact with a company's offerings.
The success of word of mouth campaigns can be attributed to its organic nature; people are more likely to trust recommendations from friends, family members, and colleagues than they are to trust advertising messages. Furthermore, when customers have positive experiences that they want to share with others, word of mouth marketing is an efficient way for businesses to promote their products or services on a larger scale.
3. Focus on Account-Based Marketing (ABM)
Account-Based Marketing (ABM) is an innovative B2B marketing strategy that focuses on targeting individual customer accounts instead of just a generic audience. It has become increasingly popular in recent years due to its high success rate and ability to generate more personalized campaigns tailored to each specific customer account. ABM works by combining data from multiple sources such as social media activity, website visits, sales history, and more to create highly targeted campaigns that are more likely to succeed.
The goal of ABM is not only to increase customer engagement but also maximize ROI for organizations through the use of data-driven strategies. By leveraging predictive analytics and designing customized campaigns based on current trends, organizations can make sure they reach their target audience effectively. Additionally, with ABM organizations can better measure the impact of their initiatives and track performance metrics in real time.
4. Be a Thought Leader
Thought leadership in business is becoming increasingly important. Businesses have to find creative and innovative ways to stand out from the competition and gain a competitive edge. In today's B2B market, having an innovative marketing strategy is crucial for success.
For companies looking to become thought leaders in their industry, understanding how to properly use B2B marketing strategies can be a game changer. Companies must start by researching their target market and understand what makes them unique compared to other competitors in the field. This data should then be used as the foundation for creating an effective B2B marketing plan, which will inherently make it easier for companies to reach their goals of being seen as a thought leader in their respective industries.
Once this research has been done and a plan is established, companies need to implement the strategy consistently while monitoring its progress along the way.
5. Create a Formal Program for Employee Activation
Creating an innovative B2B marketing strategy can be one of the most important steps for a business to take. A formal program for employee activation should be established as part of that strategy. This will allow employees to become more engaged and enthusiastic about their work, resulting in higher productivity and overall success for the business.
Employee activation programs focus on providing employees with the tools they need to feel motivated and committed to their job tasks. They may include initiatives such as team building activities, rewards programs, mentorship opportunities or even awards ceremonies. Additionally, organizations should also provide employees with access to resources that can help them develop their skills and gain knowledge about new trends in the industry. By taking these steps, businesses can ensure that their staff are well-equipped with the necessary tools to excel in their roles and contribute towards long-term organizational goals.
Conclusion
Businesses should focus on innovative B2B marketing strategies to ensure their success in the future. Using targeted content, personalized customer experiences, and modern technology are important elements to consider when creating a plan. Additionally, automation and artificial intelligence can provide businesses with faster results and improved customer satisfaction. Lastly, understanding the changing needs of customers and the latest trends in B2B marketing will help businesses stay ahead of competition.