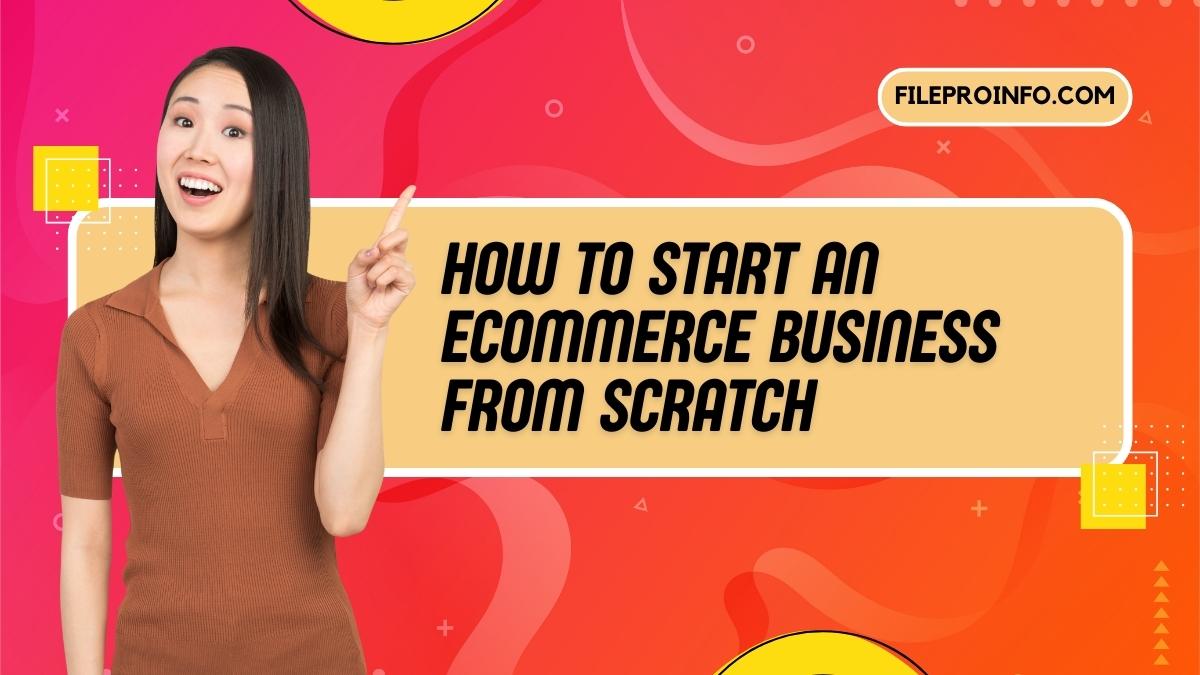 Starting an ecommerce business from scratch is a daunting yet rewarding venture that can yield great success. With the right strategies and dedication, anyone can create a successful online store with minimal investment. This article will provide step-by-step guidance on how to start an ecommerce business from scratch and what you need to do to make it a success.
1. Research the viability of your vision
Launching an ecommerce business can be a great way to make money, but it is important to research the viability of your vision. Before investing in any new venture, you must consider whether or not your plan has the potential for success. Taking a closer look at the market and demographics for potential customers, as well as existing competitors, should be the first step in assessing whether or not your idea has potential.
When researching the viability of an ecommerce business idea, entrepreneurs must recognize all of the associated costs involved. Start-up capital can quickly add up when launching an online store, and many entrepreneurs underestimate their budgeting needs due to a lack of experience with digital marketing tools and platforms.
2. Find the right source for the product(s)
For any ecommerce business, finding the right source for their products is essential. Without a reliable supply chain to draw from, businesses can face delays in orders, low stock levels, and higher costs associated with sourcing from multiple vendors. Businesses need to take the time to find the best vendor or vendor network that provides high-quality goods at competitive prices.
Businesses should begin by researching vendors and evaluating their track record of delivery reliability and product quality. Obtaining references and speaking directly with past customers is an effective way to get an accurate picture of a vendor's performance. Additionally, companies should review a potential supplier's pricing structure versus competitors to stay competitive while still achieving desired margins.
When it comes down to it, finding the right source for products requires due diligence on behalf of the business owner.
3. Coin a name and make the business legit
Starting an ecommerce business is a great way to become your boss and make money on the side, however, it can be difficult to know where to start. One of the most important decisions you will make when starting your business is choosing a name. A great title will help distinguish your brand from competitors and attract customers.
When coining a new name for your ecommerce business there are a few key things to keep in mind. First, pick something easy for customers to remember and associate with you and your products or services. It should also be unique enough that it stands out from the competition while still being relatable. Finally, ensure that the domain name associated with the name is available so you can create an online presence quickly.
4. Choose an e-commerce platform to create a website
In today's digital age, having an ecommerce business is essential to reach customers and generate revenue. But before you can start selling products online, you need to select the right platform that best fits your needs. The process of choosing an ecommerce platform can be daunting; there are so many options out there! However, with careful research and consideration of your business goals, picking one should become easier. Here are some tips to help guide you in making the right decision for your ecommerce business.
First and foremost, consider the features each platform offers. Does it have easy payment integration? Is there a mobile responsive version? Are our customer service tools available? These are all important questions to ask when selecting a platform because they will make or break the success of your online store.
5. Set up a payment gateway to authorize transactions
As an ecommerce business, setting up a reliable payment gateway to authorize transactions is essential for success. Without it, potential customers are unable to purchase your products and services. By creating a secure payment gateway, you can ensure that all of the transactions conducted via your website are safe and secure.
Creating a payment gateway involves more than just setting up a merchant account; you must also configure the appropriate software and hardware components to accept payments from customers on your website. The first step is to select an online payment processor or merchant bank which will be responsible for handling the transactions. Once this decision is made, you can then begin integrating the necessary components into your website to facilitate payments from customers. This includes selecting a suitable shopping cart solution that allows customers to easily add items they wish to purchase as well as providing various payment options such as credit cards and PayPal.
6. Choose a shipping method to send products to customers
For any ecommerce business, the right shipping method is essential for success. Choosing a shipping method doesn't have to be complicated and can be made simpler by considering a few key factors. First, the cost of shipping should be weighed against the value of each item, then the speed at which orders need to arrive should be taken into account. Finally, customer convenience should also be considered when selecting a shipping option.
When choosing a shipping option, it's important to look at all available options carefully. Delivery services such as USPS or UPS offer both ground and expedited services which may provide more cost-effective solutions than using other carriers such as FedEx or DHL Express. Additionally, there are third-party companies that offer economical solutions for smaller packages, as well as white glove delivery services for larger items requiring special handling or care during transit.
7. Hire customer service to answer questions and concerns
For any ecommerce business, customer service is key. Hiring a team of customer service representatives can help you to efficiently answer inquiries and address concerns from customers. This will create an improved user experience as customers feel valued and taken care of by your company.
Customer service agents should be knowledgeable about the products or services offered by your ecommerce business, so they can accurately answer any questions that customers may have and provide solutions for their concerns. Moreover, having someone available 24/7 who can respond promptly to customer inquiries will ensure that your customers feel appreciated and supported by your company.
Having a great customer service team in place also allows you to gain valuable feedback from customers which you can use to improve both the products or services offered by your ecommerce business, as well as the overall user experience.
8. Market your e-commerce business
If you have an ecommerce business, you know the importance of staying competitive in a crowded marketplace. To help your business stand out and succeed, it is essential to put a strong focus on marketing. There are many different ways to market an ecommerce business, and it is important to find the right approach that works for your specific goals.
One of the most effective ways to market an online store is through content marketing. By creating high-quality content such as blog posts, videos, or podcasts that relate to your products or industry, you can engage with potential customers and establish yourself as a trusted authority in the field. Additionally, search engine optimization (SEO) techniques can be used to boost traffic from major search engines such as Google and Bing and increase visibility for your brand.
9. Analyze your results to inform marketing strategy
As an ecommerce business, it's important to monitor your results and analyze how they impact your marketing strategy. Taking the time to assess data such as sales figures, website visits, and customer feedback can give you invaluable insights that can be used to optimize your marketing campaigns.
By examining your results in detail, you can identify patterns that will help inform your future decisions. For example, if a certain type of advertisement is consistently driving more visitors to your website or leading to increased sales, then it may be worthwhile investing more resources into similar campaigns in the future. Similarly, tracking customer feedback and reviews can provide useful information on what changes could be made to improve products or services and increase customer satisfaction.
Analyzing results is essential for any ecommerce business as it allows you to make informed decisions about where investments should be made to maximize return on investment.