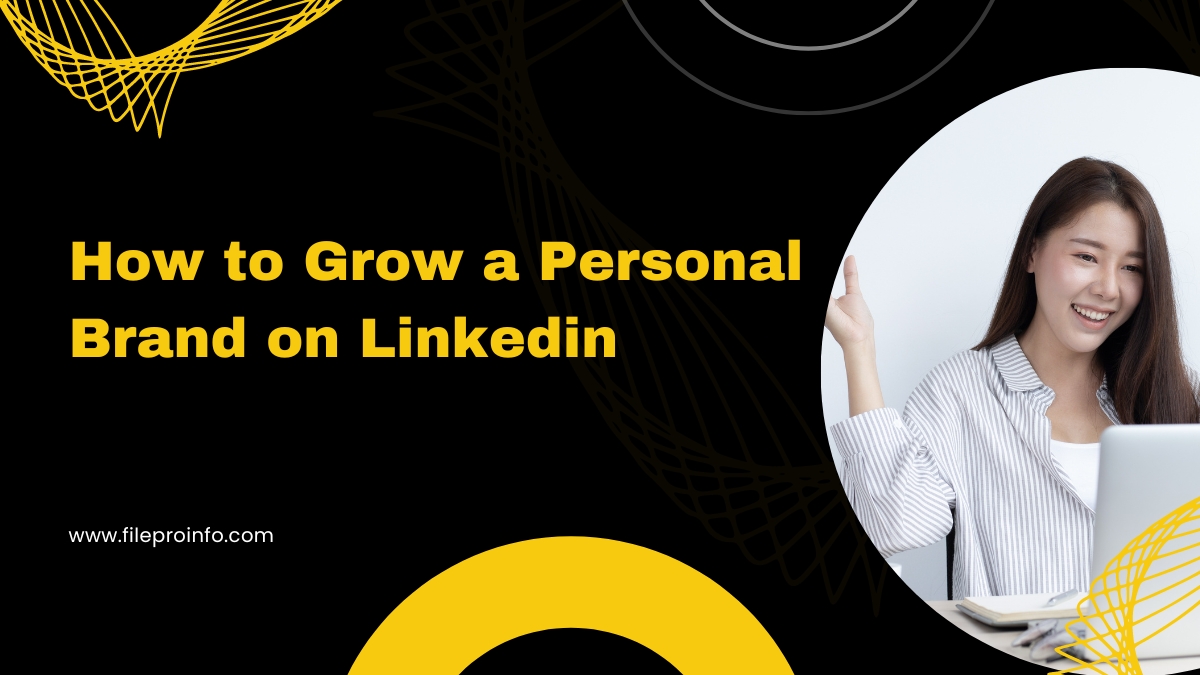 LinkedIn is a powerful platform for professionals to connect, network, and establish their brands. By creating and sharing valuable content, you can establish yourself as a thought leader in your industry, expand your network, and increase your visibility on the platform. Here are some steps you can take to grow your brand on LinkedIn:
1. Define your brand:
Creating a personal brand on LinkedIn is the perfect way to increase your visibility and gain recognition in the professional world. But before you start creating content, it's important to define who you are and what your purpose is. That's because having a clear understanding of yourself and what you want to be known for will give direction to the kind of content you create.
To get started, think about why you joined LinkedIn in the first place. Is it to network with like-minded professionals? To share industry insights? To promote your business or services? This can help steer which topics and conversations are important for your brand. Once that has been established, look at how your values could link into this – what do you want people to know about you? What sets you apart from others in similar fields?
2. Identify your audience:
Grow a personal brand on LinkedIn by understanding who your audience is and the decision-makers or influencers in the industry. Knowing who you are targeting for your content can help you create more meaningful and impactful messages. It's important to identify your target audience, as this will help inform the tone, style, and messaging of what you post on LinkedIn. Think about who is likely to be interested in what you have to say, as well as those that have influence over others in the sector. This could include clients, prospects, senior management, or thought leaders within your industry. Research into their interests, preferences, and how they consume content can provide invaluable insights into crafting messages that stand out from the competition.
3. Create valuable content:
Creating valuable content is the key to growing a personal brand on Linkedin. Once you know your brand and target audience, it's time to start creating articles, blog posts, and videos that will help you stand out from the competition. A great way to do this is by sharing your expertise and insights on the industry you specialize in.
This means that you should be curating and creating content specifically tailored toward your target audience. Content should include topics related to their interests as well as up-to-date industry trends they'll want to know about. It's also important to include engaging visuals such as images or videos with your content to draw readers in and keep them interested. Additionally, make sure your content is optimized for SEO so it can easily be found online through search engines like Google or Bing.
4. Engage with your audience:
Grow a personal brand on Linkedin by engaging with your audience. The key to success on this platform is to create and maintain relationships with the people that follow you, or are part of the same groups as you. To do this, start responding to comments on your posts. Ask questions and encourage conversation in group discussions related to topics you know of. This will help position you as an expert in a certain field and improve your visibility online. Not only will this help build relationships but it will also allow others to learn from what you post and comment about.
Furthermore, take advantage of LinkedIn's organic reach by posting stimulating content relevant to your industry or niche that encourages people to engage with it more often.
4. Optimize your profile:
No matter what profession you are in, it is important to have an optimized profile on LinkedIn. With its popularity as a professional networking platform, your profile is the first thing people see when they search for you on the site. Optimizing your profile can help you grow a personal brand across the network and increase career opportunities.
When creating your LinkedIn profile, make sure to include information that accurately reflects who you are professional. Include relevant skills and experience in various fields of your professional life. Also, don't forget to add any certifications or awards that make you stand out from other professionals in the same field. Make sure to include a professional headshot and also share relevant industry news so that visitors can get an understanding of who you are and what interests them about you as a person or businessperson.
5. Share your content:
Having a strong personal brand on LinkedIn is essential for networking and career growth. Crafting and sharing content that resonates with your connections can help you build relationships, showcase your skills, and grow your professional profile. Once you've created valuable content, the challenge is to get it in front of those who need to see it. Here are some tips to help make sure that your content is seen.
Start by crafting an attention-grabbing headline for each post you share on LinkedIn. Make sure it accurately reflects what's inside the post so there are no surprises for readers once they click through. Include relevant images or videos as well because people are more likely to engage with posts if visuals are present. Finally, use hashtags – but be strategic about their usage!
6. Measure your success:
Gaining visibility on LinkedIn and growing a personal brand takes time and effort. However, measuring the impact of your content can help you identify which types of posts are resonating with your audience. With LinkedIn's analytics, users can track their engagement, reach, and impressions to see what's working and where they need to make improvements. Taking a few minutes each week or month to monitor these metrics will give you insights into how well your content is doing on the platform.
The engagement metric shows how many people reacted positively to your post by liking it or commenting on it. This helps you get an idea of how much attention your content is getting from followers or other viewers who may not be connected with you directly but still found your post interesting enough to interact with it.
By following these steps, you can establish yourself as a thought leader on LinkedIn and grow your brand on the platform. Remember to be authentic, and consistent, and provide value to your audience. With time and effort, you can build a strong personal brand that sets you apart from others in your industry.