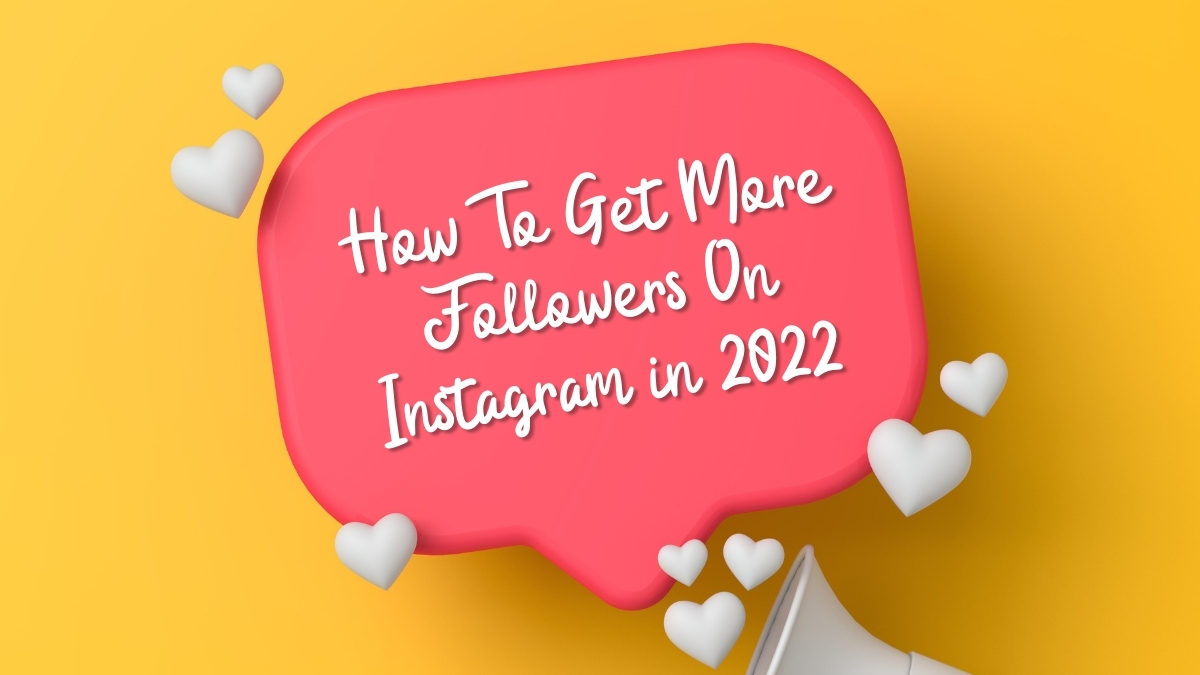 Having an Instagram account with a large number of followers is becoming increasingly important to personal and professional success. Whether your goal is to increase your visibility, expand your reach, or simply have more engagement on your posts, getting more followers on Instagram can be a challenge. To help you out, this article will provide you with 22 tips to help you get more followers on Instagram.
1. Have A Plan & Create A Content Calendar Full Of Great Ideas
If you're looking to get more followers on Instagram in 2022, having a plan and creating a content calendar full of great ideas is essential. A content calendar will help you stay organized, keep track of what you'll be posting and when, and most importantly, engage your audience with valuable content. Creating a well-thought-out content plan can have a major impact on the success of your Instagram presence.
Start by laying the foundation for your plan by researching the best times to post on Instagram. This will depend on what type of account you are running – personal or business – but generally speaking, aim to post during peak hours when people are most likely to be browsing through their feeds. Additionally, take advantage of trending topics or hashtags so that your posts can stand out from the crowd.
2. Only Post Well-Composed Images & Videos
In the social media world of 2022, many people are looking to increase their follower count on Instagram. For those looking for an edge in the coming year, you must focus on posting only well-composed images and videos. Quality content will help create a positive reputation for you and your account, boosting your overall following.
The first thing to keep in mind when creating content is what type of image or video works best for your target audience. Think about colors, angles, lighting, and other elements that can make an impactful visual statement. Additionally, stay up-to-date with current trends so you know what's popular among viewers right now.
3. Experiment With Different Filters & Dimensions
Experimenting with different filters and dimensions is one of the best strategies to increase your social media presence and reach a larger audience. Utilizing different filters can give your photos a unique look that resonates with viewers. Along with this, playing around with different dimensions also adds an extra layer of creativity when posting pictures.
When experimenting with these features, it's important to develop a unique style that captures attention and stands out from the competition. Consider using certain colors, styles, or shapes throughout all posts to create consistency. Additionally, try exploring popular trends within the industry and see how you can use them in your posts. Not only will this help make content visually pleasing but it will also keep followers engaged as they anticipate what comes next!
4. Use Instagram Analytics To Feed Your Persona Research
Instagram is a powerful social media platform with over 1 billion active users. It can be used as a great marketing tool to connect with customers and increase brand awareness. But one of the biggest challenges is understanding who your target audience is and what they want from your content. This is where Instagram analytics comes in! With the help of analytics, businesses can gain valuable insights into their customer base, allowing them to tailor their content and better engage their followers.
Using Instagram analytics for persona research can help businesses get more followers on Instagram in 2022. By identifying user interests, behaviors and preferences, businesses can better understand who they should be targeting with their content and how to reach them effectively. This allows them to create content that resonates with their audience, encouraging more engagement and driving more followers to their accounts.
5. Tag People In Your Photos Who Interact With Your Brand
One way to increase the reach of your brand is to tag people who interact with it in your photos. This can help you get more followers in 2021, as well as build relationships with influencers, customers, and fans.
Tagging people who interact with your brand when they appear in your photos is a great way to get more followers on Instagram next year. It's a simple yet powerful strategy that shows appreciation for those who are already engaging with your content and encourages others to join the conversation. Additionally, tagging relevant users can draw attention from potential customers and lead them directly back to your profile – boosting both visibility and engagement.
6. Optimize Your Instagram Bio With Branded Hashtags & CTAs
Optimizing your bio with branded hashtags and CTAs can help. Hashtags are an effective tool for increasing visibility and discovery of content, while CTAs (calls to action) can direct users to take specific actions. Utilizing the right combination of these two strategies is sure to help boost engagement and followership on Instagram.
Branded hashtags are a great way to create a sense of unity among followers and potential customers alike by connecting everyone who has used or promoted your brand online. Additionally, it will make it easier for people who like what they see from you to find other content related to your brand quickly and easily.
7. Ask Questions In Your Posts & Include CTAs
One of the best ways to do this is by asking questions in your posts and including calls-to-action (CTAs). Asking questions engages your existing followers and encourages them to comment, like, and share your post. Additionally, when someone likes or comments on a post with a CTA it increases the chances of that person following you.
Once you start asking questions in your posts, make sure they are well crafted so that they spur engagement. Think about the types of questions that will compel people to leave a comment or like. It can be anything from an opinion poll about a trending topic to something fun such as "What should I do this weekend?" Asking thought-provoking questions can lead to interesting conversations among your followers which could even lead to additional shares and follows.
8. Add A Link To Instagram To Your Website & Email
Instagram is one of the most popular social media platforms and has been around for over a decade. It's a great way to promote your business, build an online presence, and get more followers on Instagram in 2022. Adding a link to Instagram on your website or email allows you to easily share content with your followers and keep them updated on all the latest news from your business.
Including a link to your Instagram profile gives customers another way to interact with you online, making it easier for them to connect with you when they have questions or want updates about products or services. Plus, it makes it easy for potential customers who find your website or email campaigns to visit and follow you on Instagram too. Having an active presence on Instagram could help you increase engagement from customers and spread brand awareness even further in the coming year.
9. Cross-Post Your Instagram Content to Facebook & Twitter
One of the best strategies is to cross-post your content from Instagram to other social media platforms. Cross-posting allows you to reach a wider audience, attract more attention, and increase your exposure.
Cross-posting involves sharing an Instagram post across multiple social media channels like Facebook and Twitter. This gives you a better chance of being seen by potential followers who may not be using Instagram alone. When cross-posting, it's essential that the content remains consistent across all platforms — including captions, images, and hashtags — so that users can easily recognize it regardless of which platform they're viewing it on. Additionally, don't forget to include links between the different accounts so people can easily find your profile on each platform.
10. Run Contests & Campaigns To Increase Brand Reach
Run contests and campaigns to help increase your brand reach and attract more attention. Contests can be a great way to engage your target audience, generate leads and build relationships with potential customers.
When creating a contest or campaign, think of creative ways that will encourage users to interact with your brand. Offer enticing prizes that will draw people in and make sure the terms are clearly stated. Engage influencers or celebrities to promote the competition for additional exposure. Have them post about it on their accounts as well as yours and use relevant hashtags for maximum visibility. Additionally, consider running ads targeted towards the right demographic so you reach the right people who could potentially become loyal followers of your brand.
11. Look At What Your Competitors Are Doing
If so, then it's a good idea to take a look at what your competitors are doing. By understanding their strategies and tactics, you can develop an effective plan of action to help boost your following.
Analyzing your competition is one of the best ways to increase your chances of success. Think about what types of content they post that get the most engagement and use this as inspiration for creating content for yourself. Also, consider if there are any features they offer that set them apart from other competitors in the space. Are they using hashtags or running promotions? If so, think about how you can use similar tactics yourself.
12. Interact Across Instagram (Follow, Like & Comment On Other Posts)
Interacting with other posts is a great way to increase your visibility and build relationships with potential audiences. Here are some tips for how to interact across Instagram: follow, like, and comment on other people's posts.
Following people's accounts gives you access to their content. It also makes it easy for them to check out your page and follow back if they are interested in what you have to offer. Be sure to look through hashtags related to your industry as well as influencers who could help draw attention and followers toward your account.
Like the posts of those you follow — it's an easy way of showing that you appreciate their content and helps them recognize who is engaging with their posts.
13. Don't Use Too Much Text In Your Photos
Adding too much text to your photos on Instagram can be a major turn-off for followers and won't help you get more followers in 2022. For starters, using text in your photos can be distracting, which means that it's less likely that people will take the time to read what you have written. Secondly, as Instagram is a visual platform, it is best to stick with visuals that don't conflict with each other (text and image). Lastly, when text is used too often or frequently in your posts, it can be difficult for the eye to focus on the overall message of the post.
To maximize engagement and reach more users organically on Instagram in 2022, create content that focuses mostly on visuals. Use clear images or videos with minimal text instead of relying heavily on words.
14. Never Include Logos & Watermarks On Your Images
Instagram has become one of the most popular social media platforms, and it is a great way to get more followers in 2022. One of the key rules for gaining followers on Instagram is to never include logos or watermarks on your images. This can be very detrimental to your profile's success as it makes you look unprofessional and will drive people away from following you. Not only that but adding any type of logo or watermark could lead to copyright infringement issues if you are using a copyrighted image.
Instead of adding logos or watermarks to your images, focus on creating content that stands out naturally by having an interesting composition, eye-catching colors, and unique subject matter. A good way to draw attention is also by including captions that offer value such as providing helpful information or knowledge.
15. Use The Right Hashtags To Capture New Audiences
In today's social media-driven world, hashtags are essential for businesses looking to capture new audiences. It is important for businesses wanting to get more followers on Instagram in 2022 to use the right hashtags to reach their target demographic. Using trending and relevant hashtags, businesses can boost engagement with current and potential customers.
Hashtags are an easy way to make content discoverable by users who may not have otherwise seen it. With the right hashtag selection, businesses can target a specific audience they would like to engage with. For example, if a business is trying to reach people who enjoy healthy food options, they could incorporate relevant tags such as #HealthyEats or #CleanEating into their posts. This allows them to connect with those interested in similar topics and encourages them to interact with their content on Instagram.
16. Use Geotags To Reach Local Audiences
Do you want to get more followers on Instagram in 2022? It's time to start using geotags to reach local audiences! Geotagging is a way of attaching geographical information to posts, photos, and videos. By adding location tags, users make it easier for their content to be found by people searching for specific places or events. When done correctly, geotagging can help businesses gain more visibility and increase their local following.
Geotags are beneficial for both businesses and individuals who use Instagram. For brands, tagging an image with the name of a city or area will help them connect with potential customers in that region. Geotags also allow influencers and other content creators to easily find relevant locations for photoshoots or video shoots.
17. Only Add Links To Your Bio
Having a solid Instagram presence is essential in 2021 and even more so in 2022. Connecting yourself with the right people, creating content that resonates with your targeted audience, and having a great profile with an accompanying bio are all components of building the perfect Instagram profile.
One way to get more followers on Instagram in 2022 is to add links to your bio. Whether it's a link to your website, blog post, content piece, or even an online store you can use this strategically placed link as an opportunity to attract more eyes and potential followers. Adding links also makes it easier for people interested in you or what you have posted can find out more about you by simply clicking one link. Additionally, adding direct links will make it easier for influencers or potential business partners to contact you if they are interested in working together on projects or collaborations.
18. Tag Products In Images & Videos To Drive Conversions
As businesses continue to rely more heavily on social media platforms like Instagram to increase their brand's visibility and reach out to new customers, it has become increasingly important for them to find new ways to stand out from the competition. One of the latest trends that are quickly gaining traction among brands is tagging products in images and videos. By tagging products in images and videos, businesses can not only drive conversions but also get more followers on Instagram in 2022.
Tagging products in visuals is a great way for businesses to showcase their offerings and engage with potential customers. It allows those who view the post an easier way of accessing additional information about a product or service without having to leave the platform, thus eliminating any potential friction that could lead users away from making a purchase decision.
19. Create A Branded Hashtag For Your Events
Having an effectively branded hashtag for your events is one of the most important aspects of success on social media in 2022. Hashtags are essential to increase engagement and get more followers on Instagram. With a well-crafted branded hashtag, you can encourage people to share their experiences from events, attracting more exposure and followers.
The goal of a branded hashtag is to create an easy way for people to tag their posts about your event so that it stands out amongst other posts. It also allows users to easily search through content related to your event or brand when looking at the hashtag feed. You must come up with something unique – avoid generic words or phrases that may already be used widely by others! Make sure the phrase isn't too long either so it's easy for people to remember and use in their captions.
20. Repost When You Get Tagged To Showcase Positive Reviews
As digital marketing continues to grow, businesses need to be active on social media platforms like Instagram. That being said, one of the most effective methods for gaining more followers in 2022 is reposting positive reviews when you're tagged.
When potential customers are browsing your page, seeing reviews from happy customers can help make a good impression and will encourage them to follow your page. However, with so much competition out there, simply posting great content isn't enough: you need to go the extra mile and share genuine customer experiences as well. By re-posting reviews from customers who have had great experiences with your product or service, other users will be encouraged to follow you too. This is especially useful if your brand has been recommended by influencers or celebrities.
21. Use Instagram Ads To Get In Front Of Your Audience
Instagram ads are one of the most effective ways to get in front of your target audience and boost your brand visibility. With over 1 billion monthly active users, Instagram is a powerful platform for businesses looking to grow their presence and gain more followers on Instagram in 2022.
When used correctly, Instagram ads can be an effective way to reach new customers and increase engagement with existing customers. Ads can be targeted based on user interests, demographics, behaviors, or even specific business objectives like website visits or app downloads. Additionally, businesses can use analytics tools to monitor ad performance and optimize campaigns for maximum impact.
22. Get Your Account Verified 
Getting your Instagram account verified is one of the best ways to stand out from the crowd and get more followers in 2022. Verified accounts have a blue checkmark next to their username, making it easy for users to identify them as official accounts. With great benefits like increased visibility, improved search ranking, and access to exclusive features, having a verified profile can help you grow your reach on Instagram.
The verification process can be time-consuming but well worth it if you're looking to increase your follower base in the new year. Once verified, you may appear in recommended accounts lists and show up higher in searches for specific topics or hashtags which will make it easier for potential followers to find you. You'll also be able to access direct messaging services with other business accounts, allowing you to network with other influencers or brands more easily than before.