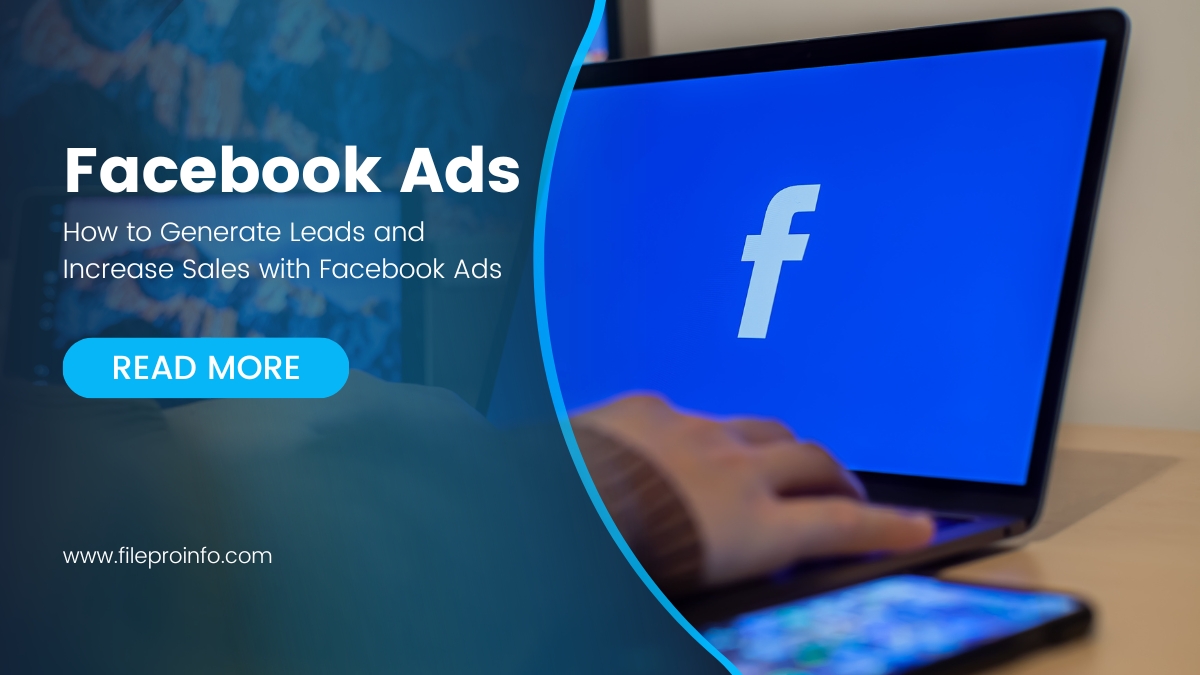 Are you struggling to generate leads and increase sales for your business? If so, Facebook Ads may be the solution you've been looking for. With over 2.7 billion monthly active users, Facebook is a powerful platform for businesses to reach and engage with potential customers.
In this blog post, we'll cover the basics of how to generate leads and increase sales with Facebook Ads, so you can start seeing results for your business.
Step 1: Define Your Target Audience
Regarding Facebook Ads, the key to success lies in understanding your target audience. This means defining who they are, what they want, and how you can help them achieve their goals. By doing so, you can create highly targeted campaigns that generate leads and increase sales.
To begin with, consider your business niche and the products or services you offer. Who is most likely to benefit from what you have to offer? What are their needs and pain points? Are young professionals looking for career growth opportunities or stay-at-home moms searching for products that make their lives easier?
Once you have a clear picture of your ideal customer profile, use Facebook's targeting options to narrow down your audience further. You can specify demographics such as age range, location, gender, education level, job title, and interests.
Step 2: Create Compelling Ad Content
Step 2 in creating successful Facebook Ads is to craft compelling ad content that resonates with your target audience. Your ads should be visually appealing and grab the attention of your potential customers, encouraging them to engage with your brand. The key is to highlight the benefits of your product or service, as opposed to just its features. This will help generate leads and increase sales.
To create effective ad content, start by understanding your target audience's pain points and desires. What are they looking for? How can you solve their problems? Once you have a clear understanding of their needs, craft messaging that speaks directly to them. Use language that is relatable and easy to understand – avoid jargon or complicated terms that may alienate potential customers.
In addition to compelling copy, visuals are also crucial in creating engaging Facebook Ads. Use images or videos that showcase the benefits of your product/service in action.
Step 3: Set Your Advertising Budget
When it comes to advertising on Facebook, setting a budget is crucial. Without a set budget, you may overspend and end up with minimal results. Fortunately, Facebook Ads allows you to set a budget that works for your business. This means that whether you are looking to generate leads or increase sales, there is a budget option suitable for your needs.
To begin setting your advertising budget on Facebook Ads, first consider the amount of money you have available to spend on ads. It's important to note that while spending more money can lead to better results, this isn't always the case. Sometimes even small budgets can yield excellent results if used wisely. Next, determine which campaign type will work best for your goals and target audience. Different objectives require different ad formats and strategies, so make sure to choose the right one before setting your budget.
Step 4: Monitor Your Ad Performance
Are you investing in Facebook Ads to generate leads and increase sales? Great choice! But, it's not just about creating an ad and letting it run its course. You need to monitor your ad performance regularly to get the best results.
Monitor Your Ad Performance is crucial for any successful Facebook Ad campaign. By keeping track of your ads' performance, you can optimize them for better results. Check how many clicks, impressions, or conversions are being generated by your ads, this will help you identify which ones are working best and which aren't performing as expected.
Apart from identifying the most effective ads, monitoring their performance also helps with budget optimization. You can pause or adjust underperforming ads and allocate more funds toward higher-performing ones. This way, you're maximizing your ad spend while generating more leads and increasing sales at a lower cost per acquisition (CPA).
Step 5: Follow Up with Leads
Generating leads is an important step in growing your business. But it's not enough to simply generate interest through Facebook ads or other marketing campaigns. You need to follow up with them to turn those leads into paying customers. This means taking the time to reach out via email, phone calls, or even social media messages.
One of the biggest benefits of following up with leads is that it increases the chances of turning a lead into a sale. When you take the initiative to follow up, you demonstrate that you are invested in their needs and are willing to go the extra mile to meet them. Studies have shown that businesses that follow up with leads within five minutes are nine times more likely to convert those leads into paying customers.
Another benefit of following up with leads is that it helps build relationships with your potential customers.
Conclusion
Facebook Ads can be a powerful tool for generating leads and increasing sales for your business. By defining your target audience, creating compelling ad content, setting your advertising budget, monitoring your ad performance, and following up with leads, you can create a successful Facebook Ads campaign that drives real results for your business.