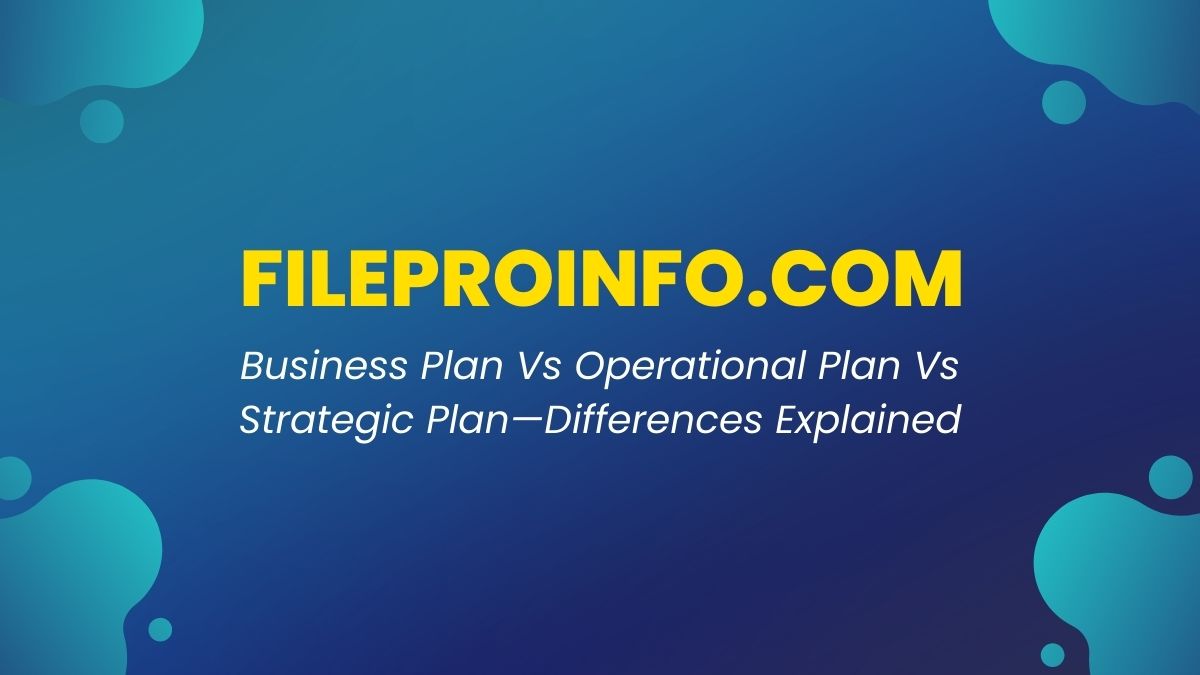 Many business owners are aware of the importance of a business plan. The business plan serves as a foundation for your organization and is an important part of the startup and fundraising process. It does, however, only tell a portion of the story. A strategic plan and an operational plan are also required to get the full picture and create a framework on which to build your business.
What is the definition of a business plan?
A business plan, in its most basic form, describes the "who" and "what" of your company. It specifies who is in charge of the company and what it does. It describes your company's products and services, as well as who your customers are.
What is the definition of a strategic plan?
The "how" is explained in a strategic plan, which goes beyond the basics of a business plan. It explains the company's long-term objectives and how it plans to achieve them in the long run. A strategic plan examines future products and services that your company might offer, as well as potential target markets. The plan explains your long-term expansion and growth strategy.
What is the definition of an operational plan?
An operation plan delves into the specifics of your business to explain how you'll meet your short-term objectives. It's your planning process's "when" and "where." The operational plan lays out the specifics of marketing campaigns, short-term product development, and more immediate goals and projects for the coming year.
What makes a strategic plan different from a business plan?
Let's start with the distinction between a business and a strategic plan. For your consideration:
The "who" and "what" of a business are covered in a business plan. The strategic plan lays out long-term objectives and explains "how" the company will achieve them, giving us a long-term perspective.
In a broader sense, the business plan tells us who we are by demonstrating:
Who is in charge of the company? What qualifies them for this position? What does it take for them to add value to the table?
Who are your rivals? What do they have to offer, and how do you differ from them?
Who is your target market? What is the size of the market? What happened to them? What exactly do they want, and how are you going to give it to them? Also, how will you reach out to your target market?
The business plan responds to the "what" question by stating:
What the company offers and how it delivers it.
The product, services, and operations are all described in detail so that readers can understand how customer requirements are met.
The strategic plan, on the other hand, outlines long-term objectives and how they will be achieved, with a focus on the following:
Where will the company be in three, five, or even ten years?
How will you diversify your product and service offerings over time?
Will your market and industry evolve, and if so, how will your company respond?
How are you going to expand your market and attract new customers?
What needs to happen for you to achieve your objectives? What are the resources you'll require to get there?
What criteria will you use to determine success? What metrics are important, and how will you keep track of them?
So, your business plan explains what you're currently doing. Your strategic plan explains your long-term goals and how you intend to move your company from where it is now to where you want it to be in the future. The strategic plan allows you to look further into the future and explains the key steps you must take to realize your goals.
Is there a distinction between strategic and operational planning?
An operational plan, on the other hand, looks at the short term while strategic planning looks at the long term and explains your broad growth strategies. It outlines the specifics of what your company will do and when it will do it over the next twelve months or so. An operational plan includes information such as:
What activities must take place to achieve your company's objectives?
When will each activity take place, who will perform it, and when must specific milestones be met?
How will you run your company? With which vendors will you collaborate? When do you need them to be installed?
What kind of marketing campaigns are you planning and how much will they cost?
This year, how much money will you put into your products and services?
In the end, your operational plan is your company's short-term action plan. It consists of the tasks, milestones, and steps required to move your company forward. An operational plan usually covers one year, whereas a strategic plan covers a three- to five-year period, and sometimes even longer. The operational plan is essentially a road map for putting your strategic plan into action.
How to use your business plan for operations and strategic development
A good business plan should include both the business's basic plans, as well as the long-term strategic plan and the short-term operational plan. You can tackle all three phases of planning with a lean planning method, and the process will be simple to review and revise as your company grows, changes, and adapts.
Begin with a simple strategy
The lean planning methodology begins with a quick 30-minute business plan that outlines your company's fundamentals: who you are, what you do, and who your customers are. It's an excellent way to give a quick overview of your company.
Extend your strategy
You can then expand your strategy to include your longer-term goals. Adding more detail to plan elements to explain long-term goals, milestones, and how your products and services will evolve to meet changing market conditions.
Finally, your lean plan will include financial forecasts, which will include monthly details about short-term revenue and expenses, as well as longer-term annual summaries of your financial goals, such as profitability and possible future loans and investments.
Use your business plan to help you run your company
You'll need a team of players to help you plan, develop, and execute both operational and strategic plans, regardless of the type of plan you're working on. Remember that your company requires a solid foundation as well as a sense of direction. As well as assisting you in identifying the specific work that needs to be done to help you achieve your long-term objectives.
Discover how LivePlan can assist you in creating a business plan that defines your company, lays out strategic steps, and keeps track of ongoing operations. You can easily share it with your team and all relevant stakeholders, run scenarios and update your plan based on real-world data. You'll find everything you need to turn your business plan into a growth tool.
Learn more from business and read How to Write a Business Plan Assignment.