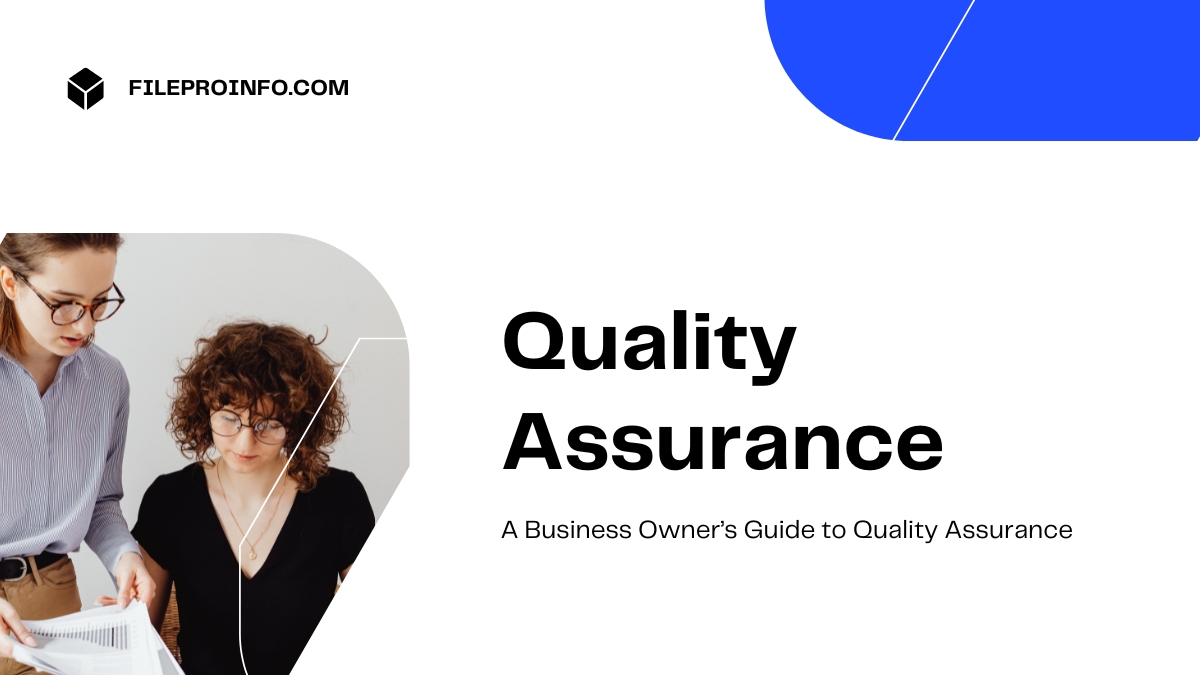 Quality assurance is the process of ensuring that the products and services produced by a business meet customer expectations. It is an important part of any business, and it can make a big difference in how customers view your company. This guide will teach you everything you need to know about quality assurance, from the basics to more advanced techniques.
What Is Quality Assurance?
Quality assurance (QA) is an important part of any successful business. It involves the implementation of processes and procedures to ensure that products and services meet certain quality standards. Quality assurance is vital to product development, production, delivery, customer service, and other aspects of a business.
Quality assurance includes evaluating the product or service to ensure it meets defined requirements before being released for sale or distribution. This involves testing products for defects or errors before they are released into the market. Quality assurance can also involve examining processes used in production to determine if they are efficient and effective. Furthermore, QA teams may look at customer feedback data to identify areas where improvements can be made to provide better products and services in the future.
Is It Necessary?
Is Quality Assurance Necessary? The question of whether quality assurance is really necessary for businesses has been on the minds of owners and managers for many years. Quality assurance can often be seen as an expensive exercise and not necessarily a priority in the day-to-day operations of an organization. However, it is crucial to understand that quality assurance is essential to ensuring a top-notch product or service and providing your customers with a positive experience.
Quality assurance measures are designed to identify problems early on to prevent them from developing into costly mistakes further down the line. As such, having a robust quality system in place allows organizations to continuously monitor their products, services, processes, and systems for any issues that may arise. By catching potential problems early on, organizations can minimize losses caused by errors or defects.
The Benefits of Having a QA Team
Customer Loyalty
The success of any business lies in its ability to satisfy its customers and build loyalty. Companies recognize this fact and are increasingly investing in quality assurance teams to provide the best possible customer experience. Having a quality assurance team offers many benefits which help to increase customer loyalty and satisfaction.
A quality assurance team is responsible for ensuring that products or services supplied meet the required standards as set out by the company's goals. They conduct regular tests, evaluate reports, investigate customer feedback, and recommend changes based on their findings. This helps to identify potential problems before they become widespread, allowing companies to quickly address any issues before they have a detrimental effect on the customers' experience.
Moreover, having a quality assurance team allows companies to strengthen relationships with their existing customers by providing excellent service and responding promptly when an issue arises.
Better User Experience
A Quality Assurance (QA) team is an invaluable asset to any organization looking to improve the user experience. Not only does a QA team provide testing of software and other digital products, but it also ensures that the end product lives up to its expectations and meets customer needs. Investing in a QA team brings many benefits, from improved customer satisfaction to increased revenue.
Having a dedicated QA team offers organizations the opportunity to identify bugs and problems before launching their product or service. By catching errors early on, companies can avoid costly repair cycles down the line, saving time and money on product development. As well as improving user experience by reducing the number of technical issues within a product or website, having an efficient QA process also helps promote customer trust in any company's brand.
Stronger Brand Identity
Having a quality assurance team is essential to any business which hopes to present itself in the most professional manner possible. Quality assurance teams can help companies develop and maintain a strong brand identity, as they can ensure that operations, products, and services adhere to established standards of excellence. These teams are there to make sure that the customer experience remains consistent, regardless of context.
A strong brand identity implies trustworthiness and reliability from customers, which is why having a quality assurance team is so important. Quality assurance teams are not only responsible for ensuring the quality of products or services provided by a company but also for making sure that customer service levels remain constant. By establishing certain standards and monitoring them consistently, these teams ensure that customer satisfaction remains high at all times.
More Revenue
Having a quality assurance team is essential for any business looking to maximize its revenue. Quality assurance teams analyze data and provide insights into the effectiveness of current operations and ensure that those operations are running efficiently. These teams can help identify areas of improvement, as well as opportunities for new revenue streams and cost savings.
The benefits of having a quality assurance team extend beyond just increased profits. These teams are also able to provide feedback on customer satisfaction levels, allowing businesses to better understand their customer's expectations and develop strategies to meet them. Additionally, they can provide valuable insight into marketing campaigns, allowing businesses to focus their efforts on the most effective channels for reaching their target audience. By utilizing the expertise of a quality assurance team, businesses can ensure that all aspects of their operations are running at peak efficiency levels to maximize their revenue potential.