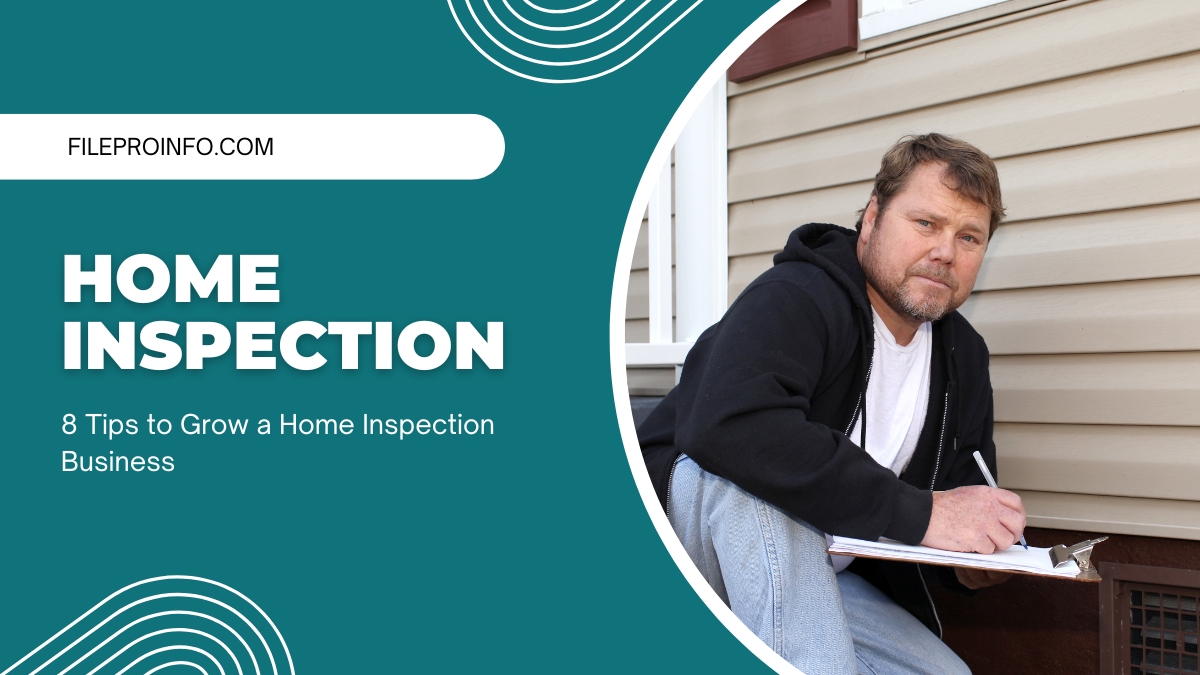 Starting a business is an exciting endeavor, but it can also be overwhelming and intimidating. Home inspection businesses are no exception. If you're looking to start your own home inspection business and grow it over time, look no further: this article provides 8 essential tips to help you reach success. With these steps, you'll have the power to grow and develop your home inspection business while avoiding common pitfalls.
1. Set a target audience
If you are looking to grow a home inspection business, it is essential to set a target audience. This helps you focus on the specific customers and services that will be most beneficial for your business. It also allows you to craft your message and marketing efforts accordingly.
When determining who your target audience will be, consider factors such as age, gender, location, and income level. For example, if your service is focused on luxury homes in an affluent area, then targeting individuals who fit that demographic may be wise so you can ensure the maximum return on investment from your marketing efforts. Additionally, consider what type of customers need your services; this could include first-time homebuyers or individuals selling their property as part of retirement plans.
2. Develop a brand identity 
As a home inspection business owner, you have the opportunity to grow your business and create a lasting brand identity. It's important to remember that your brand identity is more than how people perceive your business; it's also about how you want customers to interact with it. Here are some tips on how to develop a successful brand identity for your home inspection business:
First and foremost, develop a unique mission statement or slogan that reflects the values of your business. This will give potential customers an idea of what they can expect from you when they hire you for their inspection needs. Additionally, create a logo and website that accurately reflect the values of your brand. This will help people identify who you are quickly and easily while still making them feel connected to you as a professional in the industry.
Another great way to build brand awareness is through social media marketing.
3. Amp up marketing activities
Are you looking to boost marketing activities for your home inspection business? A successful strategy can involve generating leads, building relationships, and optimizing online presence. Here are some tips to help you amp up your marketing efforts.
Finding leads is the first step in growing your business. To generate more leads, consider connecting with real estate agents, who may refer potential customers due to their close relationship with home buyers and sellers. You can also use digital channels like search engine optimization (SEO) and social media campaigns to create visibility for your business and attract new customers.
Maintaining strong relationships is also essential when it comes to growing a home inspection business. Reach out directly via emails or phone calls providing useful information about how they can improve the condition of their homes or benefit from inspections.
4. Use the right home inspection software
In today's competitive world, home inspection businesses need to have the right software to gain an edge over the competition. The right home inspection software can help a business grow and thrive by providing efficient services and accurate results.
Having effective home inspection software can make all the difference when it comes to growing a successful home inspection business. From improved customer service and streamlined workflows to faster analysis of data and enhanced reporting capabilities, the right home inspection software will increase overall productivity while saving time and money. It also provides reliable data that can be used for regulatory compliance purposes as well as for marketing initiatives. Additionally, users can benefit from real-time access to detailed reports on each property inspected which helps them understand potential issues quickly and accurately.
5. Take advantage of word-of-mouth marketing 
Word-of-mouth marketing is an effective way to grow a home inspection business. It is one of the most powerful forms of marketing and can be used by small or large companies. Word-of-mouth provides recommendations from people that have already used the services of a company, and this can be invaluable for gaining new customers.
To make the most out of word-of-mouth marketing, home inspection businesses should focus on providing excellent service to their current customers. This will ensure that customers are talking about them in positive ways and recommending them to others. Businesses should also encourage their existing clients to review their services online as this can boost visibility and increase customer confidence in the quality of work they provide. Additionally, businesses should actively engage with potential customers through social media platforms such as Facebook or Twitter to build relationships and generate more referrals over time.
6. Get your online presence
Are you a home inspector looking to grow your business? An online presence is essential in today's competitive market. Potential customers are turning to the internet as their first stop when searching for services, so having an online presence is key.
Having an online presence helps prospects get to know who you are and what you do before they ever contact you. You should create a website that speaks to potential clients and reflects your brand. Include photos of yourself, the services offered, and customer reviews on your website so that visitors can quickly learn about who you are and what makes your business unique. Additionally, be sure to include ways for customers to contact you via email or phone number so they can easily reach out if desired.
Social media also plays a big role in establishing an effective online presence for those looking to grow their home inspection businesses.
7. Keep track of clients and time
For home inspection business owners, tracking clients and time is essential for a profitable and successful enterprise. By maintaining accurate records of customer information, including contact information, services provided, and payment agreements, it is simpler to manage a growing business. Additionally tracking the time spent on each job ensures efficient use of resources and can even provide insight into how to better serve customers in the future.
The best way to keep track of clients and times is through an online database system specifically designed for home inspection businesses. This software will allow you to store customer data all in one place while also giving you access to powerful tools such as invoicing or automated billing that can help streamline operations. Additionally, many programs offer to report tools to quickly identify trends in your customer base or track employee performance over time.
8. Inspect the home promptly
Owning and operating a home inspection business can be an effective way to generate income while helping others. To ensure success, conducting timely inspections is essential.
Timely inspections are critical to the home inspection process to accurately assess a property and any potential issues that may arise. Prioritizing timeliness means that you can more effectively inspect homes, complete reports quickly, and keep customers satisfied. It's important to remember that time is money for both your business as well as clients who need their homes inspected quickly and efficiently.
By relying on technology such as scheduling software or using a checklist before conducting an inspection, you can help ensure that each inspection is completed promptly. This will also help you stay organized throughout the process so that no detail gets overlooked during the inspection process.
Conclusion
Growing a home inspection business requires hard work and dedication. With the right knowledge and strategies, however, your efforts will pay off. Having a customer-oriented approach to marketing, leveraging technology to streamline your operations, staying up to date with industry trends, investing in professional training and education, building relationships with real estate agents, creating an online presence, and offering additional services can all help you achieve success in this competitive field.