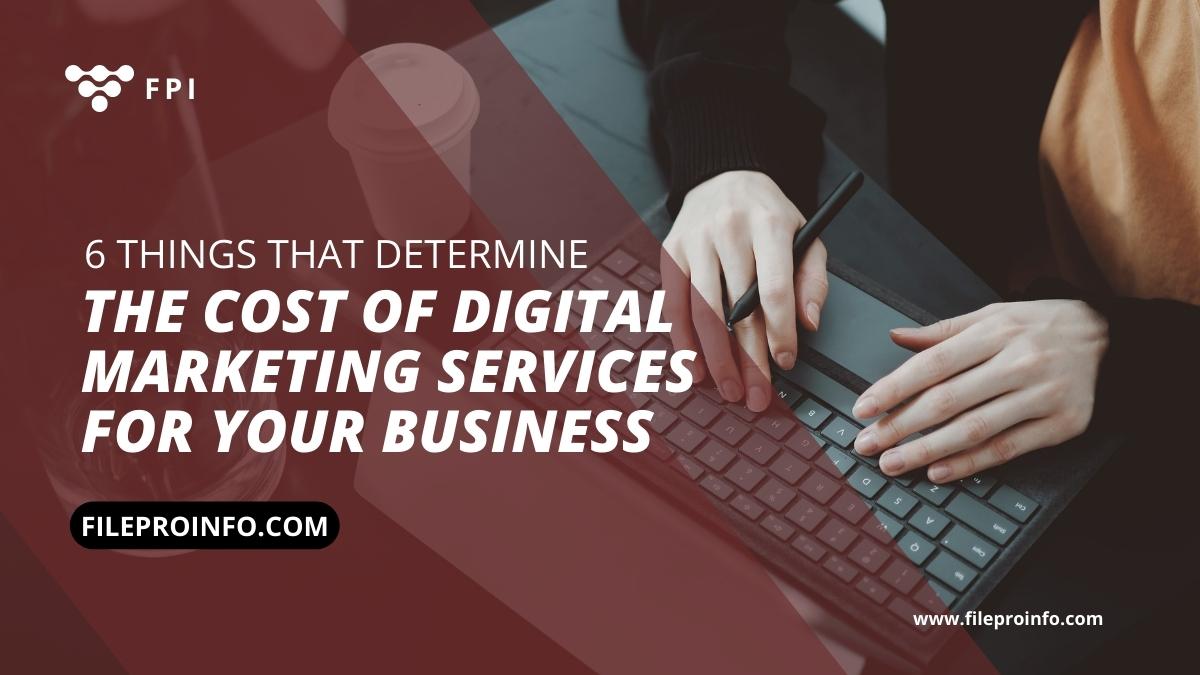 Before you decide to utilize digital marketing services, it is crucial to consider several factors that determine the cost of the services you receive. As a business, you should understand that several things influence the cost of digital marketing services you receive. By learning these things, developing a sustainable financing plan becomes easier. You also increase cost-effectiveness in your business operations by having a sustainable budget. Here are the things that determine the cost of digital marketing services.
Business Marketing Needs
It is important to understand your business needs before looking for a digital marketing agency. The marketing needs of startup businesses differ from established ones. The cost can be higher if your business needs to develop new marketing platforms, including websites and social media accounts. If you also want to reach your target audience beyond your local market, seeking the services can prove costly. It is crucial to create a list of digital marketing needs in your business of the relevant services to determine the overall costs. When you understand the costs, it is possible to address specific needs and find long-term solutions.
The Tech and Tools Needed
Finding and using the right tech and tools in your digital marketing campaigns is important. You should, however, understand that most digital tools and technology can be costly. When you look for digital marketing services, the tools and tech used can raise the overall costs. Ensure you learn the tools and tech needed in your digital marketing campaigns to determine the related costs. Most digital marketing agencies possess the tools and tech you can comfortably utilize for your needs. Besides outsourcing these tools and tech, determine if purchasing them is cost-effective for your business.
The Skills and Expertise Needed
While working with skilled and experienced digital marketers is vital, the service costs can get higher. You should be keen on your marketing needs against the skills and expertise available. You should be ready to pay more to work with a reputable digital marketer than an amateur. Ensure you list and understand your digital marketing needs before looking for an agency near you. It is important to assess your in-house skillset and expertise to understand whether a reputable and costly digital marketer will serve your interests. Check the affordability of the services provided against your budget before deciding.
Services Offered by Digital Marketer
You should understand that digital marketing agencies offer various services and engagement models that can be costly. Before assessing your financial plan, it is important to list down the services you expect from the digital marketer. Besides developing a website for your business, you can depend on the digital marketer to create content, find the right market, and train the in-house team. These services can determine the overall costs. Ensure you know the services a specific digital marketer provides against their charges. Also, seek to know whether the services provided suit your business needs before investing.
Your Digital Marketing Strategies
Different digital marketing strategies work for different businesses. It is crucial to know the marketing strategies that work for your business before looking for a digital marketer. Social media marketing, email marketing, SEO, and pay-per-click advertising are strategies that can work in your business. Find and understand the digital marketing strategies that can work for you to buy backlinks cheap and meet your expectations. You should note that your target audience and current customers determine the strategies you will use and overall costs. Gather information about the digital marketing strategies for your needs as you create a budget.
Marketing Timeline
You should expect the digital marketing strategy you choose for your business to take time before feeling the impact. You should also understand that most of the work takes time to implement and can affect your financing plan. If you seek to use your website for marketing, you should start by developing the right one. This also means including the right tools and technology for better results. Your marketing timeline determines the services you will get and their impact. Create a timeline for marketing campaigns and understand the financial needs before looking for digital marketing services.
The decision to hire a digital marketer goes a long way toward helping your business flourish. You should understand that the process can get costly. It is crucial to know the things that determine the cost of digital marketing services to develop a sustainable financial plan. Following the above guide should be helpful.
Learn more from Marketing and read 7 Strategies to Launch Your Digital Marketing Campaign in 2022.