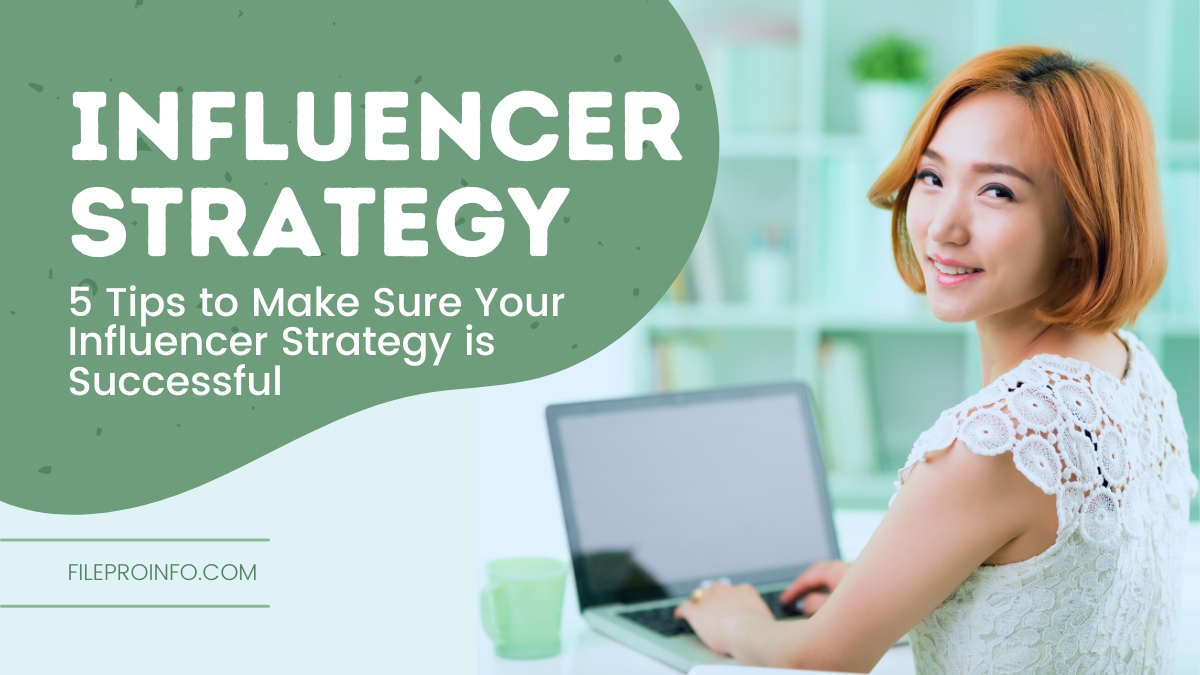 When it comes to developing a successful influencer marketing strategy, many marketers struggle with where to begin. With the right approach, however, influencer campaigns can be an incredibly powerful tool to help your brand reach its goals. In this article, we will offer 5 tips on how to develop a successful influencer strategy and make sure these campaigns are as successful as possible.
Step 1: Choose Your Primary Goal
Having an influencer strategy is a great way to drive traffic and increase brand awareness, but it's important to choose your primary goal. You need to make sure that your influencer strategy is successful so you can see the desired results. Having a clear plan with defined objectives will help guide you through the process of choosing and working with influencers.
When deciding on a primary goal for your influencer campaign, consider factors such as how quickly you want to reach your target audience, whether or not you want to focus on increasing brand visibility or generating leads, and which type of content will engage your audience most effectively. Additionally, think about what message or story you want to communicate to ensure that the content resonates with viewers and drives them toward conversion actions.
Step 2: Determine Your KPIs
When planning your influencer strategy, it's important to ensure its success by determining the right KPIs. It's important to set realistic expectations when selecting the metrics that will determine how successful your influencer marketing campaign is. Having a clear understanding of what you want to achieve and measuring it accurately will help you more effectively evaluate your program.
One of the first steps in determining KPIs is defining what success looks like for your influencer program. Ask yourself questions such as: What types of results do I expect? Do I want increased brand awareness or sales? How long should it take for objectives to be met? Once you have an idea of what you want to achieve, decide which metrics are most relevant and meaningful for evaluating those goals.
Step 3: Build Your Campaign
Building a successful influencer strategy is essential for any marketing campaign. Whether launching a product, raising brand awareness, or driving sales, reaching the right audience through influencers can make all the difference. To make sure your influencer strategy is effective and successful, it's important to consider several key elements.
First and foremost, identify the goals behind your campaign and determine which influencers are best suited to help you reach those goals. Establishing criteria for selecting an appropriate influencer will ensure that your message reaches the right people at the right time to maximize its impact and ROI. Additionally, create engaging content that resonates with both audiences so that they're more likely to interact with your brand on a deeper level. Finally, measure results throughout your campaign to determine what works best moving forward.
Step 4: Conduct Your Research
As a business owner, you know that influencer marketing can be an effective tool for boosting your presence online. But how do you make sure your influencer strategy is successful? Conducting thorough research before committing to an influencer and their strategies is one of the best ways to ensure success.
Research should include gathering information on the various platforms available, analyzing current trends in your industry, and understanding what kind of content resonates with your target audience. It is also important to look into the different types of partnerships that may be beneficial for your business. Once you have identified potential influencers, researching their existing relationships should be a priority as it will provide insight into how successful these relationships are likely to be long-term. Additionally, having access to their analytics data will give you a better idea of who they reach and engage with so you can decide if they are suitable for your needs.
Step 5: Make a Connection
Creating a successful influencer strategy is an essential part of any business plan. Influencers are valuable because they help businesses reach potential customers and build a positive brand image. It's essential to make sure that your influencer marketing efforts are producing results, beginning with the selection of the right influencers for your brand.
When selecting an influencer, look at their past work and make sure that you can trust them to promote your product or service accurately and authentically. The content should be tailored to meet the needs of your target audience, so research what kinds of topics interest those in your demographic and find an influencer who understands these interests. Additionally, it's important to consider their level of influence; not all followers are created equal, so take into account the quality of interactions rather than quantity when choosing someone as an ambassador for your brand.
Conclusion
Creating a successful influencer strategy should not be taken lightly. Following these five tips will help ensure your influencer campaign is successful and well-received. First, determine the goals of your influencer strategy and create KPIs to measure success. Second, identify the right influencers to target and make sure they are a good fit for your brand. Third, make sure to provide relevant content and leverage any existing relationships with influencers.