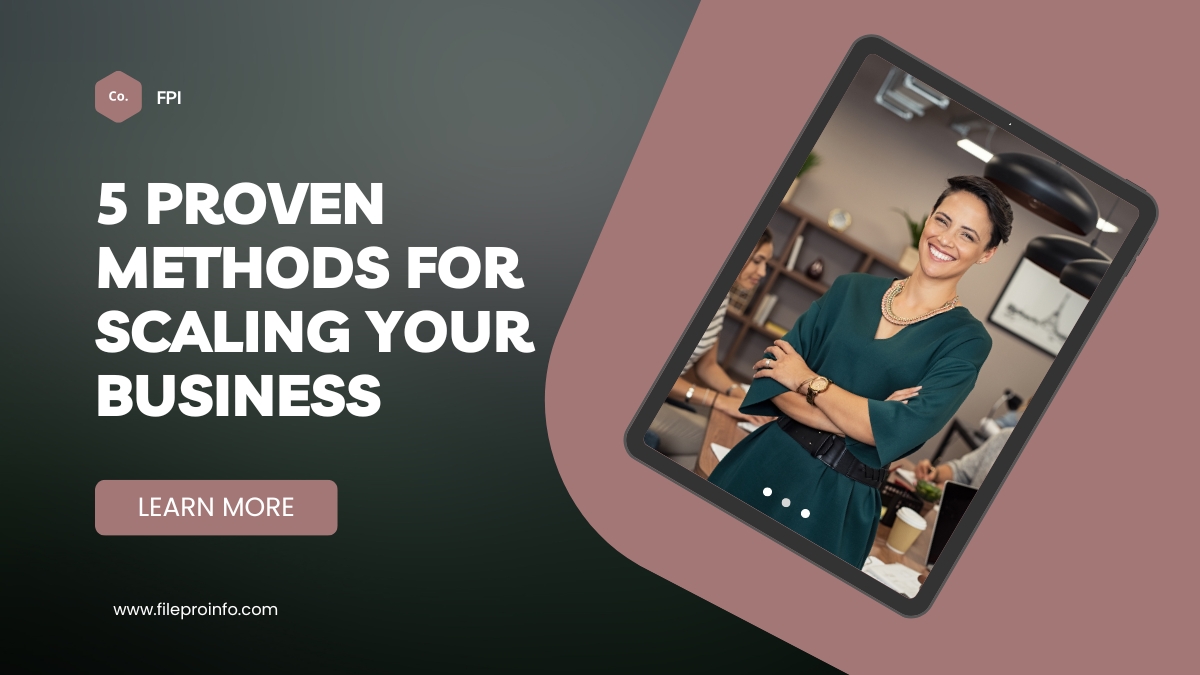 Starting a business is an exciting and rewarding experience. However, for many entrepreneurs, the real challenge comes when it's time to scale the business. Growing your business from a local operation to a global powerhouse is no easy feat. Fortunately, there are proven methods for scaling your business that can help you achieve success. In this article, we'll explain five of these strategies in detail and guide how to implement them in your business.
1. Leverage Technology
Leveraging technology can help you scale your business efficiently and automate processes. Today, businesses must be agile and flexible to keep up with the ever-changing markets. Utilizing technologies such as cloud computing and automation can help you achieve this goal.
Cloud computing allows businesses to access data regardless of where they are located, while automation technologies help streamline processes that would otherwise take time out of employees' day. Automation tools allow for more efficient decision-making and improved customer service, making it easier for your business to quickly respond to market trends. With these tools in place, you can scale your business quickly without sacrificing quality or customer satisfaction.
Technology makes scaling a business much simpler than it used to be, saving both time and resources in the process.
2. Focus on Sales and Marketing
In today's highly competitive business world, having a solid sales and marketing strategy is essential for scaling your business. Without a well-defined plan that identifies your target market, creates a compelling message, and provides the tools to reach them, you won't be able to effectively scale up and maximize profits.
To create an effective sales and marketing strategy for scaling your business, start by getting to know your target market – who are they? What do they need? Once you understand who you are targeting, create compelling content that resonates with them. Make sure it stands out from the competition by creating content that speaks directly to their needs. Finally, use the right tools to get in front of customers. Leverage social media platforms such as Twitter or LinkedIn where potential customers may be more active or consider using email campaigns or even traditional print advertising if appropriate for the product or service you provide.
3. Build a Strong Team
As your business grows, it's essential to build a strong team of talented and dedicated individuals who can help you scale your operations. Hiring the right people is key to ensuring your business reaches its full potential. With the right team in place, you can maximize efficiency and create an atmosphere that encourages collaboration, creativity, and productivity.
When selecting employees for your expanding business, it's important to look for candidates with a diverse set of skills and experience that will enhance the current team dynamic. A good mix of personalities can also provide invaluable insight into different aspects of the company's operations. Furthermore, forming relationships with reliable vendors who specialize in services such as accounting or marketing can help augment your existing staff while freeing up resources so they can focus on core activities like product development or customer service initiatives.
4. Foster Strong Partnerships
Strong partnerships can provide you with the resources, connections, and opportunities necessary to successfully scale your business. These relationships are key in helping businesses reach their financial goals and become more competitive in their industry. From collaborating with other companies to seeking out advice from industry leaders, there are several ways to foster strong partnerships that help you grow your business.
The first step is to establish a connection with other businesses in the same industry that may have similar goals or interests. This could include partnering up on a project or forming a strategic alliance that allows each party to benefit from the other's expertise. Additionally, reaching out to suppliers can be advantageous as they can provide access to essential materials at discounted rates or even better terms of payment over time.
5. Continuously Innovate
To stay ahead of the competition, it's important for businesses to continuously innovate and improve their products, services, and processes. Doing so allows a business to remain competitive in an ever-evolving market. By scaling your business with continuous innovation, you can gain a competitive edge over your competitors.
Continuous innovation is key to staying ahead of the competition. It involves regularly evaluating existing products and services that are being offered while also looking for new ways to improve them. This could include utilizing new technologies or finding more efficient methods of production or delivery. Additionally, innovating can help support product diversification and expansion into new markets by offering unique solutions that meet customer needs. This will drive customer loyalty as well as increase brand awareness in the process.
Conclusion
Scaling a business is an exciting and important process that requires careful thought and planning. With the five methods mentioned here, any business can use the tips to create its roadmap for successful growth. It's critical to identify realistic objectives and be open to changes in the market, as well as embrace technologies like automation that allow for increased efficiency. As long as entrepreneurs have a good understanding of what it takes to scale their businesses, they can make these processes run smoothly and successfully grow their companies.