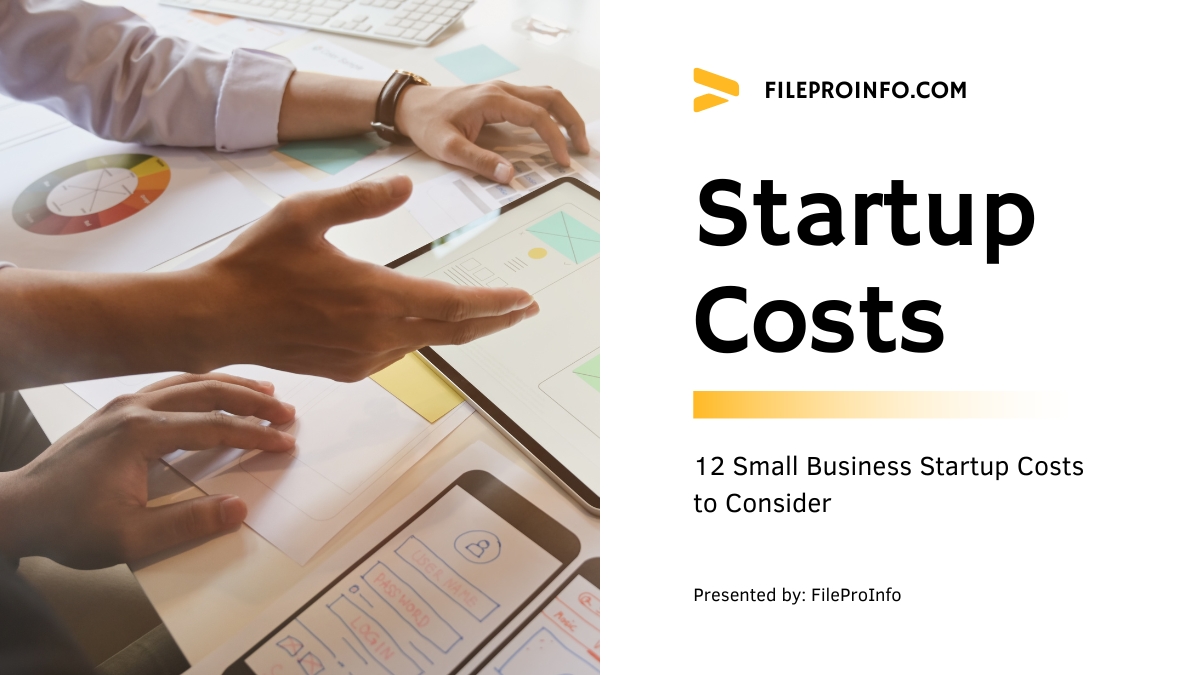 Starting a small business is an exciting endeavor, but it can also be daunting. Before you take the plunge, it's important to know what you're getting into. Below are 12 essential small business startup costs that you should consider before getting started. These costs vary and can range from simple purchases to significant investments, so having a clear understanding of each will help ensure your business has the best chance of success.
1. Incorporation
Starting a small business is both an exciting and daunting endeavor. With so many startup costs to consider, the incorporation process can often be overwhelming. It's important to understand that incorporating your small business can provide long-term benefits in terms of liability protection and tax savings. Before taking the plunge, there are several key factors to consider regarding the startup cost of incorporation.
The most obvious expense associated with forming a company is filing fees – these vary depending on which state you choose for incorporation. In addition to registration fees, companies may need to budget for attorney or accountant fees for assistance with paperwork, as well as the payment of annual franchise taxes or other ongoing maintenance costs. Furthermore, entrepreneurs should also factor in potential corporate secretary services charges and additional costs associated with setting up shop such as obtaining permits or licenses from local authorities.
2. Website
Starting a small business can be an exciting endeavor, but it can also come with some hefty startup costs. One of the most important investments for a new business is a website. A website gives customers, investors, and even potential employees an easy way to access information about the company.
The cost of creating and maintaining a website depends on several factors including the size and complexity of the site. Some basic websites are relatively inexpensive and include hosting fees as well as design fees. More complex sites that have interactive elements or require specialized programming may require more time (and money) to create and maintain. Additionally, businesses must consider ongoing maintenance costs such as content updates, security patches, and backups which should all be factored into their budget when assessing total website costs.
3. Advertising
Small business owners must consider a variety of startup costs when launching their businesses. Advertising is one such cost that should not be overlooked. It is an essential component for any business, regardless of size and industry, as it allows a company to reach the right customer base and stay competitive in the market.
When creating an advertising budget, small business owners must think carefully about which platforms are best suited to their target demographic and how much they can afford to spend. For example, if they are targeting younger audiences, social media may be the most effective platform; conversely, radio or television advertisements might be better for older customers. Additionally, it's important to plan out ad campaigns in advance and take advantage of seasonal promotions or discounts when available to keep budget spending under control.
4. Inventory
Starting a small business can be an exciting but overwhelming experience. One of the most important cost considerations for any new business to keep in mind is inventory. Knowing how much to invest in the right type of inventory can help ensure that a business begins on strong footing and stands out from the competition.
Inventory can include items such as raw materials, supplies needed for production, products ready for sale, and/or merchandise used to market and promote the company. Depending on the type of product or service being offered, there are different ways to go about sourcing inventory that is within budget. For example, if you're selling handmade items you may want to invest in high-quality fabric, thread, and other materials while if you're running a retail store you will need to decide whether it makes more sense to buy wholesale or purchase smaller quantities multiple times throughout the year.
5. Business Insurance
Starting a small business is an exciting adventure, but it can also be quite expensive. Business insurance is one of the most important startup costs entrepreneurs should consider when launching a new enterprise. Business insurance protects you from a wide range of risks and liabilities, ensuring that your business can survive if something unexpected happens.
Business insurance covers various areas, such as property damage, employee injuries, and legal liability for third-party damages or lawsuits. Depending on the type of business you have, there are different types of policies available to meet your needs. For example, if you own a retail store or restaurant then you may need coverage for theft and vandalism as well as product liability or workers' compensation insurance. It's important to shop around and compare quotes to find the best rate for coverage that fits your budget.
6. Software
Every small business owner needs to be aware of the costs associated with starting a business. One major cost that should not be overlooked is software. The software can include multiple types of items such as accounting, customer relationship management, website development, and more. All these different types of software will add up to a significant portion of startup costs for any new business.
When evaluating which software packages your company needs, you must consider the scope and size of your business operations. What kind of budget do you have available? What kinds of features are necessary for running your specific type or industry? It's important to take the time and research options that are both affordable but also have all the features and functions you need for success.
7. Business License
Starting a small business can be an exciting and rewarding venture, but it is important to understand that there are many costs associated with starting a business. One of the most important things to consider when launching a new small business is obtaining the proper license. A business license is essentially a permit that allows entrepreneurs or businesses to legally operate their companies within the boundaries of their state or local municipality.
When applying for a business license, entrepreneurs will need to provide such essential information as the name and address of their proposed enterprise, as well as details on what type of products they will be selling and other pertinent information related to their operations. The cost associated with obtaining a business license varies depending on your region but typically ranges anywhere from $50-$500 or more.
8. Physical Location
When starting a new small business, one of the most important costs to consider is the physical location. Renting or purchasing an office space or storefront can be a major financial burden for any entrepreneur. A physical location for your business adds credibility and visibility within the local community, but it also adds additional expenses related to upkeep and maintenance.
It's important to research the local market before deciding on a physical location. Consider factors such as rent prices in comparison to other areas, zoning restrictions, nearby competition, and accessibility for customers. These all help determine if it is a financially viable option for your business venture. Additionally, you should factor in extra costs such as furniture, security deposits, and utilities that come with renting an office space or storefront.
9. Equipment
Starting a small business is an exciting venture, but it can also be costly. Many expenses should be considered before taking the plunge, and one of the most important is equipment. Businesses need various types of equipment to get off the ground and stay operational. The cost of all this equipment must be factored into any business budget to ensure that there are sufficient funds available for a successful startup.
The type of equipment needed will depend on what sort of business is being started. For example, those operating an online store may require computers, printers, scanners, and other office supplies; while restaurants will need items like kitchen appliances and furniture. Retail stores might need racks and shelves for their merchandise as well as signage or point-of-sale systems. All these costs should be taken into account when calculating startup costs to avoid financial strain down the road.
10. Furniture
When starting a small business, furniture is an often overlooked cost for entrepreneurs. An office must be properly furnished to create a comfortable, professional atmosphere for employees and customers alike. Understanding the costs associated with furnishing an office space is key to developing an accurate budget and staying within it.
Furniture costs can range from basic tables and chairs to more intricate pieces such as custom cabinets or reception desks. Depending on the size of the business, items such as filing cabinets, shelves, bookcases, desks, and seating should all be taken into consideration when creating a budget. Additionally, if the company plans on having meetings with clients or partners in person, they'll need chairs that are comfortable enough to ensure everyone remains focused during long conversations. Other items such as lamps or wall art may also need to be purchased to give the room a professional look and feel.
11. Staffing
Starting a small business is an exciting and stressful time. Finding the right staff to manage your operations is one of the most important parts of this process, but it can also be costly. Before investing in hiring staff, it's important to consider all associated costs.
Staffing costs are not limited to salaries alone. You should factor in additional expenses such as payroll taxes, health insurance premiums, and other potential benefits you may offer your employees. It's also essential that you have a clear plan for how you will recruit new employees, create job descriptions and manage onboarding processes such as background checks and drug tests. These costs can add up quickly if you are not prepared for them ahead of time.
12. Taxes
When starting a small business, many entrepreneurs focus on the upfront costs associated with getting their business up and running. However, taxes are an important factor that must be considered when it comes to startup costs. It is essential to understand all of the tax implications of launching a business to ensure financial success.
Taxes can vary significantly depending on the type of business and its structure. For example, if you are starting a sole proprietorship your taxes may include Social Security and Medicare taxes as well as income tax on any profits generated by your business. On the other hand, corporations need to pay more complex taxes such as corporate income tax and state franchise taxes which vary based on the size and scope of operations.